Have you sensed exactly how excited I'm getting to go see BRAVE, Disney/Pixar's upcoming film, set in Scotland? That one that I'm going to the premier for?
My husband comes from a Scottish background, so I'm not a stranger to Scotch Eggs.
While Scotch Eggs aren't my favorite way to make eggs (I don't like sausage or mustard), my husband and his family love them, and they occasionally get to taste them at festivals and one United Kington-themed restaurant in Minneapolis.
It's never crossed my mind to make Scotch Eggs at home, but the method is actually pretty simple! I could definitely make up a batch of these to surprise my husband and my father-in-law!
Here's the recipe, courtesy of Brave and the Pixar Animation Studios: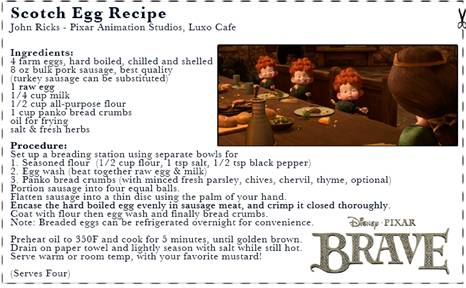 Like BRAVE on Facebook and follow BRAVE on Twitter to stay on top of all the Brave news!
(Photo Credit: Uglix)