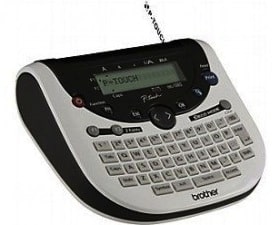 I've admitted I'm unorganized. I've shared that I have ADHD. Neither of those things mean that I don't want to be constantly improving our home. It just means that I accept who I am, I'm learning what my limitations are, and that change won't happen overnight.
Since I started coming to terms with my ADHD, I've definitely had some lightbulb moments about my own behavior. It's dawned on me that I need specific instructions, either from myself or from someone else, about where and how to put things away, store them and, above all else, remember where things are!
When I say "specific instructions" I'm not talking about a handbook for organizing or a checklist for getting things done. Believe me, I've tried many of them and they aren't effective for me!
I need obvious, constant reminders (read: labels) that always tell me if something is in the right place or not. Taking that one step further, I've also learned that the key to having a place for everything is containers.
Talk about a lightbulb moment! I told two of my friends that I only just realized that containers are necessary to keep spaces organized and they looked at me as if I had told them I had found my second head!
How I've went through life not noticing the baskets, bins and boxes in every home I envied is beyond me. All I can say is, that's how my brain works. Now that I know that little secret that everyone else already knew, I'm that much more prepared when it comes to putting things where they belong.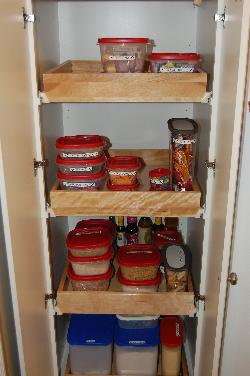 A few months ago, I shared my kitchen organization project that I did with my Brother P-Touch PT1290 label maker. I also shared a Brother P-Touch label review that showed how durable those labels are. Since then, my labeled kitchen containers are going strong and working perfectly. The labels have not peeled or fallen off at all, and they've remained clean and residue-free.
Even better the labels have remained on some containers through dishwasher cycles and hand-washing sessions! I'm also happy to report that I did remove some of the labels by simply picking along the edge to release enough to get a grip on a corner. to my surprise, they've all peeled right off once the edge was loosened. I find it extra nice to know that, while the labels definitely have stayed on, they won't leave a sticky residue or, worse, layers of sticker-paper stuck to the side of a container when I want the label off.
Finally, I've been working on finding the right type of containers to organize my home. As I've found those bins for basement storage, I've stuck a label on the side to tell both my husband and I what to use it for. Pretty boxes and baskets for living areas get the same treatment. And, you know what? It's working! I'm not working like crazy to get everything organized, but, slowly but surely, I'm finding a permanent home for many objects that I just didn't know what to do with before.
My label maker has been an essential tool in this "everything in its place" process. While I'm not striving for perfection, I'm definitely finding a workable system that's making me happy!
I wrote this review while participating in a campaign by MomCentral Consulting on behalf of Brother P-Touch and received a product and gift card to facilitate my review and a promotional item to thank me for taking the time to participate.