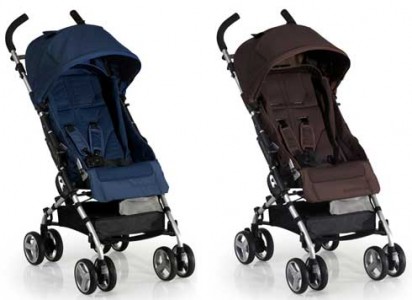 I've had this website long enough to be exposed to a lot of different types of strollers: I've seen trendy strollers. I've seen cute strollers. I've seen expensive strollers. I've seen fancy strollers. I've seen functional strollers. But I've never been inclined to describe a stroller as simple, clean and pretty. Until now.
Let me introduce the Bumbleride Flite Natural Edition: This stroller is the perfect mix of functionality and aesthetics, starting with the assembly itself. The stroller went from this: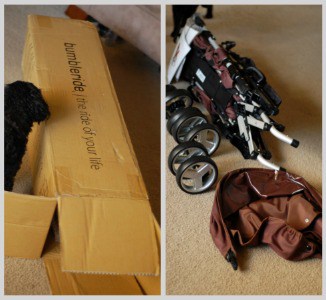 To this fully assembled and folded stroller: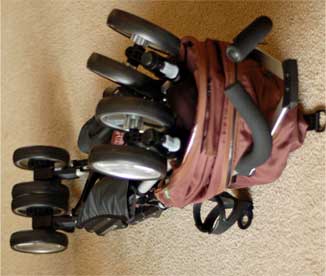 …In just 15 minutes! The assembly was as easy as unfolding the stroller, attaching the wheels, popping the canopy on and hooking on the carrying strap: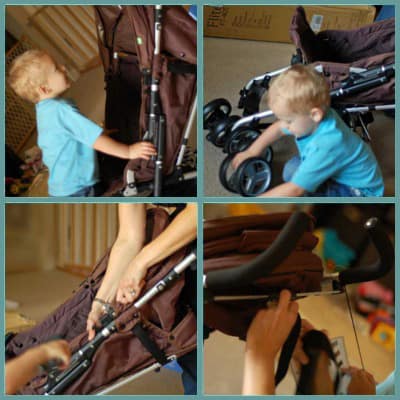 Haiden was so excited about the new stroller that he helped at every step!
What are the best features of the Bumbleride Flite Natural Edition?
Lightweight and Compact :: This stroller only weighs 13 pounds. And it folds into an ultra-thin bundle that's only 15 inches at its tallest point. To make it even easier to manage, there's a carrying strap so I can sling it over my shoulder or carry it by the side handle when it's not in use.
**Don't be fooled into thinking that the lightweight Bumbleride Flite isn't intended for bigger kids. It is! This 13 pound stroller will hold your little one from newborn-size all the way up to 50 pounds!
Natural Fabric :: The Bumbleride Flite Natural Edition's seat is made from a fabric that's 50% bamboo. That means my little ones' body temperatures are better regulated (no sweaty backs!) while the fabric naturally wicks away moisture. Plus, the exterior fabric is made from 50% recycled material. I love that Bumbleride is moving towards sustainable and recycled materials!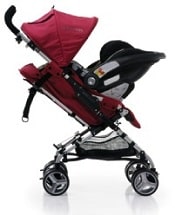 Infant Carseat Adapter :: I always thought that the trade-off for wrestling with a heavy stroller was the benefit of being able to safely snap an infant car seat into it. Not anymore! This 13 pound stroller comes with an an adapter bar that pops into the stroller frame. Once it's in place, multiple brands of infant seats will fit into this stroller, making it even more portable and fuctional!
SPF 45 Sun Canopy :: Although we live in Minnesota, my fair-skinned toddlers need sunscreen almost all the time. Every Bumbleride Flite stroller has a canopy that actually offers a sun protection factor of 45! I love that the stroller gives me extra assurance that my kiddos heads are shielded from the sun's harmful rays.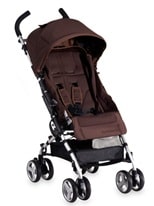 Appearance :: This is a pretty general area, but I don't think I've seen a stroller as sophisticated as the Bumbleride Flite Natural Edition. I received the stroller in the Walnut brown fabric, and it's difficult to describe exactly how simple and classic it looks. I don't even think the photos do it justice!
The solid shade of brown is truly tasteful, and there aren't any distracting patterns or pictures to draw away from the look. My own personal style isn't flashy, and I've really never wanted any of our baby products to draw attention to me, either. This stroller's look is modest and understated, which suits me perfectly!
While I think this is a fantastic stroller, there's one feature I'd like to see improved in the Bumbleride Flite stroller:
Storage Basket :: The basket under this stroller is small. I have a big purse, and it doesn't fit in there. I get, however, that this is technically an umbrella stroller, and it would take a miracle of design to create more storage space underneath the seat! It helps that there's a nice zipper pocket on the back of the canopy. This is enough to hold my keys, phone and money when we go for walks, and it leaves the space underneath open for sweaters, water bottles and just a few other odds and ends.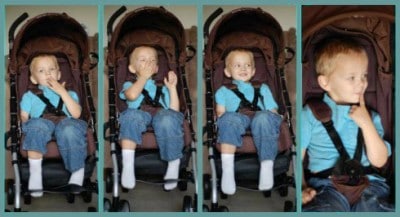 Overall, I have to say that I absolutely love the new Bumbleride Flite Natural Edition, and Haiden sure likes it, too! Check out this video to learn more, and visit Bumbleride to view all of the features and optional accessories.
Buy It: The Bumbleride Flite Natural Edition is available in stores and online for an MSRP of $275. It can be purchased directly from Bumbleride's online store for $269.99 + shipping. I also found it for $275 with free shipping at Albeebaby.
Want to see it in person? Use Bumbleride's Dealer Locator to find a store near you that carries Bumbleride strollers.
ENTER TO WIN a Bumbleride Flite Natural Edition Stroller!
1 winner will receive a Bumbleride Flite Natural Edition Stroller in their color choice of Ocean Blue or Walnut Brown.
There are some great ways to earn extra entries into this giveaway! All mandatory and extra entries must be submitted within the Giveaway box below.
If you're reading this article in an email newsletter, feed reader or a mobile device, you may not see the entry box below. Please visit the Stroller Giveaway page and enter the giveaway there.
This Bumbleride Stroller giveaway is open to residents of the US and Canada ages 18+. The giveaway ends at 12:01 AM, EST on 11/1/2011.
Comments are open on this post, but all entries must be done in the giveaway box above. No comments will be counted towards giveaway entries.
Disclosure: Bumbleride provided the stroller to review and will ship the winner's stroller directly to the winner. All thoughts and opinions expressed are 100% honest and 100% my own.
As always, if you have any trouble entering this giveaway, or if you have any questions, please contact me!