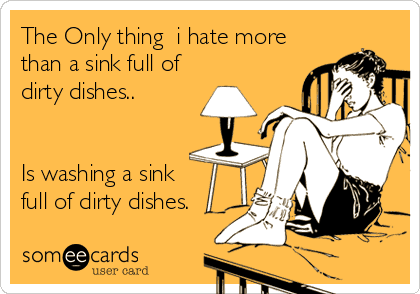 I participated in a campaign on behalf of Mom Central Consulting for Cascade. I received a product sample to facilitate my review and a promotional item as a thank you for participating.
Rinsing dishes before putting them in the dishwasher has always seemed counterintuitive to me. Most of the time, a rinsed dish is nearly clean enough to only need a few swipes with a soapy sponge, so it irks me that a dishwasher usually can't be relied upon to do most of the dirty work that it's defined to do.
I often catch myself unconsciously trying to rebel against the laziness of my dishwasher. I throw caution to the wind and load it up with dishes that I've chosen not to rinse. Sometimes those dishes come out sparkling, but other times my "clean" dishes are filmy, gritty or just plain dirty, requiring a double-wash to finally get them clean.
I usually stick to powder or liquid dishwasher detergents, because they're cheaper and I really, really want the low-priced, basic option to get the job done. Then I read about the features in a premium dishwasher detergent "packet" and I wonder what I might be missing because I'm too stubborn to consider what might actually be a better product.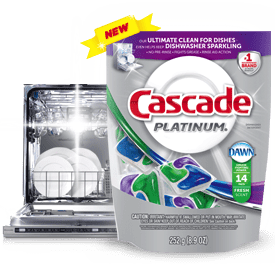 Cascade Platinum Pacs are designed to eliminate the need to pre-wash dishes. On top of that, my fact sheet states that they can power away tough, 24 hour stuck-on food and help maintain the look of new machines and prevent additional hard-water film buildup.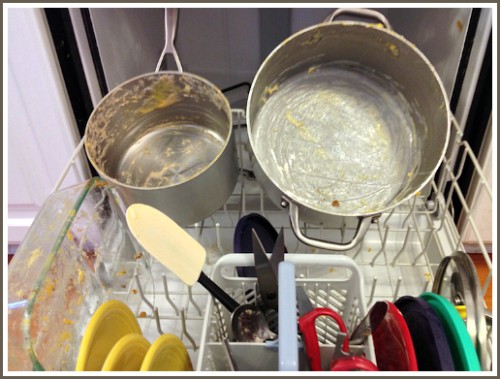 Since I'm generally satisfied with the everyday dishwasher detergent (after pre-washing dishes the dishes) I decided to really put Cascade Platinum Pacs to the test. Not only did I not pre-wash the dishes I wanted the dishwasher to wash, I included pots and pans that had been used to make six freezer batches of homemade macaroni and cheese.
I am almost positive that, had I opted for my usual powder detergent instead of a Cascade Platinum Pac, that these pots would have been filmy after the cycle completed. I'm also pretty sure that there would have been food particles and that weird dishwasher sediment stuck to the glasses in the top rack.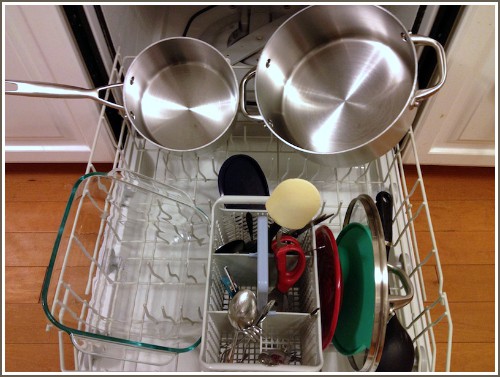 Instead, the dishes washed in the cycle with the Cascade Platinum Pac pouch really did come out sparkling clean!
I've noticed lately that I'm far more in tune with great food photography and how dishes are photographed to make them look their best.
Top Chef judge and Food+Wine editor Gail Simmons has partnered with Cascade to show why food presentation is just as important and food prep:
From prep to plating: It's more than just a great-tasting recipe, but also perfect presentation. Sparkling dishes, shining flat ware and spot-free glasses truly let you put your best food forward with culinary creations that pop!
Gail recommends impressing with a Platinum Presentation: "The easiest recipes pop with unexpected, gourmet presentations. Drizzle bright sauces on sparkling white plates or layer desserts in crystal-clean glassware. Keep your presentation sparkling with Cascade Platinum, which keeps dishes perfect for anytime entertaining and impromptu guests."

Learn more about Cascade's partnership with Gail Simmons by viewing videos available on the Cascade Facebook page and Cascade YouTube page.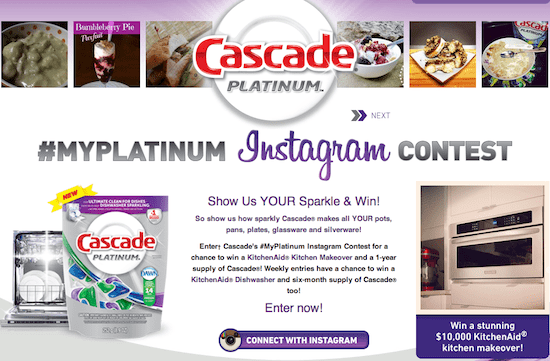 The Cascade "My Platinum" contest is a four week Instagram contest encouraging fans to upload photos related to the weekly contest themes. Show off how sparkly Cascade makes all your pots, pan and plates!
Visit the Cascade My Platinum Instagram contest landing page  for information on how to enter and submit images. If you're not already an Instagram user, you can sign up from the contest page.

Each week, two contestants will be selected to receive a brand new Whirlpool dishwasher. Additionally, one lucky grand prize winner will receive a Platinum kitchen makeover!

To win, users have to both register and upload a photo with the #MyPlatinum hashtag and tag @MyCascade. Participants that have not registered will be disqualified from winning.

Each week will have a 6-day entry period where Instagram users can enter the contest with their #MyPlatinum Photo. Cascade will choose two weekly winners and one final grand prize winner after the entry period has ended.

Week 1: My Platinum Plate (Entry Period: 6/3-6/9)
Show us your best dish styled from the sparkling plate up!
Week 2: My Platinum Bite (Entry Period: 6/10-6/16)
Show us your best bite and most creative use of sparkling silverware!
Week 3: My Platinum Clink (Entry: 6/17-6/23)
Show us how you serve up creative concoctions in sparkling glasses. Cheers!
Week 4: My Platinum Table (Entry Period: 6/24-6/30)
Show us your sparkling tablescape for your most special celebrations!
Grand Prize Winner (Entry: 6/3-6/30)

Be sure to follow me on Instagram when you check out the contest!
Overall, after doing this Cascade Platinum review, I'm actually leaning toward switching to this product if I can find a low enough price on them. The MSRP for a 23-count pack of Cascade Platinum is $6.69, making them $0.29 each. While these are priced a bit higher on Amazon, you'll likely find them for the MSRP at Target, Walmart or another big-box discount retailer.
I participated in a campaign on behalf of Mom Central Consulting for Cascade. I received a product sample to facilitate my review and a promotional item as a thank you for participating.