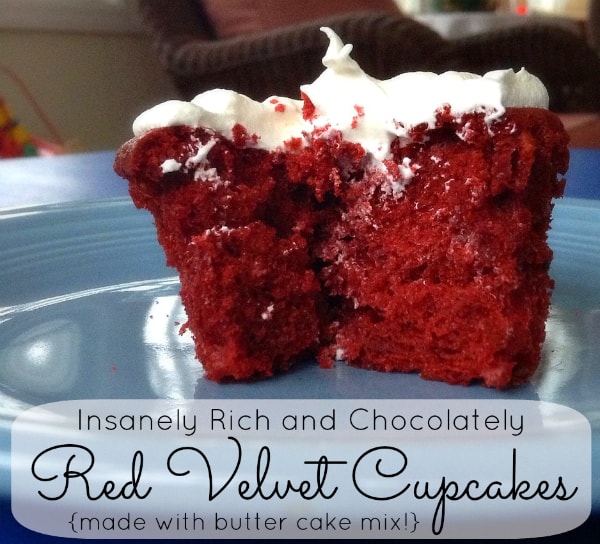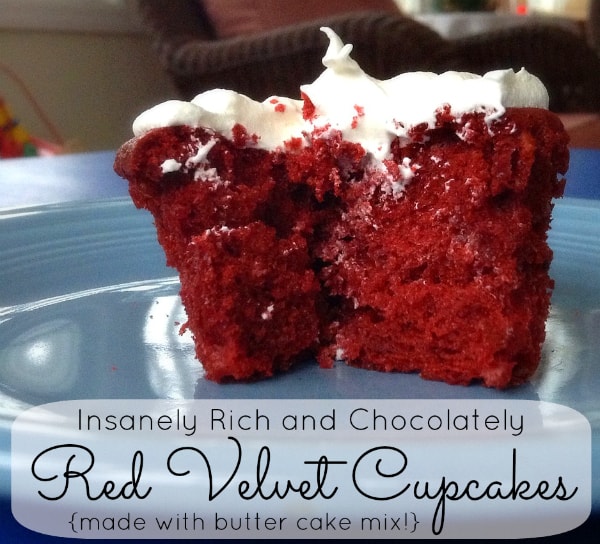 If you like this recipe pin it on Pinterest to share it!
James (my husband) works really hard. He's dedicated to providing for his family, and he knows that his job makes it possible for our little ones to stay home with me.
As a delivery driver, James starts working at either 3:30 or 4:30 am, and he often doesn't get home until after 5 pm. He's out in all types of weather, both driving and physically delivery hundreds, even thousands of pounds of food into food service businesses all across the Minneapolis, St. Paul area in a single day.
While I'm grateful that James has had the same good, steady job for nearly ten years, I'm more thankful for him. Not every husband is able to or is willing to work as hard as he does, and it's easy to forget to show how much I appreciate what he does on a daily basis.
The way to a man's heart is through his stomach, right? I'm pretty sure I already have my husband's heart, but a delicious treat seemed like a good way to celebrate my his hard work and say Thank You for doing everything he does.
Red Velvet cake is one of those desserts that just feels indulgent and decadent, and if it's made well, it tastes like it took all day to make it. Fortunately  I have a secret recipe that takes a huge shortcut in the baking process but produces the most unbelievably rich, chocolatey red velvet cake I've ever had.
Since I knew our kiddos would be thrilled to share their dad's treat, I decided to make Red Velvet cupcakes. They're so much easier to share!
Insanely Rich and Chocolatey Red Velvet Cupcakes Recipe:
Ingredients:
1 18 ounce box of Butter Golden cake mix

1/2 cup melted butter
4 tablespoons unsweetened cocoa powder
1 1/3 cups buttermilk*
1/4 cup plain or vanilla Greek yogurt
1 1/2 tablespoons red food coloring
3 eggs
1 tablespoon vanilla extract
1 teaspoon baking powder
1 tablespoon distilled white vinegar
*Buttermilk substitute: Pour 1 tablespoon + 1 teaspoon white vinegar in a 2 cup measuring cup, then add milk until your total volume is 1 1/3 cups.
Directions:
Preheat your oven to 350. Prepare 24 muffin tins with paper cupcake liners or grease and flour each tin. 

Combine all the ingredients in a large bowl. Mix with an electric mixer on low speed for about a minute. Scrape the sides of the bowl down and increase the mixer to medium for 2 more minutes. Scrape down the bowl and stir for about 15 to 30 seconds to make sure everything is incorporated.
Fill each muffin cup about 2/3 full. Unless your muffin cups are exceptionally big, you should have enough batter to fill up 24 cups. Because of the yogurt and buttermilk, these cupcakes won't rise much, so don't fill the cups almost full. They'll just spill over the papers and flatten unattractively on the muffin pan. I did it. You'll see some bad-looking cupcakes below where I'm frosting them!
Bake at 350 for 22 to 25 minutes, or until a toothpick inserted in one cupcake comes out clean.
Let cool on wire racks and frost with Cool Whip frosting or your favorite cream cheese frosting recipe.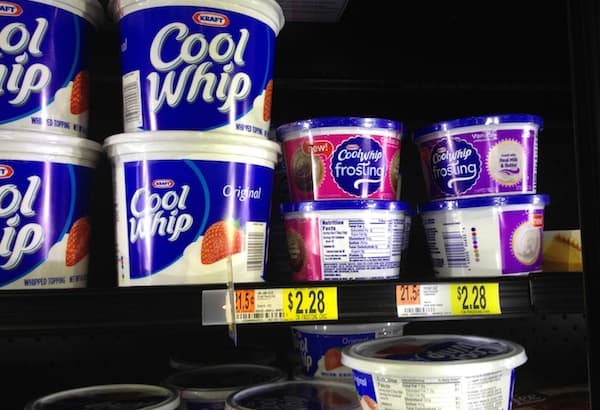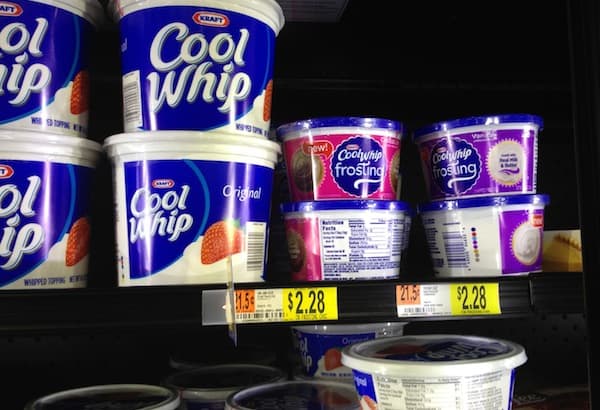 When I heard that the new Cool Whip Frosting came in a cream cheese flavor, I wanted to use it to frost my red velvet cupcakes.
Unfortunately, the Walmart store I shopped at didn't even carry the Cream Cheese variety, so I opted for Cool Whip vanilla frosting instead. You can take a look at my Walmart shopping experience in this #CoolWhipFrosting Google+ story.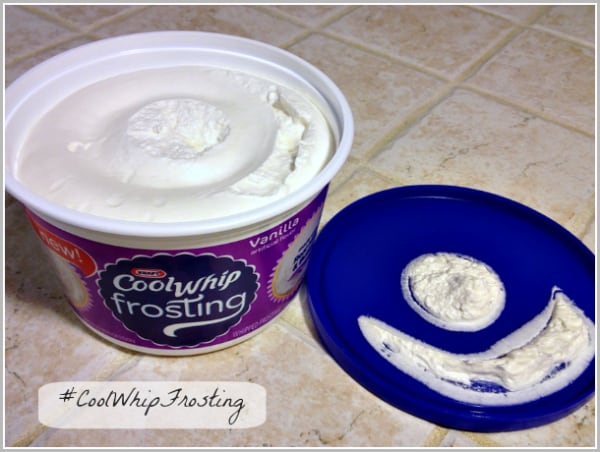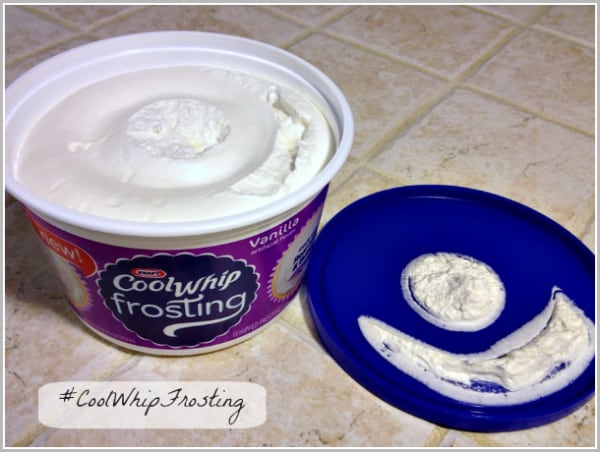 I was a little disappointed that I couldn't try the cream cheese Cool Whip frosting, but I'm happy that I got the vanilla. The vanilla frosting was so incredibly bright white that it looked amazing against the deep red of the cupcakes!
Let me tell you, the Cool Whip frosting was smooth. I scooped the entire tub into a zip-top bag, snipped off a corner and piped swirls of frosting onto each cupcake. The frosting was so creamy there wasn't an air bubble to break up the smooth line of the swirl.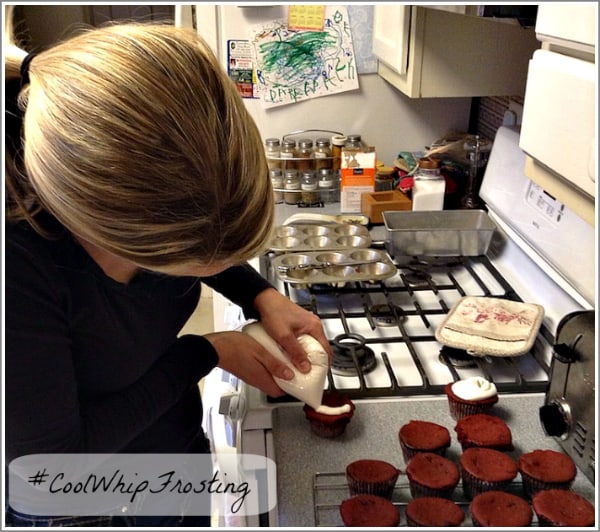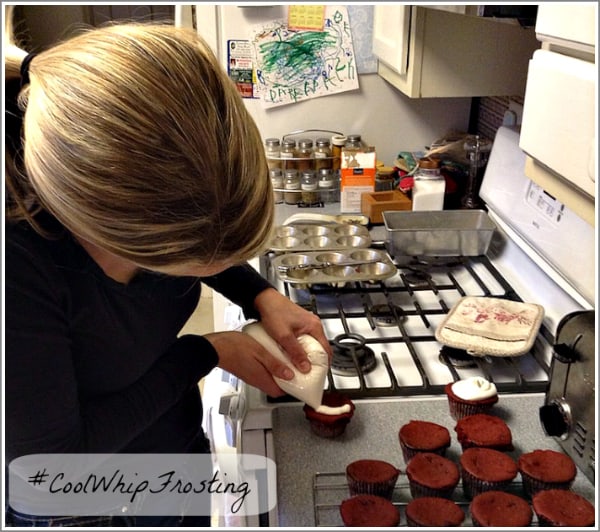 I loved that the frosting was smooth and creamy, but not too light. I honestly do prefer a heavy sugar frosting, or even a buttercream rather than a whipped frosting, but this had a medium consistency that I really enjoyed!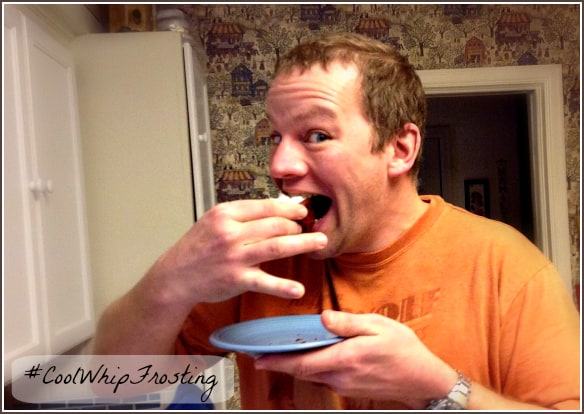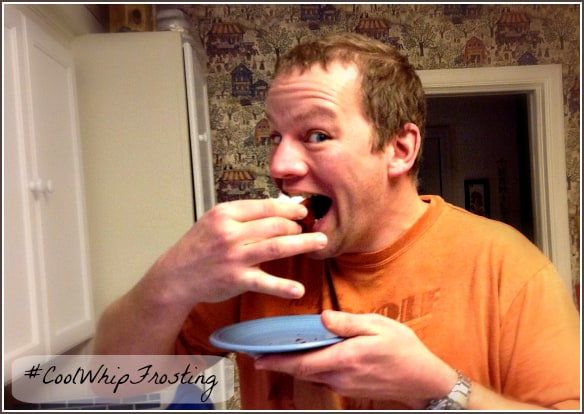 And my husband…he was so surprised when I told him the cupcakes were made for him! When I told him that I just wanted to say Thank You for working so hard and that I appreciated his long hours and commitment to his job, he broke out into the biggest smile and told me that I didn't have to do anything for him. Then he tried a cupcake and said that I could make them for him anytime!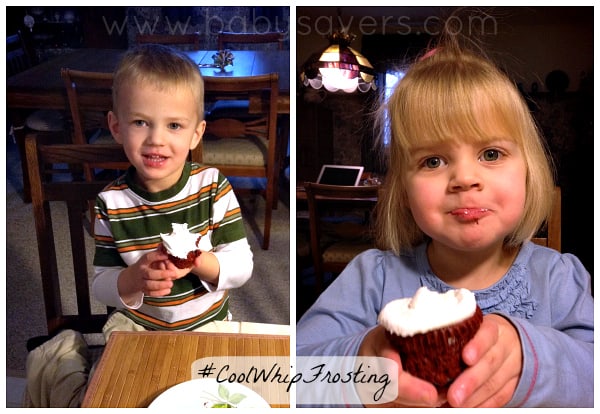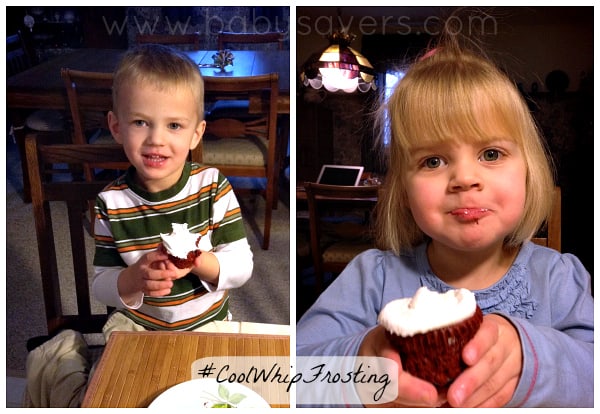 By this time Haiden and Piper were practically jumping up and down with excitement over having a cupcake, so James gave them each their own. They were pretty crazy about them!
I love baking, and I loved making these Unbelievably Moist Red Velvet Cupcakes with Cool Whip frosting. I adapted my recipe from The Best Red Velvet Cake, and I loved how it turned out!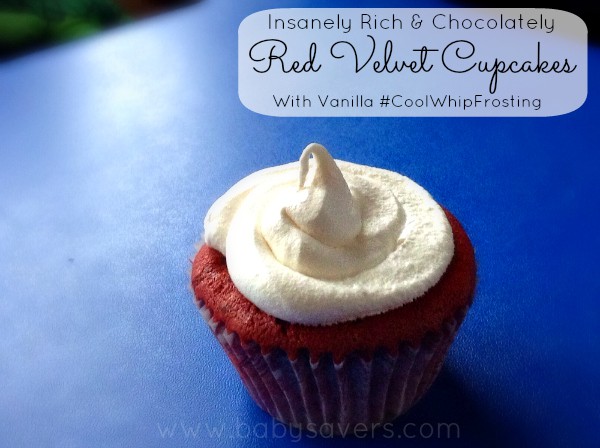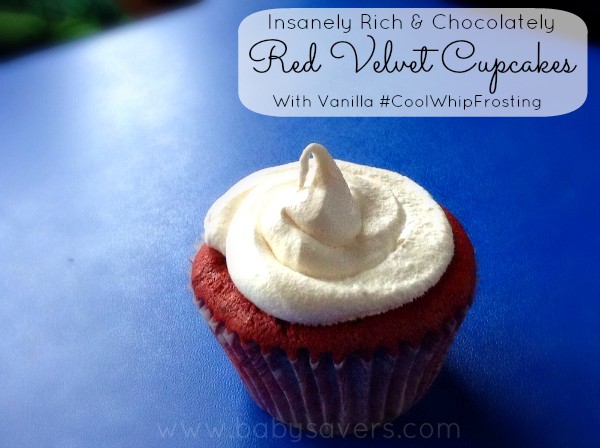 Be sure to check out the Cool Whip Facebook page!
I am a member of the Collective Bias® Social Fabric® Community.  This content has been compensated as part of a social shopper insights study for Collective Bias® and Kraft Cool Whip. #CoolWhipFrosting #cbias #SocialFabric