Is Death Wish Coffee worth it? This Death Wish Coffee review will tell you everything you need to know about the brand and its products, including if it's worth your time and money!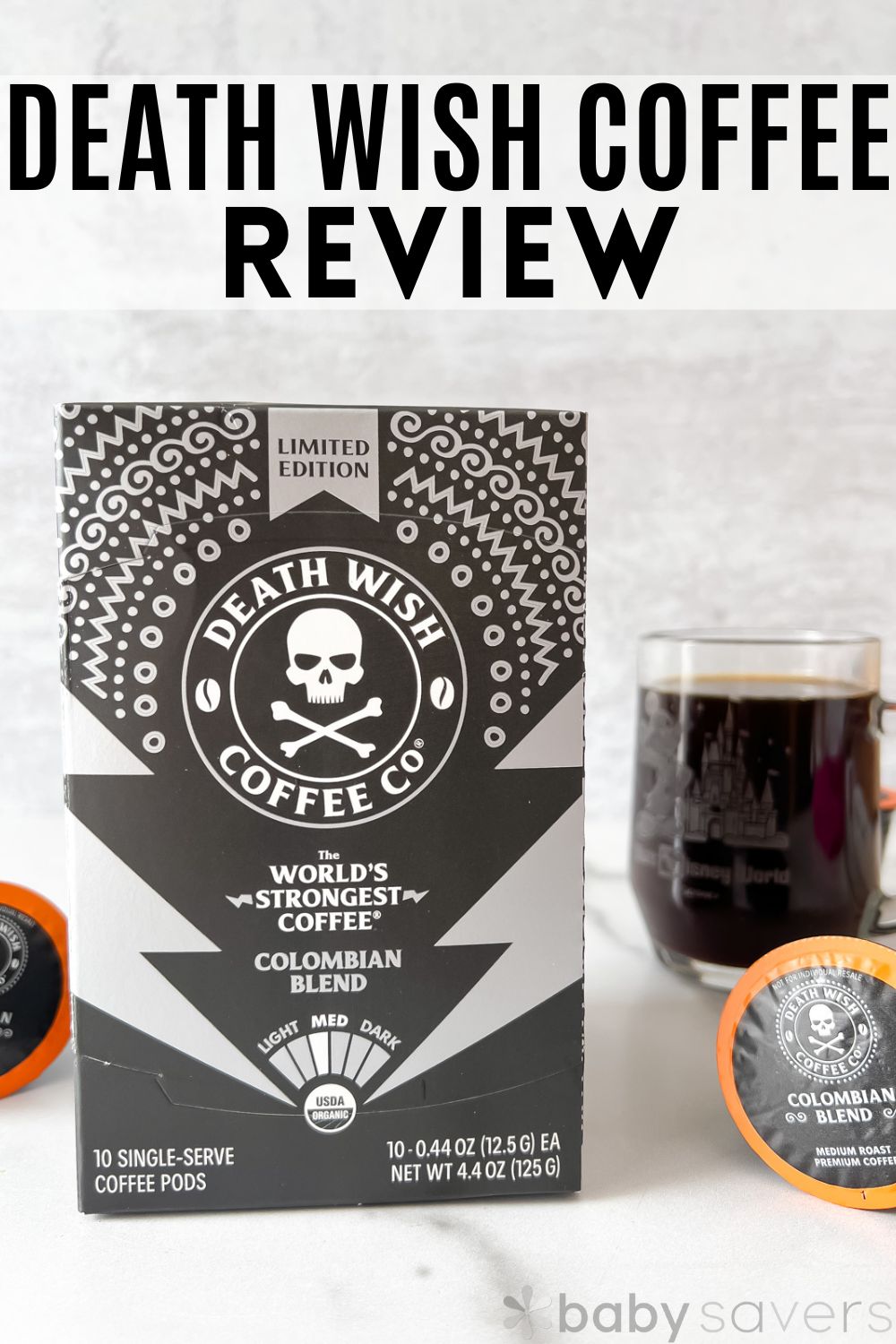 Have you heard of Death Wish Coffee? To be completely honest, I had never heard of this company until I received an email inviting me to try it out for a review.
To be even more honest, drinking something called "death wish" feels like a dare, and I can rarely resist a challenge. So I decided to try it and share my thoughts.
Ready to try Death Wish Coffee? Click here to shop now!
About Death Wish Coffee
Death Wish Coffee is a specialty brand that's known for its fair trade USDA organic coffee beans and premium quality.
I love that they take strides to ensure all of their products are made according to standards that protect both the environment and the livelihoods of coffee farmers.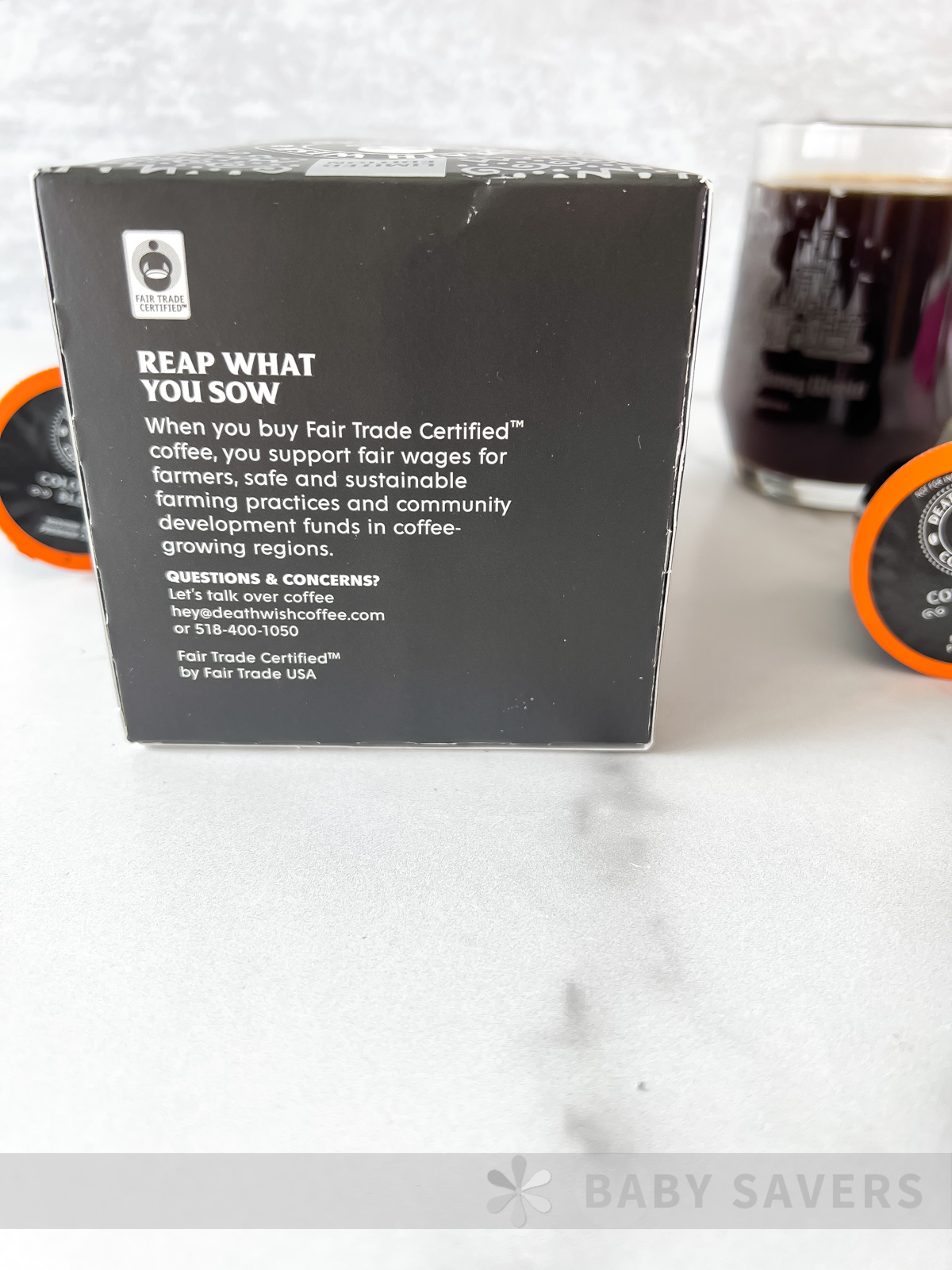 The brand was founded in 2012 in Saratoga Springs, New York and continues to manufacture their products in the same state. The founder, Mike Brown, wanted to create a super strong coffee without sacrificing quality and flavor.
The coffee is made from a blend of carefully selected, high-quality robusta beans that are roasted to perfection to create a dark, bold flavor that's perfect for those who want a kick of caffeine in the morning.
Something that sets Death Wish Coffee Company apart from other brands is its careful brewing process. It's made using a unique roasting method that's designed to extract as much flavor and caffeine as possible from the coffee beans. This process results in a low-acidity coffee that's packed with bold flavor and a high caffeine content.
Death Wish Coffee comes in a variety of flavors. Most flavors are available as:
K-cups, also known as Death Cups
Whole bean coffee
Ground coffee
K-cups are the individual servings of coffee that are used in special coffee machines.
Whole bean coffee has to be ground at home, and ground coffee is ready to be brewed in a drip coffee maker.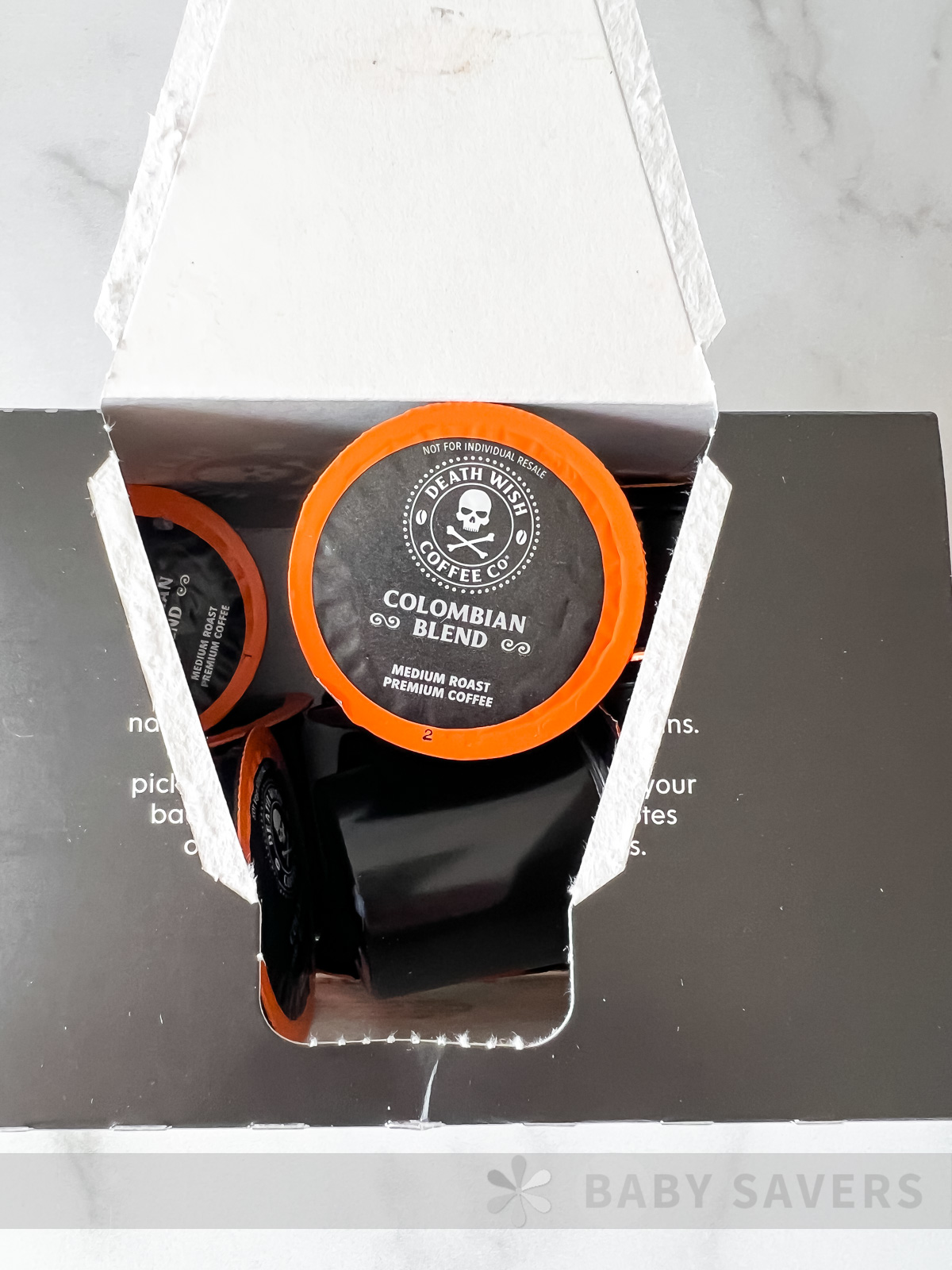 Flavors of Death Wish Coffee
These are the flavors and varieties of Death Wish Coffee that are currently available:
Espresso roast
Dark roast
Medium roast
Columbian Blend
Blue and Buried – jammy blueberry with notes of vanilla glaze.
Valhalla Java Odinforce blend – Crafted for boldness and maximum flavor, it's coffee made to power the world's most powerful guitarist, Zakk Wylde.
Dark Spirits Mint Chocolate Whiskey – A premium coffee made by aging coffee beans in whiskey barrels. Whiskey-infused with notes of mint and chocolate .
Caffeine Content of Death Wish Coffee
According to Wikipedia, Death Wish Coffee co claims that its coffee has twice the caffeine that's in an average cup of coffee.
You can even see the words that are actually printed on the box of Death Wish Coffee k-cups I have in my hands right now.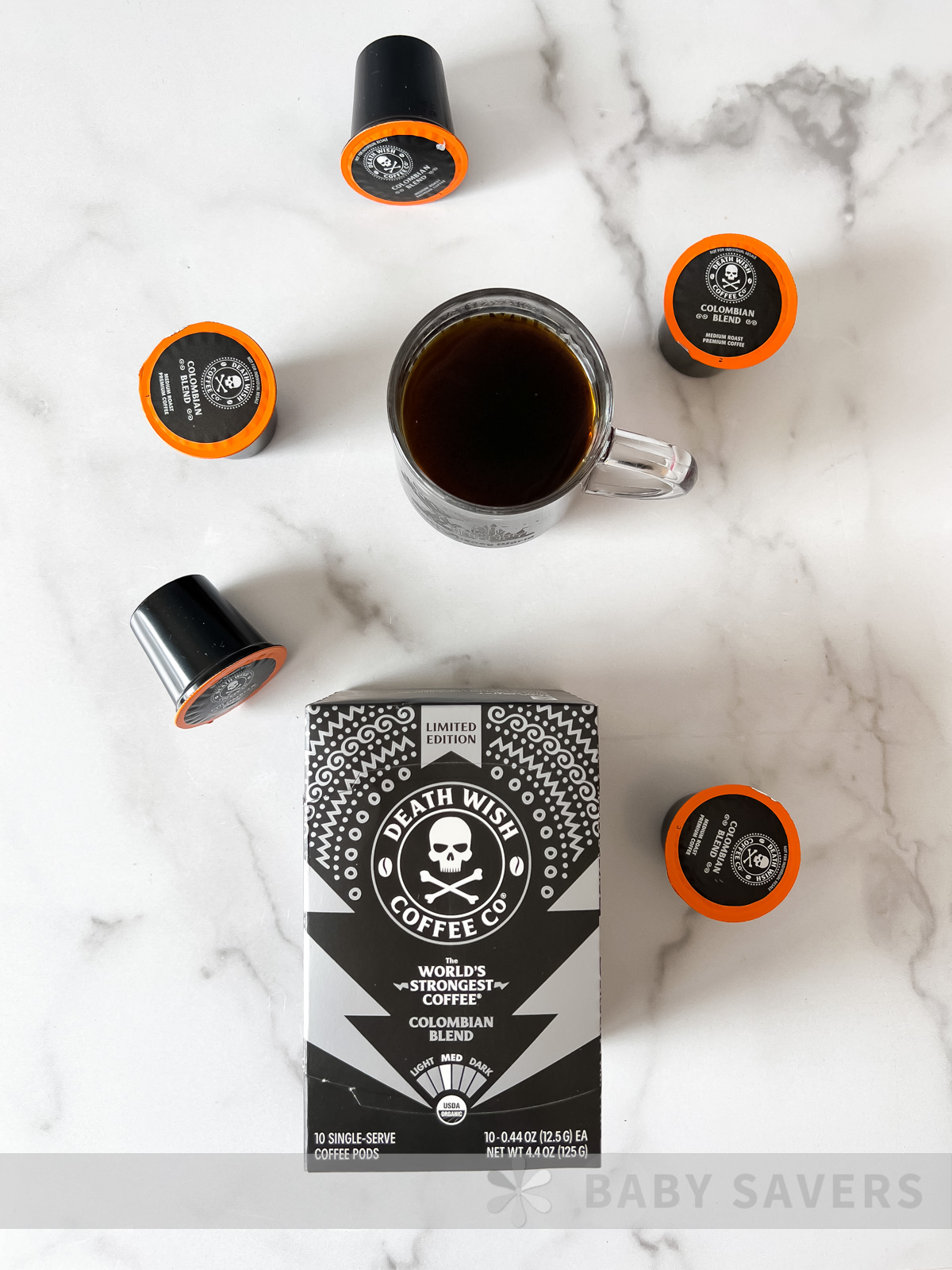 How much caffeine is in Death Wish Coffee?
The reliable source, Consumer Reports states that a cup of Death Wish Coffee has 472 milligrams of caffeine in an 8 ounce cup. That means a 12 ounce cup of Death Wish Coffee has 708 milligrams of caffeine.
To break it down even more, there are 59 milligrams of caffeine in a single fluid ounce of deathwish coffee.
It's important to note that the brand itself doesn't currently have information about the caffeine content in any of its products.
How much caffeine is in Death Wish Coffee compared to regular coffee?
How does Death Wish Coffee compare to an average cup of coffee? Consumer Reports came through with the answer to this question, too! (source)
Here's a little chart of various coffee drinks and how their caffeine content compares to Death Wish.
| Product | Serving Size | Caffeine per serving |
| --- | --- | --- |
| Death Wish Coffee | 12 oz | 708 mg |
| Folgers brewed coffee | 12 oz | 160 mg |
| Starbucks dark roast | 12 oz | 195 mg |
| Espresso | 2 oz | 128 mg |
How much caffeine is in Death Wish Coffee compared to other drinks?
Can you tell I like to compare things? I'm a big fan of having all possible information and details about something I like!
Here's a little chart of popular caffeinated drinks and how they compare to Death Wish Coffee. (source)
| Product | Serving Size | Caffeine per serving |
| --- | --- | --- |
| Death Wish Coffee | 12 oz | 708 mg |
| Red Bull (can) | 8.4 oz | 80 mg |
| 5 Hour Energy (1 shot) | 1.93 oz | 200 mg |
| Mountain Dew | 12 oz | 54 mg |
| Diet Coke | 12 oz | 46 mg |
| Pepsi | 12 oz | 38 mg |
| Black tea | 8 oz | 48 mg |

Death Wish Coffee Review
Now that we know exactly how strong Death Wish coffee is, the big question is, how does it taste? Is it strong? Is it bitter? Is it even drinkable with that high caffeine content?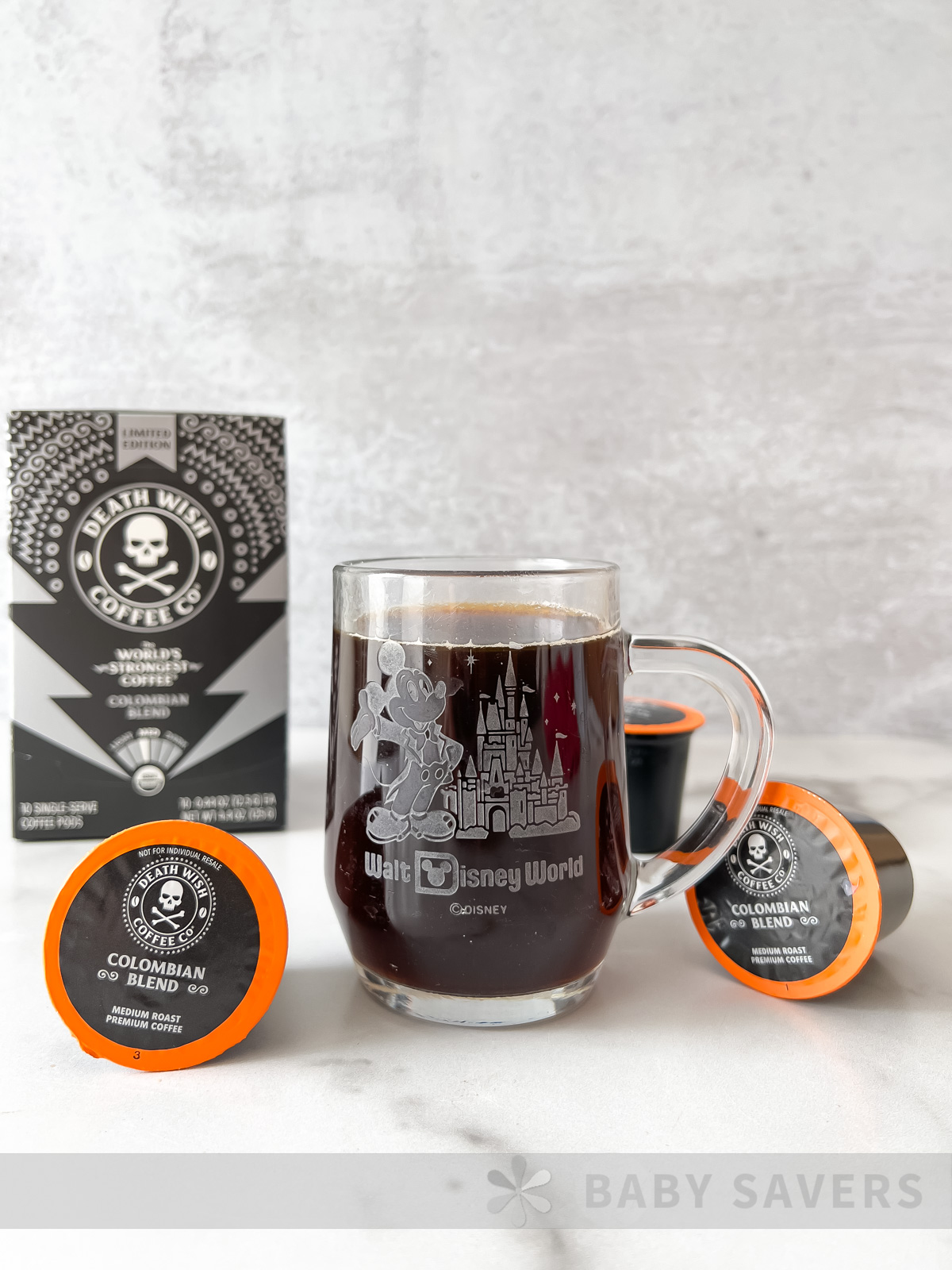 Coffee preferences and experience
Let me start out by telling you about myself and my relationship with coffee. Because everyone has different taste buds, and most of us like our coffee different ways.
I'll also tell you about my husband's coffee preferences, because they're wildly different and we've both been sampling the Death Wish coffee.
My coffee preferences
I usually drink a single cup of coffee each day. I usually brew up a k-cup in my Keurig, and we I'll drink pretty much any blend as long as it doesn't have added flavors.
My husband is much more of a coffee connoisseur, so he's the one who picks out the coffee we have available at home.
I actually rarely pay attention to the brands of kcups I'm drinking, because we keep the decaf and any flavored coffee separated from the main stash.
I think the reason why I don't have much of a coffee preference is because I like every cup of coffee light and sweet. Meaning, I add enough soy milk and a little sugar to make it taste just the way I want it. If the coffee bean is a dark roast, I'll add more milk. If it's a medium or light roast I'll use less milk.
That being said, there have definitely been some coffees that have been far too dark, too strong and too bitter for me to drink without completely masking every trace of flavor with my milk and sugar. So I understand that there are some coffee roasts that are too much.
My husband's coffee preferences
My husband, on the other hand, prefers dark, strong coffee. My family will include k cups in his birthday and Christmas gifts, and my mom and aunt are always asking me what kind he likes best. I tell them, the darker the coffee the better.
So James' coffee choice will always be a something like a columbian coffee blend, a dark roast or an espresso roast.
He also almost always drinks his coffee black and unsweetened. So he's the one providing the details on the actual flavor and tasting notes in this review.
Finally, James and I are both all about the caffeine kick. He gets up super early for work, and I rely on my single daily cup to get me going in the morning. So caffeine is important.
The Death Wish Columbian Blend Experience
I was excited to try Death Wish Coffee, and I was happy to try their new Columbian Blend. This is the official description:
Reach peak performance with our kicked-up Colombian blend, made with smooth arabica beans from the Sierra Nevada de Santa Marta Mountains of Colombia and naturally high-caffeine Indian robusta beans.
From morning routines to afternoon pick-me-ups, this bold brew always has your back, with notes of toasted almonds and ripe plums.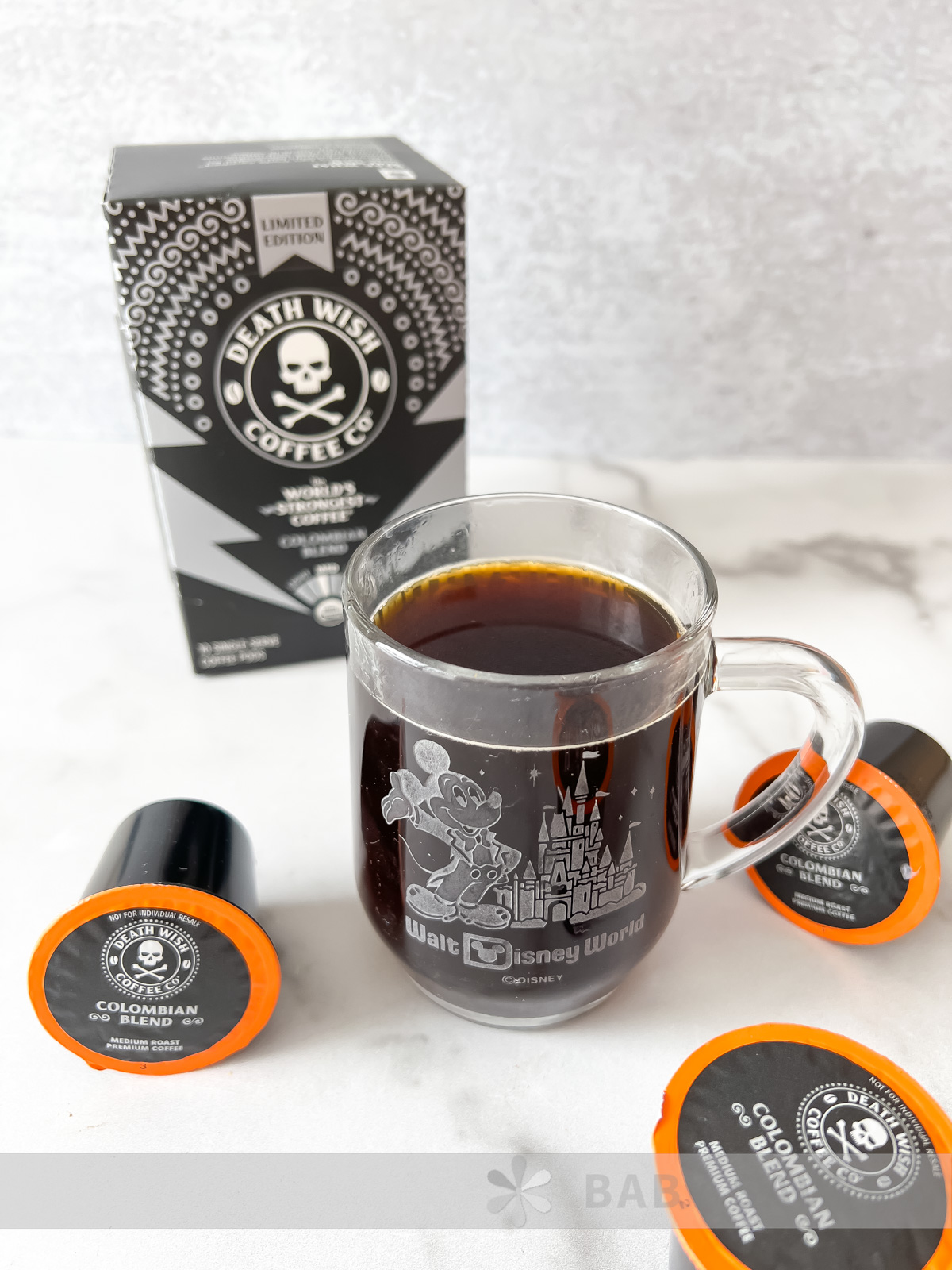 When I brewed my first cup of Death Wish Coffee, I was struck by the intense aroma that filled the room. The coffee had a rich aroma that I reminded me coffee shops.
If I said I tried a full cup of black coffee for the sake of this review I'd be lying.
I did drink about a quarter of my mug before adding my usual amount of soy milk and sugar, so I can say with confidence that the coffee wasn't bitter at all. It was smooth and strong, but it also wasn't nearly as dark or as heavy as I'd ben expecting.
To be honest, I was surprised to read that this Columbian Blend was a medium roast shade with a medium body. I always thought columbian coffee was a dark roast, but you can see in the pictures that it's a rich, warm brown, not the almost-black I was expecting.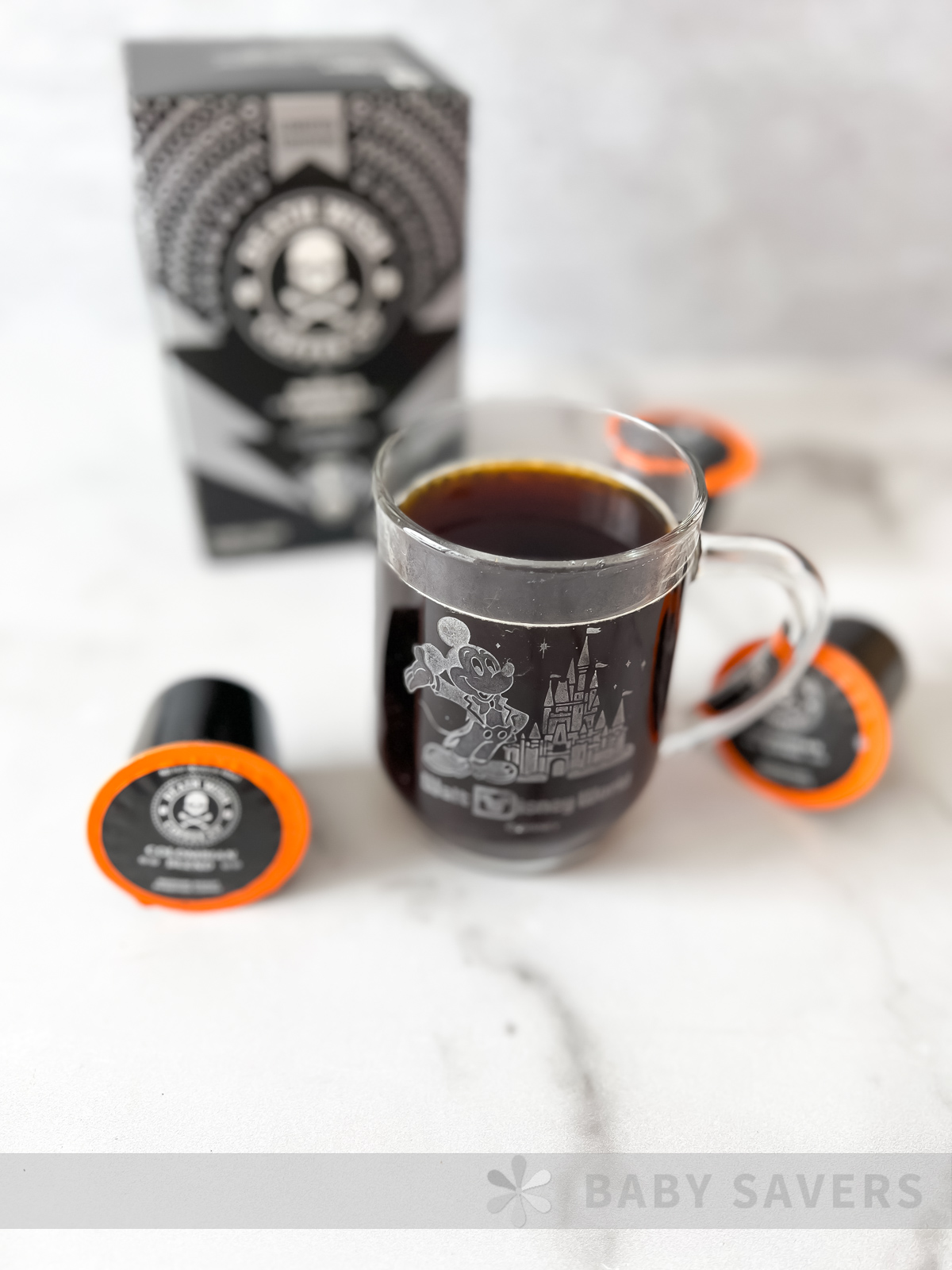 Death Wish Coffee flavor profile
I turned to my husband for more specific details of flavor. He said he could taste nuts and dark chocolate in it.
The description the brand provided stated that it has the taste of toasted almonds, sweet ripe plums and chocolate, with a smooth and balanced texture.
While neither of us was able to specifically pick plums out in our taste test, we could definitely smell them.
Effects of Death Wish Coffee caffeine
I admit, I didn't do my research on caffeine content until after I had my first cup of Death Wish Coffee. When I did, I was super happy that both James and I hadn't had more than one k-cup a day.
I also have to say that my grandma drank a full, 10-cup pot of coffee brewed in her coffee machine every morning up until she died when she was in her 90s. She also frequently went out to lunch and drank even more coffee.
I have plenty of family members who drink several cups of coffee throughout the day. Given the caffeine content in the above charts, I think it's safe to say that most of them are coming close to consuming the caffeine that's in a cup of Death Wish Coffee.
Did I notice the extra caffeine? Absolutely.
I can honestly say my body is not accustomed to the kick of energy a single cup of this coffee provided. But I expected it and I also was happy for it.
It made my brain start working a lot earlier than I was used to, and it made me want to get up and go instead of taking my time in getting my day started.
Death Wish Coffee Pricing
I really like that Death Wish Coffee has a limited number of products to buy. It makes their pricing super easy to understand.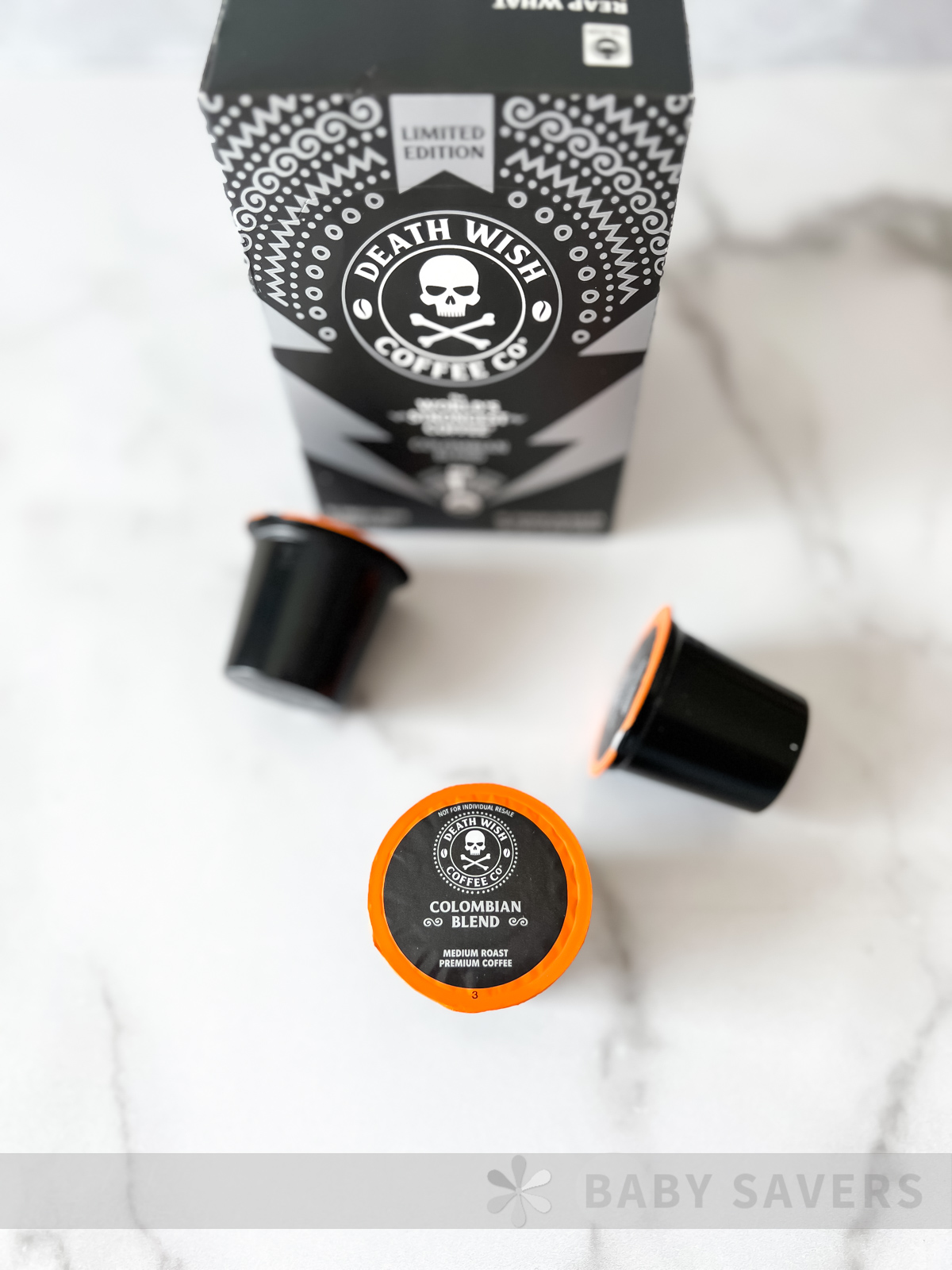 Most of their products are available at these prices:
Prices of Death Wish Coffee K-Cups / Death Cups
A 10 count box of Death Wish K-Cups is $17.99
20 K-Cups are $34.99
30 K-Cups are $47.99
Prices of Death Wish Coffee whole beans and ground bean coffee
1 12 ounce bag of coffee is $19.99
2 bags of coffee purchased together are $18.99, each for a total of $37.99.
5 pounds of coffee is $79.99.
The five pounds of coffee is an excellent deal, if you want that much coffee! It gives you a 40% savings by weight compared to a single 12 ounce bag.
All bags of coffee are available in both whole beans and ground coffee.
Death Wish Coffee reviews from other customers
While I've been thoroughly enjoying the k-cups I received, I want to highlight some Death Wish coffee reviews to show you what others think of the brand.
You can find all the reviews here.
By far my favorite blend. I have been a long time lover of Dark Roast but the Colombian will remain my new regular as long as it stays available. I love the flavor and smell along with the right amount of kick to get me going of a morning. – Maggie E, 3/24/2023
I was excited to try this blend from Death Wish. The aroma when brewing was an instant dopamine rush, but once I poured it in my cup the taste matched the smell. No bitterness, smooth, and had a great taste. Easily the best Colombian blend I've had! – Stephen M, 4/6/2023
One of my favorites! Love it! Not too strong not to weak! – Pam H, 4/3/2023
Makes great cold brew! I've been trying the different death wish coffee flavors and found Columbian blend the best for cold brewing. – Timothy H, 3/26/2023
My absolute favorite. Mellow and smooth. Definitely buying more and more and more. – Jeffrey C, 3/24/2023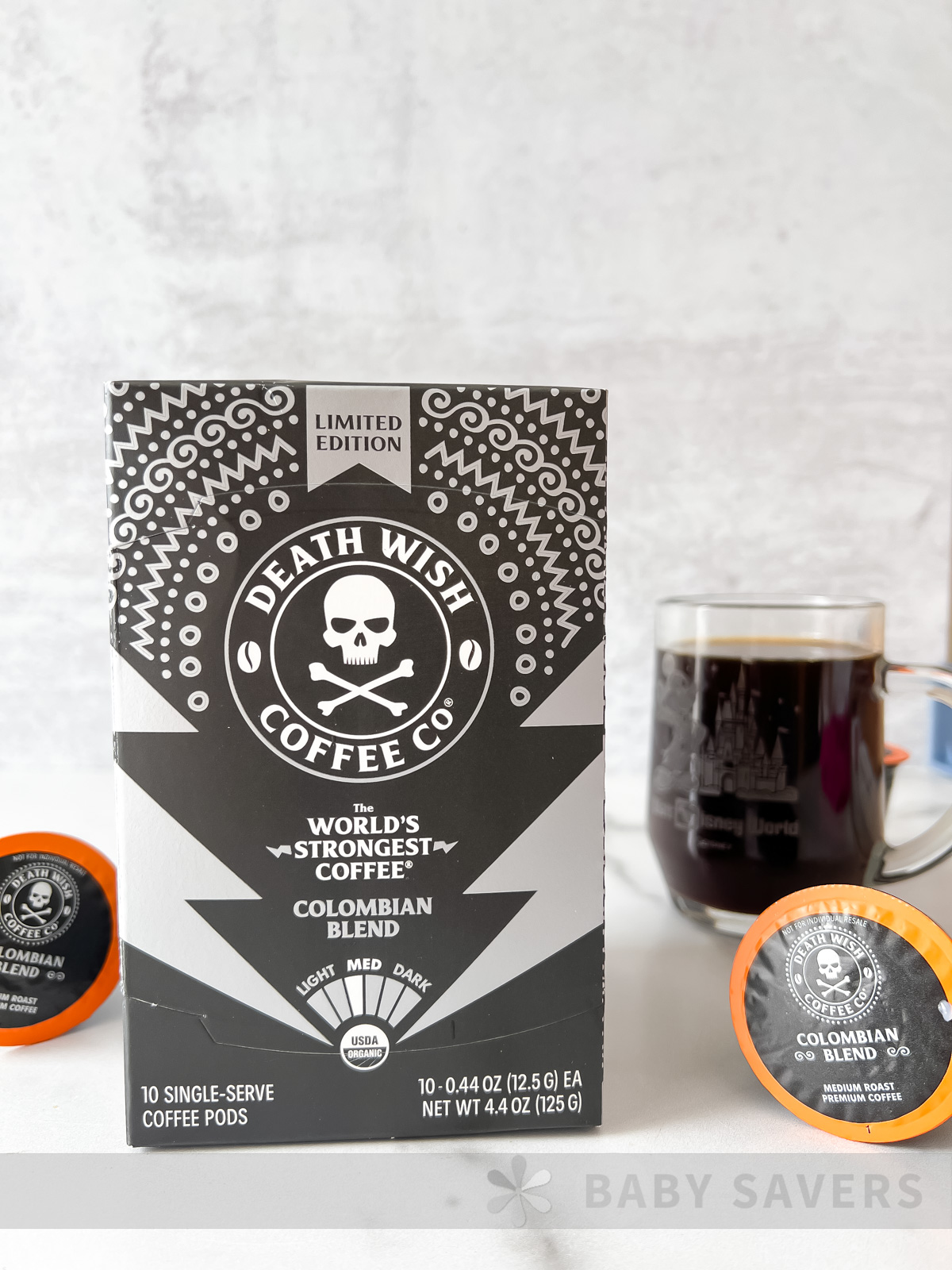 Is Death Wish Coffee Worth the Hype?
I can confidently say that Death Wish Coffee is worth the hype. The coffee is packed with flavor and caffeine, and it's perfect for anyone who wants to kick start their day.
However, I will say that Death Wish Coffee might not be suitable for everyone. If you're sensitive to caffeine (or if you're watching your caffeine intake) this might not be for you. After all, decaf Death Wish Coffee doesn't even exist!
Overall, I would recommend Death Wish Coffee to anyone who's looking for highly caffeinated coffee with rich flavors. It's a high-quality coffee that's perfect for anyone who wants a burst of energy with a delicious cup of coffee.
Ready to try Death Wish Coffee? Click here to shop now!