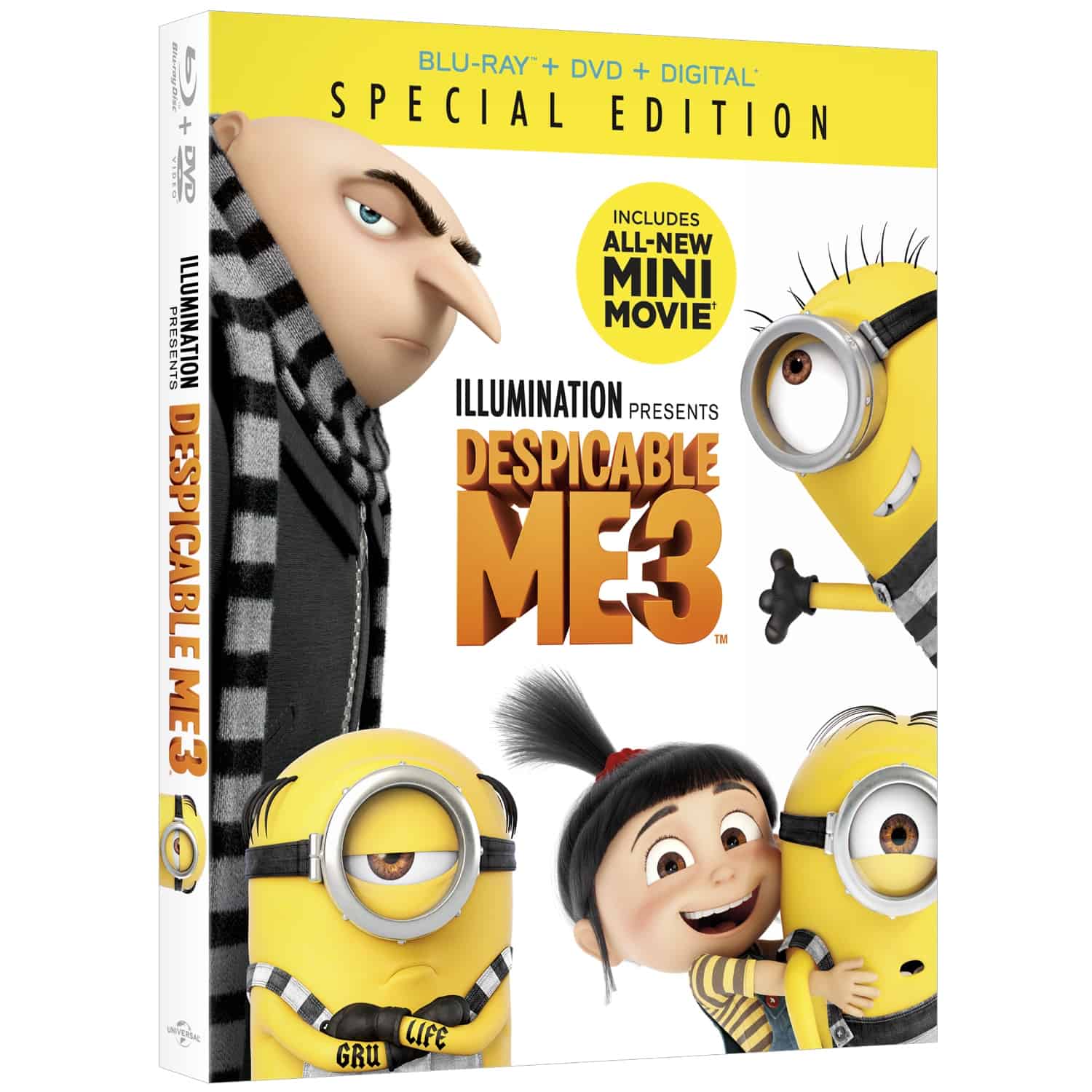 Despicable Me 3 on Blu-ray, DVD and digital HD is a great gift idea for kids and families!
The characters beloved by everyone – Gru, his wife Lucy, their three adorable daughters—Margo, Edith and Agnes—and the Minions provide hours of family fun in this heartwarmingly subversive comedy from Academy Award-nominated producer Chris Meledandri and directors Pierre Coffin and Kyle Balda.

Hailed as "the best Despicable Me movie yet," by Ali Plumb of BBC Radio 1, Despicable Me 3 is the ultimate holiday gift, with almost an entire hour of exclusive bonus features including an all-new mini-movie, a never-before-released deleted scene, and much more!

Illumination, the studio that brought you Sing, The Secret Life of Pets and the Despicable Me franchise, continues the adventures of Gru and his family in Despicable Me 3. After he is fired from the Anti-Villain League for failing to take down Balthazar Bratt, the latest evil mastermind to threaten humanity, Gru finds himself in the midst of a major identity crisis.

But when a mysterious stranger shows up to inform Gru that he has a long-lost twin brother — a brother who desperately wishes to follow in his twin's despicable footsteps — the former super-villain rediscovers just how good it feels to be bad.

Academy Award nominee Steve Carell reprises his hilarious role as reformed criminal mastermind Gru, as well as his newly discovered twin, Dru. The all-star voice cast also features Kristen Wiig, Miranda Cosgrove, Steve Coogan, Jenny Slate, Dana Gaier and legendary singer and actress Julie Andrews.
Buy Despicable Me 3 on Blu-ray, DVD or digital HD now!