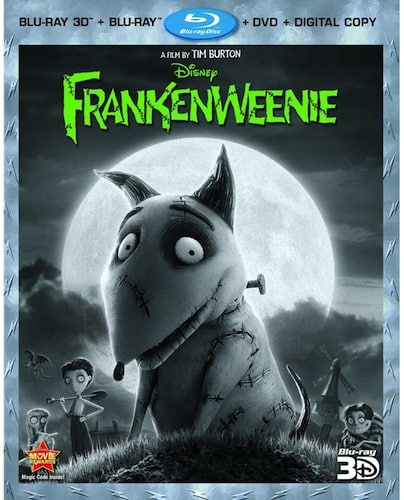 I love everything Disney and I think anything from Tim Burton is obsession-worthy, so I've been extra excited about Frankenweenie, Disney's film by Tim Burton!
I had the privilege of interviewing Frankenweenie producer Allison Abbate during a special screening of an extended preview of Frankenweenie last summer. My favorite tidbit from that interview was that the story of Frankenweenie is the first full story that Burton conceived and that this movie has been "in the making" since he was 10 years old!

Disney and creative genius Tim Burton proudly announce the home entertainment debut of Frankenweenie arriving as a 4-Disc Blu-ray Combo Pack, Digital and On Demand on January 8, 2013.

A must-add to any Tim Burton collection, the hilarious 3D stop-motion animated masterpiece is filled with quirky characters and unexpected twists. Boasting an electrifying variety of bonus materials, the 4-Disc Combo Pack (Blu-ray 3D + Blu-ray + DVD + Digital Copy) includes:

Captain Sparky vs. The Flying Saucers  ::  An all-new original short featuring Victor and Sparky's home movie
Miniatures in Motion: Bringing Frankenweenie to life
Frankenweenie Touring Exhibit
Frankenweenie  ::  Tim Burton's original live action short film.
Pet Semetary  ::  music video performed by Plain White Tees

The Blu-ray Combo Pack's spectacular picture and sound enhances the tale of a boy who uses the power of science to bring his beloved dog back to life … and a whole town faces the unexpected and electrifying truth of what happens when monstrous experiments run wild!

Frankenweenie features an all-star cast including the voices of Emmy Award-winner Catherine O'Hara, Tony Award-winner Martin Short, Academy Award-winner Martin Landau, Charlie Tahan, Atticus Shaffer, Robert Capron, Conchata Ferrell and Golden Globe-winner Winona Ryder.
Frankenweenie was just released for purchase on January 8th! You can buy it starting at just $9.99 on Amazon.com. The Frankenweenie 4-disc combo with the digital copy has a value of $40, but it can currently be purchased for just $35!
Want to Win a Frankenweenie Blu-Ray and DVD prize pack?
One lucky winner will receive the following items bundled together in one exciting package:
Frankenweenie DVD and Blu-Ray Combo Pack
Frankenweenie poster
Special Frankenweenie promotional items
Enter the giveaway in the Rafflecopter box below. If you can't see the Rafflecopter widget, visit this BabySavers giveaway page and wait a few seconds for the box to load.
a Rafflecopter giveaway

Disclosure: This article and giveaway were provided by Disney and In Home Media. All opinions expressed are 100% my own.