In mid-December 2011, something changed for our family. Our house became THE house that other families wanted to visit. Not that our friends ever avoided our home, but we learned that a few kids were begging their parents to visit us.
I have a pretty strong feeling that the sudden interest in our home wasn't really because they wanted to socialize with my family or me. It's because they wanted to play with Haiden and Piper.  More importantly, they wanted to play with this: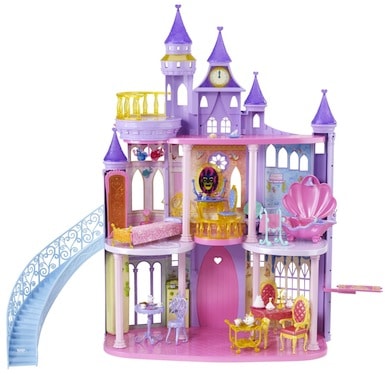 Can you blame them? We received the Mattel Disney Princess Ultimate Dream Castle and two Disney Princess 2-in-1 dolls to review, and I definitely wasn't the only one who was excited about it! 
About the Disney Princess Ultimate Dream Castle:
This enchanting castle features three stories of themed rooms, each tailored to an iconic Disney princess.

Girls can retell favorite fairytales from their own perspective with these fun & fabulous play areas:

Tiana's kitchen, perfect for pretend cooking
Belle's dining room, with "magically" moving character friends
Jasmine's elevator, which is really a "magic" carpet waiting to whisk her from floor to floor
Ariel's bathroom, complete with bubble sounds and a seashell tub; Snow White's vanity, with a "magic mirror" showing her beloved prince in the reflection
Sleeping Beauty's bedroom, where fairy godmothers spin above the bed
Cinderella's staircase, where she can glide down before midnight (but she's left her glass slipper behind)!

At the very top of the castle, there's a spinning, musical dance floor perfect for wishing upon a star and dancing the night away. It's the quintessential place for living happily ever after!
All those amazing features kept both Piper and Haiden busy for a long, long time. It wasn't a competition, but Haiden lost interest first, opting to go back to his favorite cars and trains. Piper, however, stayed in front of the castle for over an hour. I'd catch her "tucking in" the princesses in Sleeping Beauty's special bed and giving the princesses baths in the big seashell bathtub!
The set comes with over 50 play pieces including furniture, flatware, fixtures and many more adorable objects. Many of those pieces measure less than an inch square, so they're way too small for Piper (the guidelines do state that the toy is intended for kids ages 3 and up). So all those tiny pieces have been stashed away until she's a little bigger. On the plus side, she's certainly not missing them!
As a mom, my favorite thing about the Disney Ultimate Dream Castle is seeing how much Piper likes to play "pretend" with all the dolls, rooms and bigger play pieces. She must be practicing to be a future interior decorator, because I constantly observe her meticulously moving the furniture from one room to another, arranging it just so, then fixing it if anything shifts or tips over.
Another nice thing about the castle is that it definitely appeals to a wide range of ages. Piper is 2 and a half, and she thinks it's great. My niece, Tia, is 6 and she probably would have moved in with me when we showed her the castle for the first time. Even two other family friends who are 12 and 13 years old thoroughly enjoyed playing castle games with Haiden and Piper.
There's a definite Wow Factor with this toy. It stands over 3 feet tall. You can see from the above picture that it's several inches taller than Piper when she's standing up! With all the bright colors and fun accessories, everyone who has come in our front door has been excited to see everything the castle can do!
I can't imagine any little girl who wouldn't be thrilled to play with the Disney Princess Ultimate Dream Castle. If Haiden, my boy who lives and breathes for cars and trains, can spend time every day exploring the castle, then I think any child would be happily entertained with this castle!
You can purchase the Disney Princess Ultimate Dream Castle for $144.99. It's available at Amazon, Target.com or Mattel.com
Enter to Win a Disney Princess Doll!
2 winners will each receive the Disney Princess doll of their choice. Winners can choose from Snow White, Cinderella, Tiana, Jasmine, Ariel or Belle. 
There are some great ways to earn extra entries into this giveaway! All mandatory and extra entries must be submitted within the Rafflecopter Giveaway box below. 
If you're reading this article in an email newsletter, feed reader or a mobile device, you may not see the above Rafflecopter box. Please visit babygoodbuys.com and enter the giveaway there. 

a Rafflecopter giveaway

Comments are open on this post, but all entries must be done in the giveaway box above.
As always, if you have any trouble entering this giveaway, or if you have any questions, please contact me! 
I wrote this review while participating as a Mattel Disney Insider. All items to review were received at no charge. All opinions stated remain my own.