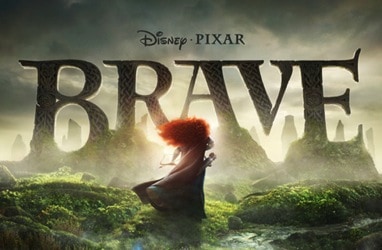 From the moment I first heard about BRAVE, the latest Disney/Pixar movie, I knew I had to see it. I've mentioned it time and again on this site: how the Scottish setting perfectly suits the Hamilton in me, how I've always dreamed about playing the bagpipes, and, above all, how much it appeals to my eternal love of all things Disney.
I was lucky enough to not only see Brave last Sunday night at the Walt Disney Studios in California but also attend the movie premier and view it a second time on Tuesday evening. I'll be writing all about the movie premier in another post, but both screenings left me breathless, amazed and absolutely certain Disney and Pixar had another hit on their hands!
We were encouraged to stay connected via social media during the first screening, and I sent out several tweets during the beginning of the movie before I made myself put my phone down and just take in the magic of the movie. One of the first tweets I sent out was this one:
Beautiful Scottish accents, euclidean pipes, views of the countryside…Brave is going to thrill my Hamilton family 🙂 #bravecarslandevent

— Marybeth Hamilton (@babygoodbuys) June 18, 2012
Going on this trip, visiting the Walt Disney Studios, attending the premier of Brave was a once-in-a-lifetime opportunity. When my mother-in-law passed away less than two days before I was to depart for the event, I was about to send my regrets and cancel my travel plans to stay by my husband's side. Thanks to the incredible support of my husband and his family, I was able to go. I don't think everyone is as fortunate to have such support, to have a spouse and family who look beyond their grief to actually insist that there's no way I could miss something like this.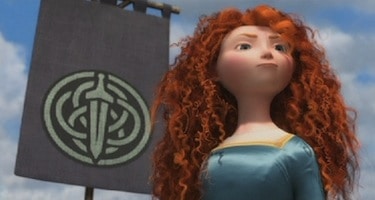 Given my in-law's Scottish heritage and their overt love of all things related to Scotland, I couldn't help but think of them and relate a lot of the movie's scenes to their own lives. While it made for not one, but two emotional viewings, it also helped me remember that there was a real reason I was there and that the movie was everything all of us had hoped it would be!
Set in the rugged and mysterious Highlands of Scotland, Disney•Pixar's "Brave" follows the heroic journey of Merida (voice of Kelly Macdonald), a skilled archer and headstrong daughter of King Fergus (voice of Billy Connolly) and Queen Elinor (voice of Emma Thompson).

Determined to change her fate, Merida defies an age-old custom sacred to the unruly and uproarious lords of the land: massive Lord MacGuffin (voice of Kevin McKidd), surly Lord Macintosh (voice of Craig Ferguson) and cantankerous Lord Dingwall (voice of Robbie Coltrane), unleashing chaos in the kingdom.

When she turns to an eccentric Witch (voice of Julie Walters), she is granted an ill-fated wish and the ensuing peril forces Merida to harness all of her resources—including her mischievous triplet brothers—to undo a beastly curse and discover the meaning of true bravery.

Directed by Mark Andrews and Brenda Chapman, and produced by Katherine Sarafian, "Brave" is a grand adventure full of heart, memorable characters and signature Pixar humor. Opens on June 22, 2012, inDisney Digital 3D™ in select theaters.
I know that an officially crafted synopsis can make any movie sound amazing, but I'm here to tell you that this description is spot-on. I'm not about to share any spoilers or discuss the plot in too much detail, I just want to share how the movie made me feel and my overall reactions to the film.
Like almost everyone else I know, the previous Disney/Pixar movies have left me reeling with their combinations of plot, characters, scenery and dialogue. Brave is absolutely no exception. The scenery and detail of the Scottish Highlands made me want to book a trip to Scotland before the movie was finished. Of course, every word is spoken with a Scottish accent, but even as someone who struggles understanding most accents, I didn't have a problem understanding almost every conversation.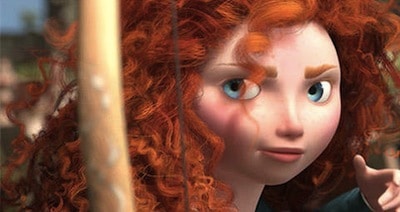 Just saw Brave. It left me obsessing over how the animators animated Merida's hair.#bravecarslandevent

— Marybeth Hamilton (@babygoodbuys) June 18, 2012

Then there's Merida's hair. The pictures above don't do it justice. I'm not familiar with animation terminology so I'm sure there are others who could better explain it, but I have to say that her hair is like another character in the movie. It's fiery and wild and completely embodies Merida's independent spirit.
While I loved Brave from start to finish, I was a bit surprised by the amount and level of violence in the movie. As the executive producer stated in our roundtable interview, "It's a [movie] rated PG for a reason." and this is how director Mark Andrews put it:
Brave was made for everybody–it's the parents' prerogative for what their kids can "take". ~Director Mark Andrews #bravecarslandevent

— Marybeth Hamilton (@babygoodbuys) June 18, 2012

My two little ones are 2 and 3 years old. I can say with certainty that neither of them would be able to handle the violence in the movie. At the same time I do think that almost every feature-length Disney movie has a scary scene and an overall "scare factor." This movie definitely lands on the scarier end of the Disney movie spectrum for me, but I understand that every family is different.
I appreciate that the movie has a PG rating, and I hope that parents take that into consideration when deciding if the movie is right for their own little ones. A few people have suggested that parents who are in doubt should simply screen the movie first before bringing their kids to see it. I agree. You can't "undo" the scariest scenes after kiddos have seen them, but I know that there are kids out there who are far "Brave"er than I am when it comes to movies!
All in all, I am certain that Disney and Pixar have another hit on their hands. BRAVE opens today and I highly recommend it!
This post was written as press coverage of Disney/Pixar's BRAVE. Disney provided accommodations and covered associated expenses. All opinions expressed are my own.