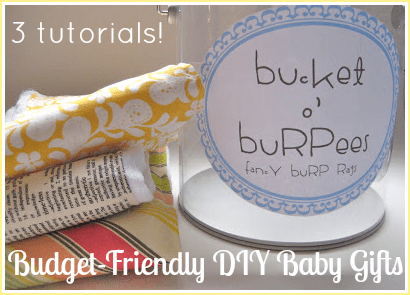 I love baby showers! They are so much fun and buying things for babies is the best kind of shopping (and the worst for the wallet)! But it doesn't have to be! You don't have to spend a lot of money to give a cute, useful and special gift. I always give handmade gifts because I love making something knowing that a little tiny perfect baby will be using it soon. Plus, I can give more bang for the buck that way.
I always calculate thoughtfulness into the value of my gifts, so while it may not cost a lot, it will hopefully be worth a lot to the recipient. Here are three simple projects that have the "wow factor" without the cost:
No Sew: Stamped Onesies, $2 each

Requires:
Total Cost: about $10 for 5 onesies, or $2 per onesie
Note: This could be less if you have more than one 40% off coupon. They come in the mail, email and the newspaper most weeks. You can use one for each fabric paint and/or stamp as well.
Full Tutorial: How to make stamped onesies.
Beginner Sewing: Burpee Bucket with 3 Burp Cloths, $9.60


Requires:
Total Cost: about $9.60 (or more, depending on the fabric you use)
Full tutorial :: How to make a Burp Cloth Bucket Gift (with printables!).
Intermediate to Advanced Sewing: Ruffled Nursing Cover, $10

Requires:
1 yard of fabric, price varies
14″ of boning $2
2 large D-rings $3
Don't forget to use those JoAnn printable coupons!
Total Cost: About $10 or more depending on the fabric you choose.
Tutorial: How to make a nursing cover.
These compare to Bebe Au Lait or Hooter Hiders, which are $35 or more!
Happy crafting!
Readers: Do you have a DIY baby project you want featured on BabySavers.com? Contact me with your ideas and I'll get it scheduled for posting!