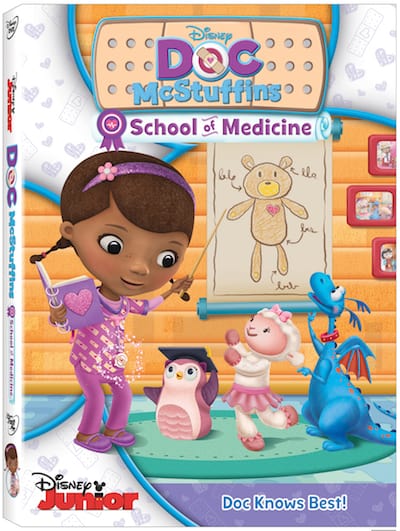 My daughter is a huge Doc McStuffins fan. Huge. But the truth is, I'm not far behind her on the fangirl scale. Generally speaking, Disney Junior's Doc McStuffins is nothing but sweet, and the episodes involve a subtle lesson wrapped in a cute story.
I especially appreciate that Doc McStuffins has a lighthearted way of exploring medical and dental office visits and makes the prospect of doctor's appointments a lot less scary and a lot more fun for little kids!
What I like most about Doc McStuffins, though, is that everything above is pulled together in a show that always highlights friendship and encouragement above everything else. Plus, the feminist in me can't help but be pleased that the show features a smart girl in the lead role of  doctor, and all the characters are respectful of one another.
In Doc McStuffins: School of Medicine, a compilation of engaging Doc McStuffins stories, the many specialties in which doctors practice medicine and health care are highlighted for young kids to comprehend.

In her playhouse clinic, Doc is an optometrist, helping her stuffed owl toy, Professor Hoostburgh, to see clearly again. As a dentist, she fixes a tooth on Donny's toy shark Mr. Chomp and, as a radiologist, Doc takes an inside look at Daisy's arm after a Roller Disco fall.

Then, when Doc accidentally sprains her own ankle it's up to her toys to provide the care and compassion to Doc herself. With rest, patience and plenty of cuddles, she will be as good as new, singing The Doc is in.
Doc McStuffins: School of Medicine includes five different episodes. Each one explores new friends and a different area of medicine:
1  ::  Chilly Gets Chilly / Through The Reading Glass (Optometry)
2 ::  Hallie's Happy Birthday / Shark-Style Toothache (Dentistry)
3 ::  Think Pink / You Foose, You Lose (Sports Medicine)
4 ::  Disco Dress Up Daisy / The Glider Brothers (Imaging/Radiology)
5 ::  Celestial Celeste / Run Doc, Run! (Imaging/Radiology)
Take a look at So Much Better Now:

The Doc McStuffins: School of Medicine DVD was just released on September 9th, and it also comes with a FREE exclusive Doc McStuffins Dress Up Playset!
The MSRP for Doc McStuffins: School of Medicine is $19.99, but it's on sale at Amazon right now for $12.96 and it's eligible for free shipping. That's 35% off the list price!
Disclosure: Disney and/or the associated public relations professionals provided the product at no cost to facilitate this review. All opinions are honest and genuine.