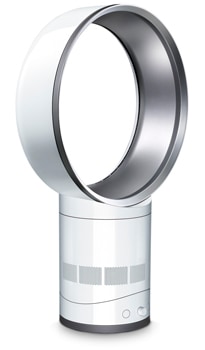 Dyson is not a name that's new to our household. I did a Dyson DC25 Animal vacuum review last year, and I love it every bit as much today as I did when I first took it out of the box.
After that great experience I felt that the Dyson vacuum certainly lived up to its reputation. When Dyson offered to send me their latest product, an Air Multiplier fan, there was no way I was going to say no!
Let me start off by saying that I received the fan in the middle of July. Yes, I've had it for a few months, but I wanted to see how it made it through the hot summer season before publishing my final thoughts.
Fortunately for me, this Minnesota mom blogger is enjoying one of the hottest falls on record so I'm still using the Air Multiplier well into October! I'm not putting it off any longer. Warm weather or not, I need to share the details on this fabulous product!
When I first received the Dyson Air Multiplier fan, it was packed in a compact box, much like any other product from the same brand.
It came together in a few steps, and it's noticeably lighter than traditional fans. Normally, that would be a concern, but, as you're about to learn, the Air Multiplier doesn't work like traditional fans, so it's not an issue!
The Air Multiplier powers on with the touch of a button, and the speed and rotation are managed with just a few sleek controls.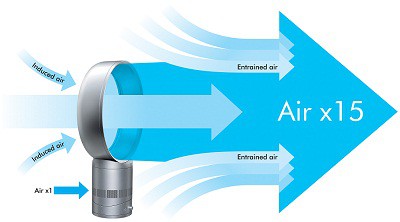 How Does the Dyson Air Multiplier Work?
Let me start off by saying that this is a great question! The fan works by drawing in air using the same technology as jet engines. The air is then channeled and amplified with surrounding air then pushed out the front of the fan. Even after I've read all the literature about this innovation, seeing it in action is a completely different story!
Why is the Dyson Air Multiplier so Great?
The Dyson Air Multiplier has taken the everyday fan that we've all used for years and dramatically improved it! From a simple performance perspective, the Air Multiplier moves air across the room with a force varying from that of a light breeze to something like a wind tunnel!
It's also supremely powerful for its size: this is a tabletop-size fan that can cool an entire room!
From a design standpoint, you've never seen another fan like this! To say that the Dyson Air Multiplier is a conversation piece is an understatement.
Trust me, when your visitors walk in and see the Air Multiplier running, be prepared to field a bunch of questions and speculation on how it works, then be ready to hear about how amazing it is and how great it looks!
If you don't believe how cool this product is, check out this video my husband found on YouTube that displays exactly how awesome it is:
https://www.youtube.com/watch?v=8LAHqRmxn-4
As a parent, fans are very important. Recent research indicates that the use of a fan in a baby's room may reduce the risk of SIDS. While a fan that costs over $200 is absolutely not necessary for effective prevention, it can make  more sense as a long-term purchase.
We bought a simple tabletop fan for Haiden's room as soon as the research results made news. We were still using that fan up until we received the Dyson Air Multiplier.
See, since the air-multiplying design eliminates the scary blades that little fingers like to reach for, it's definitely a safer option to have around little ones! We even had it on the floor to push the cool air upwards until Piper became too adept at turning it on and off all by herself. We just wanted it to stay on during the hottest summer days!
Finally, the Air Multiplier has true one-hand operation from powering it on to positioning it. Of course, almost any fan can be turned on with one hand, but, because the motor of the Air Multiplier resides in the base, it only requires one hand to turn it, tilt it or move it to a new position.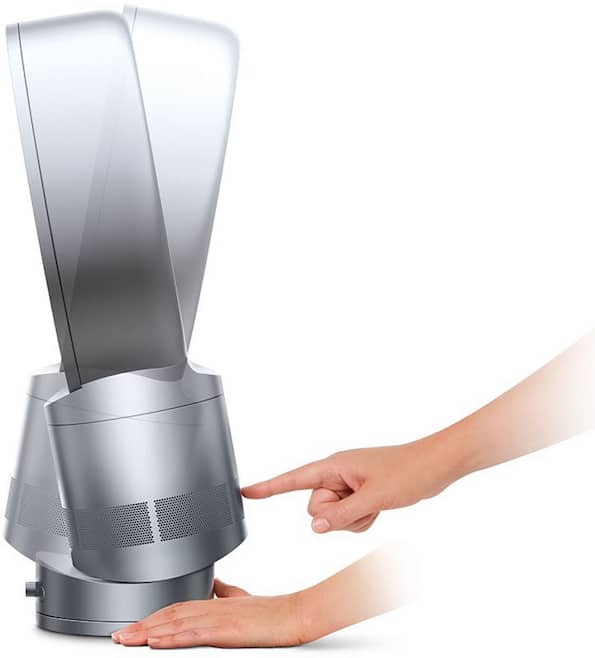 Since I have a one-year-old who likes to be held almost all the time, one-handed operation is very much appreciated!
What's not so great about the Dyson Air Multiplier?
Is it any surprise that I'm going to say the Air Multiplier's price is a turn off? The price tag is pretty hefty for a fan, that's for sure!
I do have to say though, that this is made by Dyson. To me, Dyson is synonymous with quality. I have friends who have actually paid up to $100 for traditional room fans with blades, and this product is definitely superior to those!
Simply put, with it's compact footprint, powerful performance and sleek design, I do have to say the Dyson Air Multiplier exemplifies "You Get What You Pay For." If you're looking for a child safe fan that works even better than it looks, check it out!