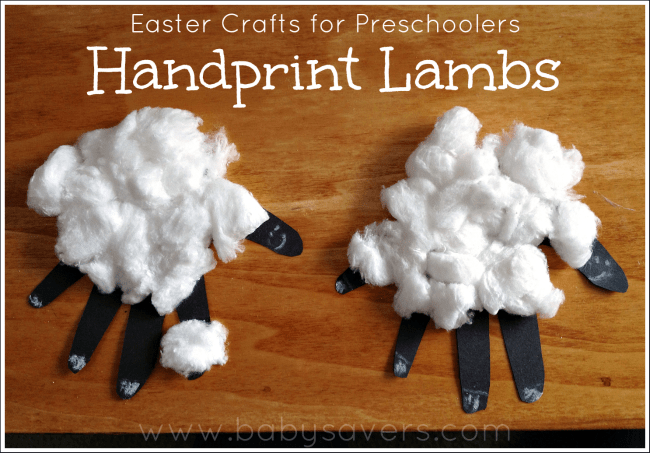 Sometimes it's hard to find easy and cute Easter crafts for preschoolers, but this is a sweet Easter craft that a little one can do (with a bit of help!).
These fun little handprint lambs require just a few materials and they end up so cute! If an adult can do the tracing and cutting, this Easter craft for preschoolers can actually be done by kiddos as young as about 2!
Share this post by pinning it on Pinterest! Then follow me on Pinterest!
Here's how to make handprint lambs:
Materials needed:
Instructions:
Trace the hand onto the black construction paper using the pencil. Try to have the fingers closer together and the thumb pointing as far out as possible.

Cut out the handprint right at the part of the wrist closest to the fingers.
Use the silver pen or chalk to draw out a little lamb face and a hoof at the end of each of the four fingers.
Glue cotton balls or pompoms all over the palm part of the handprint. You can also use them for the hoofs if you'd like.
Let the glue dry and display!
What do you think of this project? Do you have any ideas for Easter crafts for little ones?