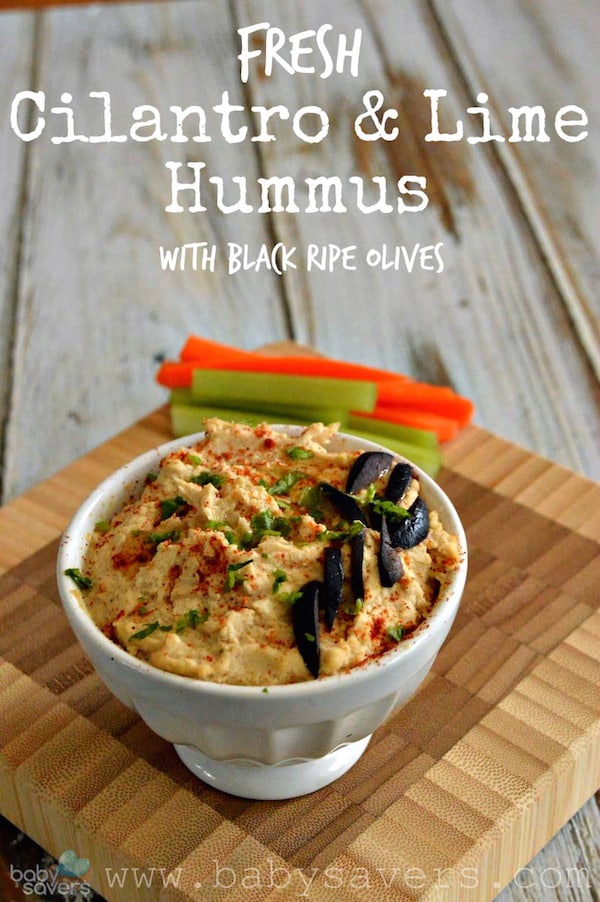 Olives are a funny food for me. I love eating a few if they're right in front of me, but I totally forget about them if they're out of my sight.
Another weird thing? I never even think about cooking or preparing food with olives as an ingredient. I guess I'm inadvertently an olive purist!
That doesn't mean that I don't like recipes, especially easy recipes, with olives. Now that I know olives are a good source for vitamin E, fiber and iron, I think I'm on my way to changing that!
For high-quality olives, make sure you turn over the jar or tin and look for the Olives from Spain logo.
I love reading recipes, and I'm always saving easy appetizer recipes. Once I knew I wanted a recipe with Olives from Spain, I started keeping an eye out for easy appetizer recipes with olives.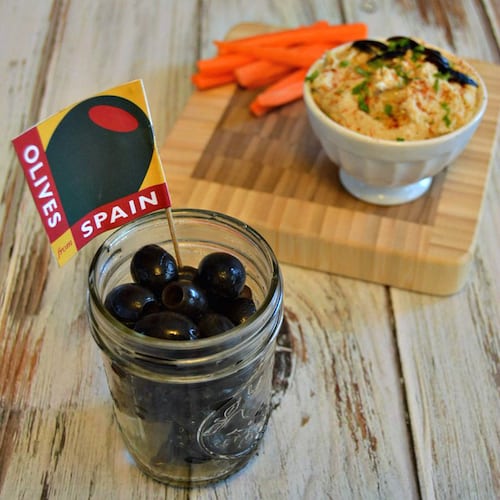 When I couldn't find any perfect easy appetizer recipes with olives I came up with my own: Cilantro Lime Hummus with Black Olives.
This easy appetizer takes about 5 minutes to make, and just a few extra minutes to chop up veggies and slice some bread to serve with it! Learn How to roast garlic in olive oil if you really want to level up the flavors!
2 Easy Appetizer Recipes with Olives
Cilantro Lime Hummus Recipe
Ingredients
1 15-ounce can garbanzo beans, drained with liquid reserved
1 cup fresh cilantro leaves
2 cloves garlic
1 1/2 tablespoons olive oil
1 to 2 tablespoon fresh lime juice
Salt and pepper to taste
Sliced black ripe olives
Paprika (optional)
Directions
Put garbanzo beans, cilantro, garlic, olive oil and lime juice in a food processor or blender and process until smooth.
Add salt and pepper to taste.
If the mixture is too thick, add reserved liquid from the garbanzo beans and blend again. I add 1 tablespoon at a time until it's the desired consistency.
Sprinkle sliced black ripe olives over the finished hummus.
Garnish with paprika and additional cilantro leaves, if desired.
Another one of those easy appetizer recipes with olives was provided by Olives from Spain: marinated olives. I love that these can be served on their own or with a variety of breads and crackers.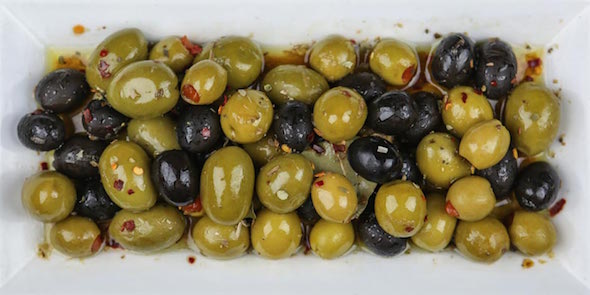 Marinated Olives Recipe
Ingredients
1 cup pitted green olives of your choice, drained
1 cup pitted Spanish green olives, drained
1 cup pitted black olives, drained
1 cup pitted pimento stuffed olives
4 garlic cloves, minced
1 tablespoon dried oregano
4 bay leaves
1 teaspoon crushed red pepper flakes
1 tablespoon sugar
2 ounces Sherry vinegar
2 ounces balsamic vinegar
8 ounces olive oil
2 lemons, peeled & juiced
Salt, to taste
Directions
Combine garlic, sugar, oregano and crushed red pepper in a bowl.
Add the vinegars, lemon juice and olive oil.
Fold the olives into the mixture and gently add the lemon peel and bay leaves.
Transfer the mixture to an airtight container. Let marinate in the refrigerator for at least 24 hours before serving.
This month, Olives from Spain is heading to Miami for the South Beach Wine and Food Festival. If you're also going to be one of the 18,000 attendees at this festival, stop by the Olives from Spain station to sample some tasty bites!
Follow the #OlivesFromSpain hashtag for more details and easy appetizer recipes with olives!
Disclosure: Compensation was provided by Olives from Spain via MomTrends. The opinions expressed herein are those of the author and are not indicative of the opinions of Olives from Spain or Momtrends.