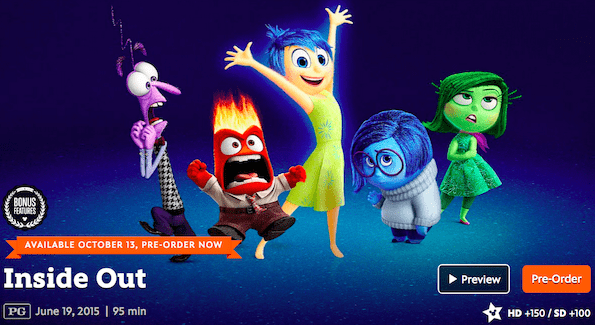 You may have heard that Disney-Pixar's Inside Out is arriving on Blu-ray and DVD combo pack on November 3rd, but did you know that Inside Out will be available on Digital HD and Disney Movies Anywhere starting tomorrow, October 13? 
So if you can't wait to buy Inside Out on Blu-ray and DVD, buy your digital HD copy tomorrow and watch it right away!
A few weeks ago I was on a special Disney press trip that included participating in an Inside Out press day. I interviewed some talent from the movie (so much more on that later!) and I was one of the first to screen Riley's First Date, the all new short that's included when you purchase Inside Out in any format!
I'm also one of 25 bloggers exclusively chosen to show you the newest deleted scene from Inside Out. Check out Joy's Decline, with a special intro from the director, Pete Docter:
https://www.youtube.com/watch?v=KJ0JoR7pc0g&ab_channel=DisneyMoviesAnywhere
About Inside Out:

Do you ever look at someone and wonder what's going on inside their head? Disney-Pixar's "Inside Out" takes an exciting and hilarious journey into the mind to find the answer.

Based in Headquarters, the control center of 11-year-old Riley's mind, five emotions are hard at work, led by lighthearted optimist Joy.

She strives to make sure Riley stays happy as she operates alongside fellow emotions Fear, Anger, Disgust and Sadness.

It's "an instant classic," raves Richard Roeper, Chicago Sun-Times.

Experience it like never before on Disney Blu-ray!
If you've never seen Inside Out check out the official Inside Out trailer. Be prepared, you're going to want to see the whole movie after watching it!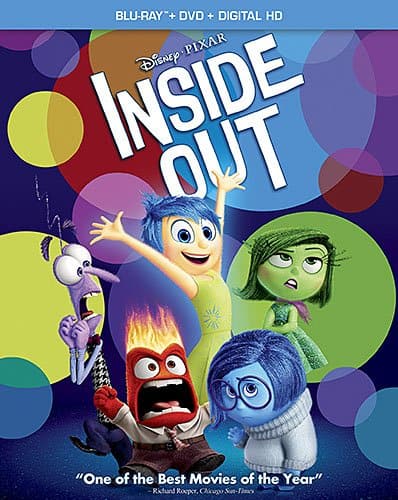 Buy Inside Out on Digital HD today so you'll be set to watch it tomorrow, or pre-order the Blu-Ray DVD combo and have it delivered on its release date!