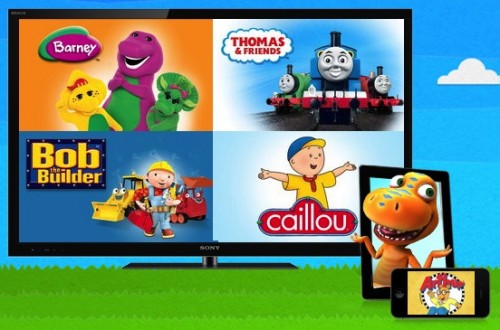 My husband and I only watch television shows via Hulu. There are several shows that we look forward to watching, and it's so great the Hulu lets us watch them on our own time, not on the TV network's schedule!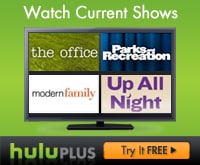 We've also taken advantage of a past offer for a FREE trial for Hulu Plus when we really wanted to catch up on missed episodes of New Girl and Parks & Recreation, and last summer we watched the entire Arrested Development series for FREE!
Watching shows on Hulu is super easy. You can do it from any computer, iPad, iPhone, enabled televisions and many other devices. It takes about 5 seconds to hook up my husband's laptop to our TV via an HDMI cord and start watching a show. I even have a Remote Mouse app on my iPhone so we can use it like a remote control for the computer!
I actually didn't know that Hulu Plus offers an extensive selection of children's programming. I'm a huge fan of PBS shows, and I love that they're now offering Dinosaur Train, Barney, World Word and Super Why among plenty of others!
If you're not familiar with Hulu Plus, here's the brand's brief description:
Hulu Plus lets you view hit current and prior season TV shows and movies anytime in HD with limited advertising. We think of it as a complement to the free service on Hulu. For many popular shows on Hulu Plus every episode of the current season is offered not just a handful of recent episodes. Hulu Plus subscribers also have access to prior seasons and full runs of some of TV's greatest shows, including many that were not available online before.
Even better, you can watch Hulu Plus content in HD (when available) on multiple devices, including your laptop, the Apple iPad and iPhone, PlayStation 3, Roku, and TVs and Blu-ray players from Sony, Samsung and Vizio. (More devices are coming soon.)
 Hulu plus is currently offering a totally FREE 7-day trial. Sign up here and start watching your favorite shows or find some new ones!