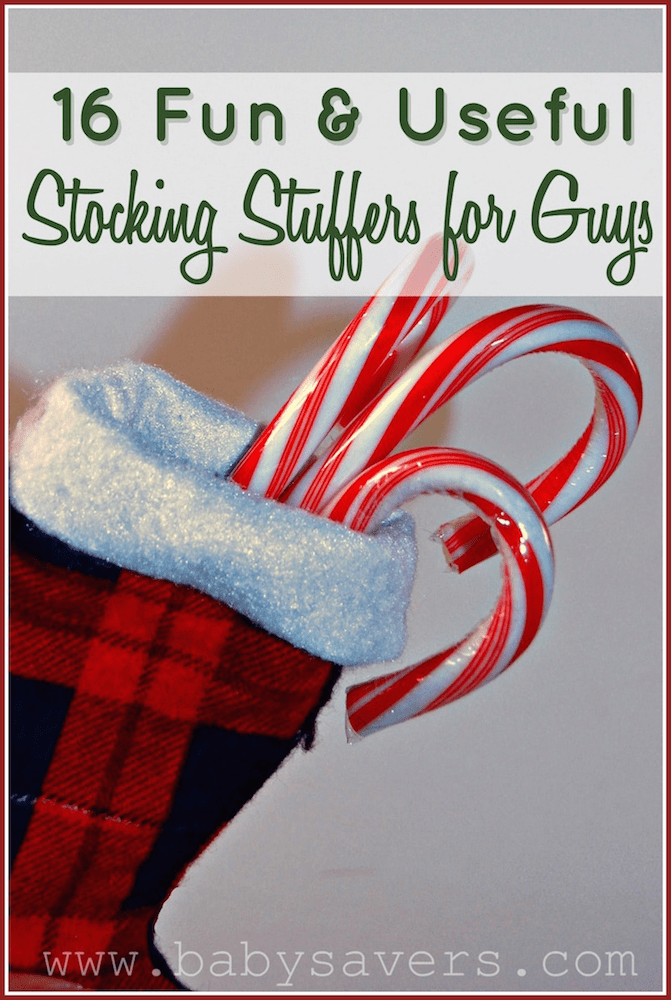 Gift Ideas for Guys
My husband, dad or father-in-law would love pretty much any of these fun stocking stuffer gifts. To be honest, I'd be thrilled to get most of these gifts in my own stocking!
We've have tried to only include items that will arrive in time for Christmas, but please take note of the estimated shipping dates to be sure it will arrive in time.
One more note: If you're looking for unique gifts for anyone, I highly suggest shopping at Tanga and its sister site, Belle Chic. A few items listed below are from Tanga, but their selection is huge, prices are low and there's free shipping on lots of items!
If you like this post, please pin it on Pinterest or repin it. Then, follow me on Pinterest for all sorts of gift ideas!
Highly rated, and I love the design!
Click to get this deal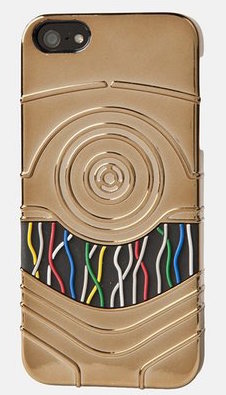 Click to get this deal
My husband has these in a bigger size. I'm sure he'd love these! Add-on items ship with orders that include $25 or more of items shipped by Amazon.
Perfect in the garage, car, on the boat, or around the house to secure and organize anything and everything
Use indoors or outdoors
Three inch size is great for headset cord, snack bags, and more
Strong wire inside rubber coating won't lose its shape
Stainless steel multi-tool with a liquid filled compass, magnifier, can and bottle opener, screwdriver, striker and mini ruler.
Credit Card sized
Two year limited warranty
Add-on items ship with orders that include $25 or more of items shipped by Amazon.
Key-sized multi-tool that easily attaches to an existing key chain or strap
Stainless steel construction
Features the following tools: Box Cutter, Bottle Opener, Wrench, Ruler, and Flat Head Screw Driver
Size: 2.6″ x 0.7″ x 0.1″
Made in USA
A little ball that massages trouble spots on hands and feet
Simply roll the stimulating bumps under feet or over your hands for fast relief
Use foot rubz anywhere, home, office, on a plane
Effective in providing temporary relief from plantar faciitis
The convenience of a set of precision screwdrivers in one small pocket tool!
Two double-ended bits; sizes 5/32″, 1/8″, 0PT, 1PT.
Ideal for toy assembly, battery compartments, eye glasses, electronics and more.
Magnetic bits have non-slip textured surface so they attract and hold small screws.
Add-on items ship with orders that include $25 or more of items shipped by Amazon.
Easily clip to belt loop, key chain, tool belt, or backpack
Dual inch/metric scale for any job
Gently massage acupressure points and stimulates scalp
Provides relaxation and helps reduce stress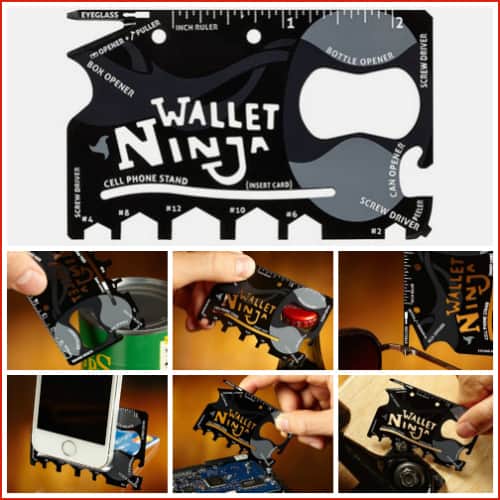 The power of 18 reliable, functional, everyday tools in the size of a credit card.
Crafted from 4x heat-treated steel.
Tools include 6 hex wrenches, can opener, box opener, 3 screwdrivers, phone stand, bottle opener, can opener and more.
10 tools in 1: Pliers, Wire Cutters, Knife, Awl/Knife, 2 and 3mm Flat Screwdriver, Phillips Screwdriver, Flat File, Saw, Can/Bottle Opener
Easily folds and snaps into a compact pocket size
Rugged, corrosion-resistant stainless steel construction
Click to get this deal
Or if he's a sucker for Bear Grylls stuff, like my husband…
Compact multi-tool: Two full-size blades. Components include needle nose pliers, wire cutters, fine and serrated blades, Phillips driver, small and medium flat drivers, lanyard ring, bottle opener, tweezers.
Priorities of survival, pocket guide contains Bear's survival essentials
Stainless steel, leather, PU
Free gift box!

Do you love any of these ideas? Would anyone on your shopping list love them?