This post brought to you by McCormick & Company. All opinions are 100% mine.

Did you know that there are tons of people ready to make a dinner recipe with chicken every night? I know I'm one of them on most of those nights. But you can add one more requirement to any recipe that I might try: it has to be easy!
Marybeth's note: Honestly, I'm terrible at meal planning, so I need a chicken recipe that can be ready to go in 30 minutes, tops.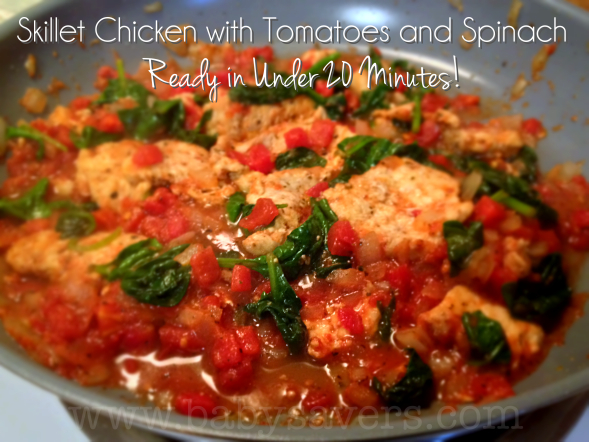 McCormick Spices invited me to try my hand in making the Herb Chicken Skillet with Spinach and Tomatoes: a new recipe that promised to be delicious and ready to serve in 30 minutes. Perfect!
My little ones and I were spending over a week in Northern Minnesota to enjoy an extended visit with my grandma. Since I was responsible for all the meals, I knew that I'd be serving this new chicken recipe one night!
After a trip to the grocery store to pick up some ingredients plus McCormick Basil Leaves, Black Pepper, Garlic Powder and Oregano Leaves, I realized I had purchased TWO bottles oregano leaves and no basil. I didn't even notice it until I after I had taken the below photo and was ready to add the herbs to the dish!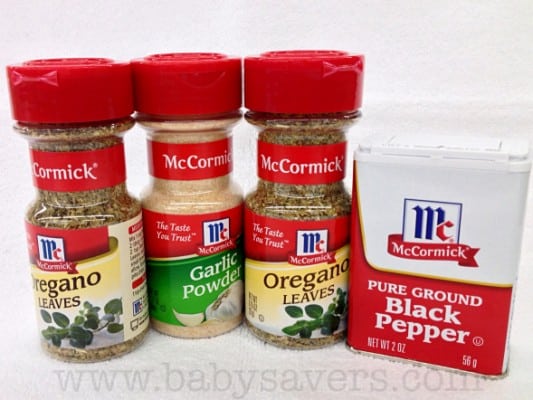 .

Thankfully, my grandma actually had McCormick Basil Leaves in her spice cabinet, reminding me that McCormick really is a classic brand that appeals to all ages!
I checked the clock and completed the dish from start to finish in 20 minutes, just like the recipe said. Although it's suggested to serve the dish over pasta or couscous, I made baked potatoes (my grandma's favorite!) and they were perfectly delicious together! Haiden and Piper even really liked the chicken, which is a HUGE victory in my book!
The recipe made plenty for two kids and two adults, and there were enough leftovers to provide a full meal for me on a different night. Plus, the recipe itself is a keeper! In addition to being quick, the ingredients are simple and the flavors are delicious without being overpowering.
I'm thrilled to announce that I'm offering a special Homemade in America McCormick Gift Set pictured above to one lucky reader!
Giveaway has ended.