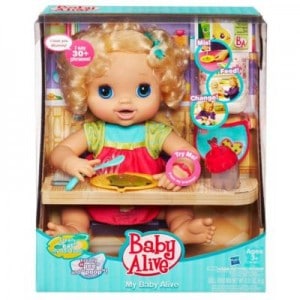 The My Baby Alive Doll is ready to laugh, play and chat with "mommy!"
Baby Alive's My Baby Alive doll offers the most complete caregiving experience within the BABY ALIVE brand, speaking 30+ phrases and featuring "rock-a-bye" eyes that can open and close. When she's ready for bed, little ones can "feed" their baby doll her bottle and mix her special "food."

Don't forget to change her diaper! After a day full of play, My Baby Alive is ready for bedtime and loves to fall "asleep" in her "mommy's" arms.
Available at Amazon.com,  Target.com for $29.99, at Walmart.com for 39.99 and on HasbroToyShop.com for $34.99.

The 2011 Baby GoodBuys Holiday Gift Guide may contain advertising information provided by the manufacturer or PR representative. I've chosen to feature all the items, but they should not be considered a review or endorsement unless otherwise stated. –Marybeth