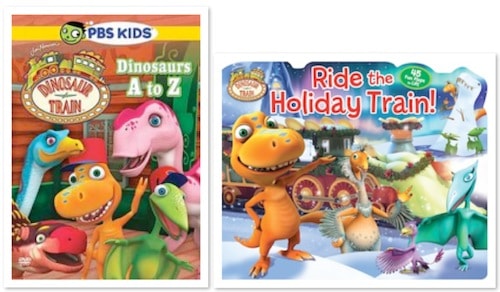 The hit PBS television show Dinosaur Train has a few items that could make perfect holiday gifts!
Dinosaur Train: Ride the Holiday Train lift-the-flap board book:
Buddy and his friends are super excited. Their favorite holiday is coming—the Winter Solstice!

Kids travel on the holiday train to the North Pole where the Pteranodon family has the chance to build snow dinosaurs, play a prehistoric game of ice hockey, and meet some new friends.

Secondary learning activities which reinforce learning concepts are included, and over 45 flaps hide fun surprises that kids will want to find again and again!
Dinosaur Train: Dinosaurs A to Z DVD Featuring a bonus holiday episode:
Travel on the Dinosaur Train with Buddy, Mom, and Tiny to gather all the dinosaurs in the "Dinosaurs A to Z'" song for a picnic at Troodon Town!

Join the Pteranodon family as they reunite with some dinosaurs they've met before, and are introduced to new species, and learn about the classification of all 26 dinosaurs on the train.

Bonus Holiday Episode: Solstice Time – While visiting the North Pole, the Conductor suggests that the family stop off at Aurora Borealis Station on an enormous frozen lake to see the Aurora Borealis, where the Northern Troodons celebrate a "Festival of Lights."

While the kids wait for night to fall and view the Aurora Borealis, they work up an ice-skating show to entertain Mom and Dad. Everyone joins in to sing "Solstice Time is Here" and skate under the lights!
The Dinosaur Train: Ride the Holiday Train book has an MSRP of $9.99. It can be purchased from Amazon.com.
The Dinosaur Train: Dinosaurs A to Z DVD has an MSRP of $12.99. It can currently be found on Amazon for $9.99.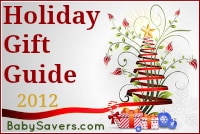 The 2012 BabySavers.com Holiday Gift Guide may contain advertising or promotional information provided by the manufacturer or PR representative.
The gift guide is intended as a shopping guide for the holiday season, and this post should not be considered a product review or endorsement unless otherwise stated. As always, feel free to contact me if you have any questions.–Marybeth