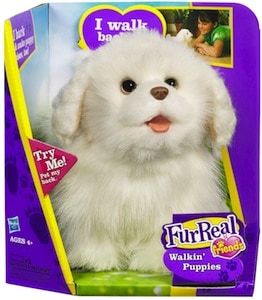 In 2010, Hasbro's FurReal Friends introduced GoGo, My Walkin' Pet, Now her adorable puppies have arrived!
Just like their mom, GoGo's Walkin' Puppies can't wait to get moving! With the simple stroke of her back, this adorable pup will walk in a circle and come back to you, just like a real puppy! These little pups love to be pet and will playfully bark to let you know just how delighted they are to be your friends.

Kids can choose between two different puppies: a loveable puppy with snow-white fur or an adorable brown and white puppy. Each sold separately.
The FurReal Friends GoGo's Walkin' Puppy is intended for ages 4 and up. It's available at Walmart.com for $15 and on Amazon.com for $22.69.

The 2011 Baby GoodBuys Holiday Gift Guide may contain advertising information provided by the manufacturer or PR representative. I've chosen to feature all the items, but they should not be considered a review or endorsement unless otherwise stated. –Marybeth