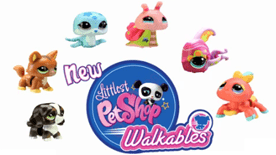 Add some motion and excitement to your little one's Littlest Pet Shop collection with the Walkables Pets Assortment!
These quirky pets are full of spunk and ready to get up and go. At the touch of a button these pets get going, moving across any smooth surface. Kids can collect up to 12 Littlest Pet Shop Walkables.

Pets including a dog, seal, snail, fish, cat, spider and more. Each sold separately.

The MSRP on Littlest Pet Shop Walkables is $7.99 and they're intended for ages 4 and up. They're available at most major toy retailers nationwide and on HasbroToyShop.com.

The 2011 Baby GoodBuys Holiday Gift Guide may contain advertising information provided by the manufacturer or PR representative. I've chosen to feature all the items, but they should not be considered a review or endorsement unless otherwise stated. –Marybeth