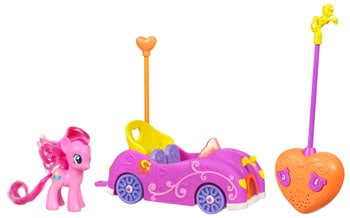 Give your little one a stylish ride for her ponies with the My Little Pony Pinkie Pie's Remote Control Car:
The My Little Pony Pinkie Pie's R/C Car has Pinkie Pie at the wheel and ready for a fun-filled cruise through Ponyville in the My Little Pony RC vehicle. This stylish violet coupe features a white swirled racing stripe and embossed horseshoes that assure a lucky day for any pony. The easy-to-use two button remote puts girls in control of the adventure, allowing them to drive the car forward and spin the car around.

Every road trip needs a playlist, and girls will love humming along to the My Little Pony theme song from the "My Little Pony Friendship is Magic" television series, which plays at the touch of a button on the remote control. Headlights and sound effects add even more excitement to the ride.

The My Little Pony RC vehicle fits up to two ponies and three animal friends for one magical road trip. Additional ponies can hitch a ride with Pinkie Pie by attaching Applejack's Farm vehicle or Rarity's Royal Gem Carriage vehicle to the back of the car (each sold separately).

The My Little Pony Pinkie Pie's Remote Control Car has an MSRP of $19.99 and is intended for kids ages 3 and up. The toy is available at Target.com for $11.24, at Walmart.com for $21.97 and at Amazon for $19.99.

The 2011 Baby GoodBuys Holiday Gift Guide may contain advertising information provided by the manufacturer or PR representative. I've chosen to feature all the items, but they should not be considered a review or endorsement unless otherwise stated. –Marybeth