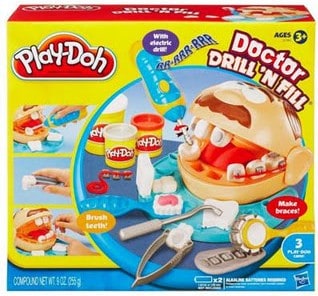 Make going to the dentist a little less scary with the Play-Doh Doctor Drill 'N Fill Play Set! Little hands can make braces and brush teeth for the included head with ears!

The play set includes the head with ears, electric drill, tweezers, dentist tool, mirror/braces roller, toothbrush presser, instructions and 3 cans of Play-Doh Modeling Compound.
MSRP on the Play-Doh Drill 'N Fill Play Set is $13.99. The set is available at WalMart online for $12.88!

The 2011 Baby GoodBuys Holiday Gift Guide may contain advertising information provided by the manufacturer or PR representative. I've chosen to feature all the items, but they should not be considered a review or endorsement unless otherwise stated. –Marybeth