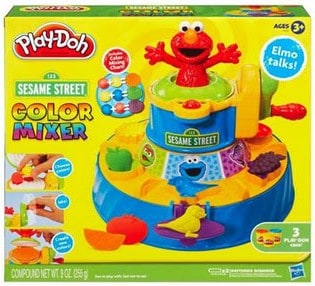 Have a color-mixing playmate in Elmo with the Play-Doh Sesame Street Color Mixer:
Elmo loves colors! The Play-Doh Sesame Street Color Mixer is sure to fascinate little ones as Elmo teaches them about color mixing and color recognition. Place two Play-Doh compound colors in the mixer, crank away, and open the lid to discover a new color! Set includes three 3-ounce cans of Play-Doh compound.

Toddlers and preschoolers will learn about colors with this fun toy! Spin the color wheel and Elmo will name the colors as they go by; when the wheel stops on a color, Elmo will talk about that color!
The Play-Doh Sesame Street Color Mixer has an MSRP of $29.99 and it's intended for kids ages 3 and up. You can find it on Amazon for $19.99, on Walmart.com for $19.97 and on Target.com for 22.99. It's also available at most major toy retailers nationwide and on HasbroToyShop.com.

The 2011 Baby GoodBuys Holiday Gift Guide may contain advertising information provided by the manufacturer or PR representative. I've chosen to feature all the items, but they should not be considered a review or endorsement unless otherwise stated. –Marybeth