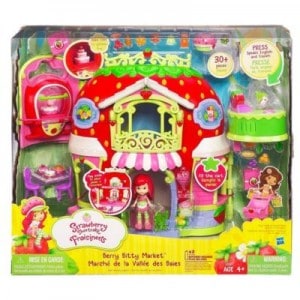 The Strawberry Shortcake Berry Bitty Market is the most popular place to shop in the Berry Bitty City!  It's where Strawberry Shortcake and her friends go to stock up on treats, sweet snacks, and fun!
Shaped like a plump strawberry, the Berry Market reveals a one-stop shop full of groceries and goodies.  Kids will see a pretend cake rise in the bakery's "working oven," Strawberry Shortcake can take a stroll through the grocer's  produce aisle to fill a basket with the tastiest fruit around.  When the shopping trip is over, Strawberry Shortcake can ring up her customers at the cash register that's complete with an electronic scanner featuring real phrases and sounds!

The Strawberry Berry Itty Bitty Market playlet is made up of a 3-inch sweetly-scented doll and adorable accessories including a shopping cart, play food, grocery sacks and more.
The Strawberry Shortcake Berry Bitty Market Playset is available at Amazon.com for under $40, at Walmart.com for $32.88 and at Target.com for $32.89, most major toy retailers nationwide and on HasbroToyShop.com.

The 2011 Baby GoodBuys Holiday Gift Guide may contain advertising information provided by the manufacturer or PR representative. I've chosen to feature all the items, but they should not be considered a review or endorsement unless otherwise stated. –Marybeth