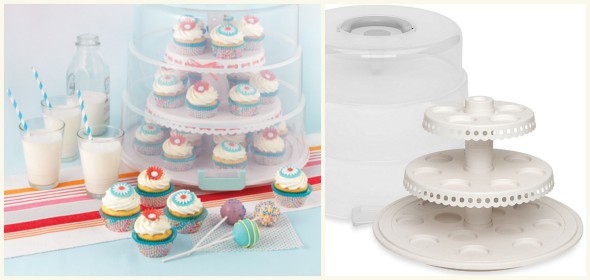 If you know someone who's obsessed with cupcakes or cake pops, the Sweet Creations by Good Cook Cupcake and Cake Pop Carrier would be a perfect gift!
The Cupcake and Cake Pop Carrier holds 24 cupcakes and 40 cakepops. We know you're excited about baking, decorating and serving your fabulous sweet creations!

This carrier gives you the flexibility to prep and transport your decorated treats securely with its sturdy display stand and latched case with handle.

Once you're at your destination, the carrier converts to a 3-tier pedestal display, eliminating the need to bring a separate serving plate.

You can customize your carrier to fit any event from birthdays to sporting events by lacing festive ribbon through the first and second levels of the display stand!
Personally, I couldn't be more excited about this cupcake carrier! The fact that it doubles as a display stand for cake pops is the icing on the (cup)cake!
I also never knew I really needed a cupcake display stand, but the functionality of this one just makes sense. Instead of trying to arrange cupcakes on a plate without having them bump into each other or just not fit well, this stand evenly spaces the cupcakes for a lovely display!
The Sweet Creations by Good Cook Cupcake and Cake Pop Carrier can be purchased exclusively at Bed Bath and Beyond for $29.99.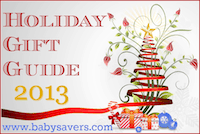 The 2013 BabySavers.com Holiday Gift Guide may contain advertising or promotional information provided by the manufacturer or PR representative.
The gift guide is intended as a shopping guide for the holiday season, and this post should not be considered a product review or endorsement unless otherwise stated. As always, feel free to contact me if you have any questions.