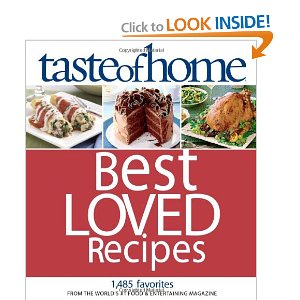 Taste of Home is my favorite magazine, and I love having a bunch of recipes from the magazine all in one place!
I recieved a copy of Taste of Home Best Loved Recipes: 1485 Favorites from the World's #1 Food and Entertaining Magazine at a conference last summer, and I've been loving the recipes in the cookbook!
Real recipes from real home cooks—they're what make Taste of Home one of America's most popular—and most trusted—names in home cooking.

Over the years, we've featured tens of thousands of recipes in our magazines and websites. But what makes this book so special is that it features not just great recipes. Not just award-winning recipes.

These are our best-loved recipes: The ones that conjure up heavenly aromas, that bring you back to Sunday dinner tables, summer picnics and holiday parties, that call vividly to mind the special cooks who made them. The ones that make you close your eyes, smile and say, "Mmmmm!"

They're all here—cook-off winners and bake-sale favorites, must-have comfort foods and secret family recipes, regional specialties packed with flavor and style. This collection contains 1,485 of the most requested, most beloved dishes, all submitted by Taste of Home readers.
The Taste of Home Best Loved Recipes cookbook can be purchased from Amazon.com. It's currently $21.81, which is 38% off the list price of $35!
< >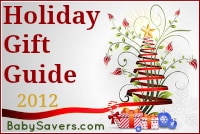 The 2012 BabySavers.com Holiday Gift Guide may contain advertising or promotional information provided by the manufacturer or PR representative.
The gift guide is intended as a shopping guide for the holiday season, and this post should not be considered a product review or endorsement unless otherwise stated. As always, feel free to contact me if you have any questions.–Marybeth