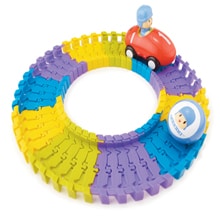 Pocoyo is fast becoming the world's most popular preschooler with a hit television series that airs on Nick Jr. and Univision.
Pocoyo's SwiggleTraks Feature Set from Bandai America, new for the holiday season, and selected by Parents Magazine as one of the Best Toys for the Toddlers for 2011, is sure to delight fans.
Pocoyo's SwiggleTraks set is available at Toys R Us, Walmart online, select Walmart stores, and Amazon.com for $29.99.
Recommended for ages 3-5.

The 2011 Baby GoodBuys Holiday Gift Guide may contain advertising information provided by the manufacturer or PR representative. I've chosen to feature all the items, but they should not be considered a review or endorsement unless otherwise stated. –Marybeth