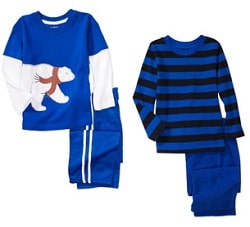 The iconic Garanimals brand makes clothing and toys for babies and toddlers that are both adorable and affordable!
Sleepwear Gift Sets: This holiday season, Garanimals is debuting its cozy sleepwear gift set for only $10, complete with a cute, fuzzy pajama set (top and bottom) and matching plush toy. With four variations to choose from for boys and girls, this charming present is already packaged up in a gift box for your favorite little ones!
The Latest Clothing Fashion for Babies and Little Kids: The Garanimals Winter / Holiday collection is nothing short of adorable this season. Stylish and cozy with rich hues, soft fabrics and whimsical Winter designs, the collection is great for every occasion – from holiday parties to playtime with friends. And at only $3.50 per item for tops and bottoms, and $6.50 per item for warm, soft hoodies, the prices are unbeatable for the quality of each item.

Toys Galore: Garanimals offers a fabulous line of infant and toddler toys, plush and accessories for $10 or less. A few favorites are the Pull-Apart Shape Sorter, Two-Sided Board Games and the Stacking Ring – and that's just a sampling! Prices start at $10 for Garanimals toys.
Price: Garanimals products are priced starting at $3.50
Buy it! Garanimals is available at WalMart stores and WalMart.com.

The 2010 Baby GoodBuys Holiday Gift Guide may contain advertising information provided by the manufacturer or PR representative. I've chosen to feature all the items, but they should not be considered a review or endorsement unless otherwise stated. –Marybeth