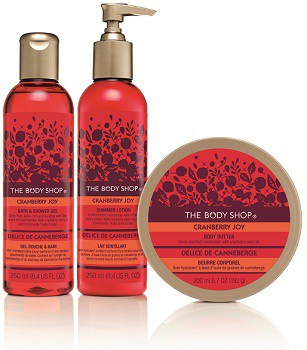 The Body Shop has an array of holiday gifts that's sure to please nearly everyone on your gift list!
This winter sees the arrival of special edition bath, body and home fragrance products that are bursting with the scents of the season. Embrace the holidays with the festively fruity Cranberry Joy range. Lavish loved ones with the uplifting and aromatic Jolly Orange collection (available exclusively online). Or indulge in the guilt-free pleasures of sweetly scented Spiced Vanilla products. Choose from fragrant soaps, shower gels and scrubs, luxurious lotions, lip balms and body butters and sensual candles, fragrance oils and diffusers – perfect for pampering friends and family.
Each gift set that is made using a sustainable bag or a box from the body shop, and 50% of the proceeds will go to the Somaly Mam Foundation.
To top it all off, The Body Shop products are packaged in 80% post-consumer recyclate and wrapped in Eco-Chic Gift Bags, packages that are certain to become reusable keepsakes throughout the year.
Price: Prices start at $8

The 2010 Baby GoodBuys Holiday Gift Guide may contain advertising information provided by the manufacturer or PR representative. I've chosen to feature all the items, but they should not be considered a review or endorsement unless otherwise stated. –Marybeth