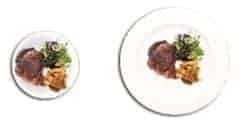 I always feel the challenge of healthy eating. Whether it's making the right choice for what order at a restaurant or deciding what to make for dinner, it's not always easy to make the right choices for eating the best food.
As I continue to learn more and more about healthy and unhealthy eating habits, I have to say that sometimes it's not an issue of choosing what to eat, it's making sure I don't eat too much of anything, even the healthy stuff!
One of the easiest ways I've found to control the amounts I eat is actually a mind game I play on myself. If I'm serving up something I know I shouldn't over-indulge on, I use a smaller dish. Call me crazy, but Cornell University studied this portion control method and it works!
I keep it really simple: If I want ice cream, I don't use a cereal bowl, where I can easily add three scoops, I serve it in a small ramekin that only holds a half a cup. If I'm eating a rich dinner with a creamy, high fat sauce, I eat it off of an appetizer plate rather than a dinner plate. Trust me, I still get a good-size serving and it keeps me from overdoing it.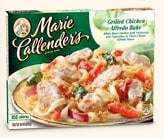 Along the same lines, frozen meals are an excellent way to keep portions controlled. I tried Marie Callender's Grilled Chicken Alfredo Bake this week, and it was great to glance at the nutrition information and see all of the calories, fat and other attributes all listed for the one serving the package contained. It even had the calorie count on the front to give me a quick check on what I was eating.
I think frozen meals are the best way for me to get a pasta "fix" without over-indulging. Ordering any sort of pasta with cream sauce in a restaurant is always going to be way more food, fat, and calories than I need, and I prefer to keep heavy cream off my grocery list most of the time. Eating the Marie Callender's meal was a great way to have a good serving of pasta and cream sauce without worrying about taking in too many calories.
Readers: How do you control portion sizes? 
This post was written for Marie Callender's. I'm collaborating with The Motherhood on their behalf to spread the word about this important topic. While I did receive payment for this post, all information, thoughts and opinions are 100% true.