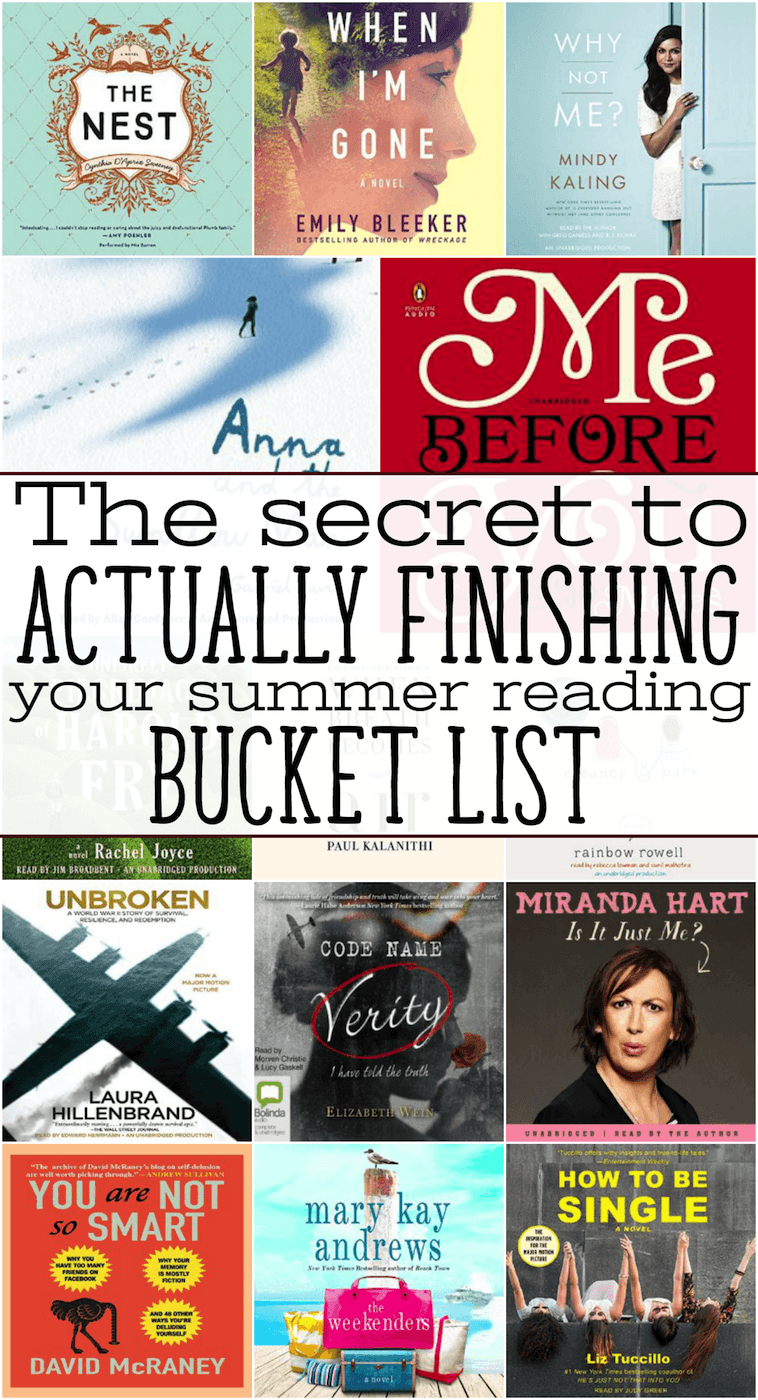 Do you have a summer reading bucket list? I always have a long list of books I want to read, but there are some that are just better suited for the warmer months.
I'm not just talking about beach reads (although I love a good beach read!); I'm talking about books that are perfect to read while the kids play at the park. Or those that can be read for a few minutes before you turn the lights out in a hotel room. You know, these are books that don't require long stretches of concentration to get through.
This year my summer reading bucket list is longer than it has been in the past, but I have a secret: I know how anyone can actually finish their summer reading bucket list. I'll share it after I tell you what's on my own reading list this year.
My summer reading bucket list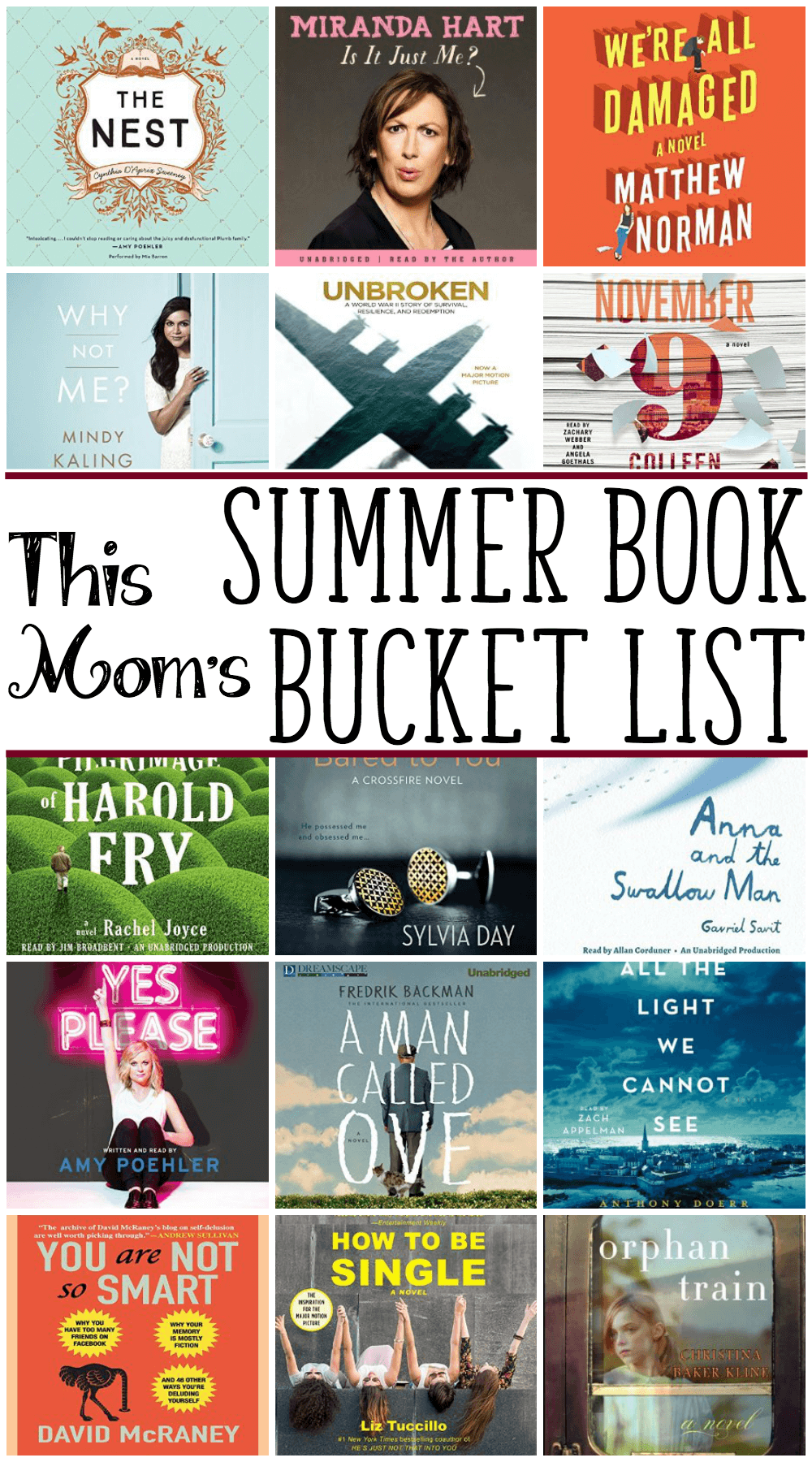 Is it Just Me? by Miranda Hart
A Man Called Ove by Fredrik Backman
Bared to You by Sylvia Day
Yes Please by Amy Poehler
We're All Damaged by Matthew Norman
Why Not Me? by Mindy Kaling
Orphan Train by Christina Baker Kline
Unbroken by Laura Hillenbrand
How to Be Single by Liz Tuccillo
The Nest by Cynthia D'Aprix Sweeney
The Unlikely Pilgrimage of Harold Fry by Rachel Joyce
All the Light We Cannot See by Anthony Doerr
Anna and the Swallow Man by Gavriel Savit
You are Not so Smart by David McRaney
November 9 by Colleen Hoover
That's right, I have fifteen books that I will be reading this summer. I swear, this isn't an unreasonable amount for me to read, but I'll read anytime, anywhere. I even read in the shower!
Even if I didn't read voraciously, I could still read all the books on that list before the summer is over. You could do it, too!
The secret to reading more books and finishing your reading bucket list: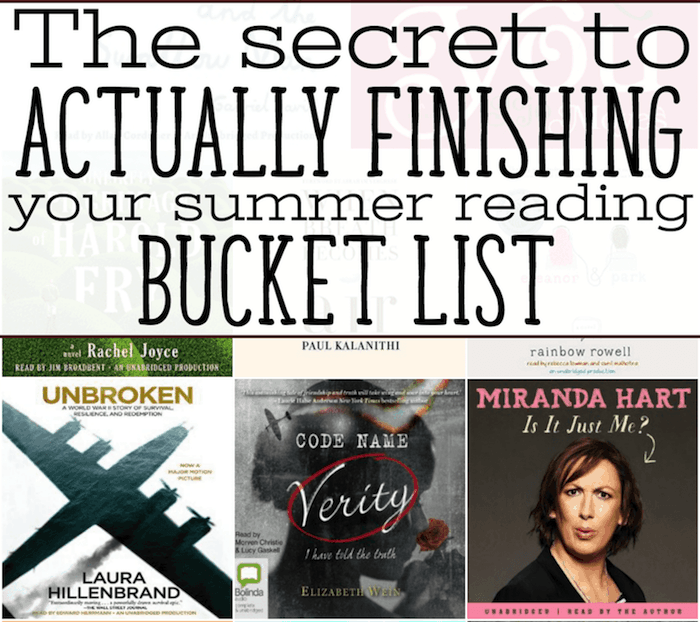 Here's the secret to reading more books: audiobooks!
Let me start by saying this: audiobooks won't save you time over reading paper books, but they let you take in books during times when you wouldn't be able to read.
While I can't see myself ever giving up reading books with my eyes, I'm a huge fan of listening to audiobooks. If you haven't ever listened to one, taking in an audiobook now is easier than it's ever been!
Right now Audible.com is offering a 1-month free trial that includes a free audiobook. You can use your smartphone, tablet, computer or other electronic device to download your audiobook and listen to it.
Audible has a huge library to choose from–every single book I listed above is available as an audiobook to download. My favorite audiobooks to listen to are memoirs written and narrated by comedians: Bossypants by Tina Fey, Chelsea Handler's Are You there Vodka, It's Me, Chelsea" and anything by David Sedaris are all insanely entertaining to listen to.
So start working harder on your summer reading bucket list by adding audiobooks to your means of reading! Get your free audiobook from Audible today!  
This is a sponsored conversation written by me on behalf of Audible. The opinions and text are all mine.