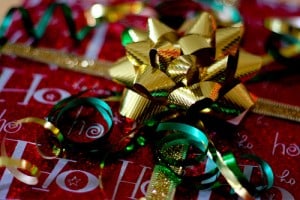 In the summer I always think that things couldn't get any busier. After Labor Day wraps up, I get to take a deep breath and try to relax for what feels like five minutes before Thanksgiving and the holiday season get underway. That's when I realize that Christmastime is far busier than the summer–in addition to social events and visiting family and friends, there's entertaining, holiday programs, shopping, wrapping, baking and all the other things that make the holidays so wonderful!
As wonderful as Christmastime is, it can get stressful, especially when I look around me and see my home in disarray. The living room has the addition of a tree and plenty of decorations. The kitchen is filled with baking supplies, containers and treats from others. Secret places around the home hold stashes of toys and other gifts. On top of that, there are the messes that just happen when holiday parties get started!

Thankfully, Whirlpool has a few tips to prep for the holidays, especially if some of your favorite items have been in storage since last December!
If you haven't used your holiday dishes since last year, take advantage of the rinse cycle on your dishwasher to refresh your holiday dishes once they have been pulled out of storage.
Wax drip on your candle holders? In order to remove the wax, simply dip the item in boiling water to help soften the wax, remove what you can, and then repeat the process until all wax is removed. Place the washable candle holders in the dishwasher for cleaning and to get that final sparkle!
If your parties have already happened, you might have some messes to clean up. Whirlpool also has tips to recover your linens and get them ready for the next season!
First, always check the care label. After that, follow these tips for holiday-time accidents:
Cranberry sauce slip off the spoon? Remove any excess fruit from the cotton and run the fabric under cold water to prevent oxidation. Wash the garment in the warmest water safe for it. Use your bleach dispenser or add liquid chlorine bleach or color-safe bleach during the rinse cycle, after your detergent has done its job.
Turkey a bit too juicy? Apply a pretreat to the oily stain, or rub liquid detergent directly into it. Wash the garment in the hottest water safe for the fabric, then air dry and check it for any remaining stain. If necessary, repeat the procedure before placing the clothing in the dryer.
Overflow from the gravy boat? Scrape off any remaining gravy with a spoon or back of a butter knife. If it has already dried, brush off the residue. Rub in liquid detergent and then soak the fabric in a mixture of detergent and water for up to 30 minutes. Finish by washing the garment in the warmest water safe for it.
My favorite not-so-secret way to fight stains is to pretreat everything with Tide detergent (and only Tide!) before tossing them into my beloved Whirlpool washing machine!
What are your best tips for prepping for the holidays or fighting stains during this time?
I wrote this review while participating in a Blog Tour for Mom Central Consulting on behalf of Whirlpool. I received a promotional item as a thank you for participating.