After finally watching the prom episode of Glee, I couldn't stop thinking about the absolute adorableness of Brittany's little top hat headband!
A mini top hat just isn't my style, but I can't help but think that a mini top hat on a headband could be a fabulous prop for a toddler photo shoot, or a fun party favor for a children's birthday party!
It occured to me that it couldn't be that hard to recreate a mini hat headband of my own, and I was able to find a few other sites offering far better tutorials than I could ever make!
Trisha of Momdot tested and explained her process of how to make a mini top hat to prove that it is indeed a child-friendly project!
Cut Out and Keep added to the DIY-ness of this project when she included making the actual hat to her mini top hat headband tutorial!
i Love to Create Blog's mini hat tutorial adds embellishments to make it a Moulin Rouge-style tiny top hat (complete with marabou feathers, netting and crystals)!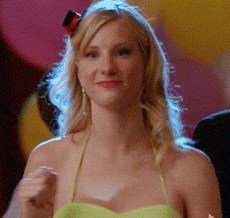 Happy crafting!