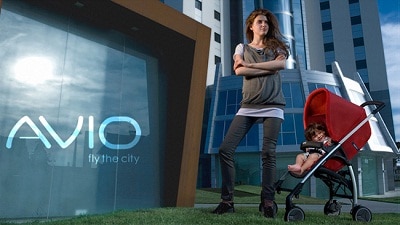 If you've been reading here for a while, you probably know that we're not a stranger to strollers.
In addition to the two strollers I bought at 75 and 90% off while I was pregnant with Haiden, I've been lucky enough to review several of strollers and give my honest feedback on them. I can honestly say that there isn't a stroller I wouldn't recommend in the bunch!
Yes, some are better than others, but they all do their jobs and they all transport my babies from one place to another.
That being said, I don't think I've found a stroller I've loved quite as much as the Inglesina Avio! Here's a quick product description:
AVIO: unparalleled, made-in-Italy smoothness and effortless thrust, contemporary design. Avio is a sophisticated 3d folding stroller that opens and folds with just one hand. Once folded it takes up very limited space.

While it offers a wide and comfortable seat for the baby, the frame is just 19.50-inch-wide, so it can go through the narrowest passages. It's equipped with ball-bearing-wheels providing unparalleled smoothness and ease of push. The joined handle makes stroller easy to drive even with one hand.

AVIO is the ultimate made-in-Italy stroller with contemporary design. AVIO stands out for its clean look, lack of rivets and hidden closing mechanism.
Assembly: Simply assembling the Inglesina Avio stroller gives a great view into the excellent construction of the stroller.
While I really don't know the technical terms for the mechanics included, my husband kept saying, "this is SUCH an Italian design!" He pointed out several examples of how each part securely fit together and how sturdy and well-made the entire assembly was. I do have to say that the booklet of instructions that came with the stroller was a bit confusing and hardly provided any assistance in putting the stroller together.
The English instructions were poorly translated and the diagrams weren't ordered very well. There were, however, two of us putting the Avio together, and we figured it out without any major issues! The entire assembly process took about an hour.
Performance: I can honestly say that the Inglesina Avio is one of the best strollers I've used so far! The steering is absolutely incredible: there are ball-bearing wheels that provide a smooth ride for Haiden or Piper, and the connected handle makes one-handed steering amazingly easy. While there's an included cupholder, I could definitely steer the stroller with one hand while holding my Starbucks cinnamon dolce latte in the other hand 🙂
Ease-of-Use: The Inglesina Avio stroller isn't lightweight, but it folds up to a compactness that makes it easy to transport. Here's a great video of my husband demonstrating how the stroller folds and unfolds:
Honestly, I truly understand that this stroller might be out of the normal price range for many people. If you do have the opportunity try out an Inglesina Avio stroller, you definitely should! With it's smooth ride, one-handed steering and quick foldability, the Inglesina has placed itself at the top of my list of favorite strollers!
The Inglesina Avio stroller is available in Red, Blue, Green or Black at Diapers.com for $499. If you use Diapers.com promo code AVIOFAST while buying this stroller, you'll also receive a free fast table chair!
I wrote this review while participating in a blog tour by Mom Central Consulting on behalf of Inglesina and received an Avio stroller to facilitate this review.