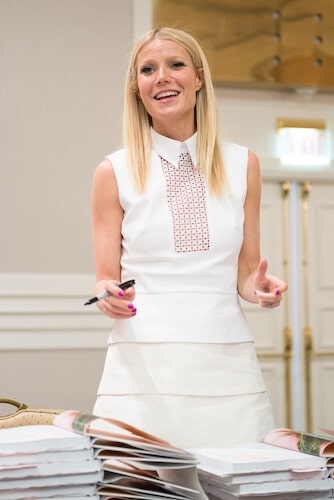 I'm a longtime fan of Gwyneth Paltrow. I loved her in Sliding Doors. Shakespeare in Love is one of the loveliest films I've ever seen and, more recently, I've been thinking that she's rocked her role as Pepper Potts in the Iron Man and The Avengers movies.
When I heard that I was going to participate in an interview with Gwyneth Paltrow before the Iron Man 3 premiere I was so super excited I could hardly contain myself. I also knew just the person who would be the most thrilled when she heard the news: my grandma. She's a celebrity-watcher and I knew she'd want to know all about it, especially those details like what Gwyneth really looked like, how she acted and what she was wearing.
My grandma isn't online, but I thought of her throughout the entire interview, and I've been mentally writing this post to share the details about my fantastic interview with not only her, but with all of you, my favorite readers!
The interview was set up in a small group setting, with 24 other bloggers and I sitting in a few rows of folding chairs waiting patiently for Gwyneth to show up and stand in front of us for questions.
We were alerted that she had entered the building and then she burst into the room. She kicked off the meeting exclaiming "Wow!" with a giant smile when she saw all of us sitting and waiting for her.
Then she stood in front of stacks of her new book and started autographing each one as she took our questions.
Here are a few of my favorite questions and answers from the interview. I think they really say a lot about her warm personality and energetic spirit:
How did you feel when you were picked to be on the cover of People Magazine's Most Beautiful issue?

Honestly,  Steven [She gestured to a man who was standing just to the right of her], this man has been my publicist since I was nineteen years old, and he sent me the email and I was like, This is a typo.

I reread it three times, and then…I got this really weird old feeling that my school bully somehow was playing a trick on me. I swear, I went through this whole weird thing! I had to talk to my shrink about it! I was beyond surprised, flattered, and I still kinda can't believe it. It's, it's really cool.
How does it feel to be that strong [as Pepper Potts in the Iron Man suit]?

I loved it so much.  I was getting kind of like, Come on, guys.  All these boys are flying around doing all this fun stuff. I loved how patient and kind and sweet Pepper is, but, but when I read this script, I thought, Oh yeah.

Pepper is in the suit and flying around, and I loved doing the stunts. I really had never done anything like that before and it was really fun.  I felt like I should've been doing this my whole career. It was like, Why am I doing all these period films? It's so boring.
Are we going to see you in more action films?

I don't know. I would really like to, but really [laughs], am I old now to start being in action movies?

In the comics, Pepper Potts gets her own suit and she becomes a character called Rescue. The nice thing is is that everybody's been very sweet about Pepper in this movie.  All the journalists who came in were like, Oh my God, you have to have your own movie! We need a Rescue movie! And I'm thinking, Okay, well, I'd better hit the gym!
What color would you choose for your own Iron Man suit?

Gray, silver and white. My favorite colors.
What's it like working with Robert Downey Jr.?

It's so fun. He's really spontaneous, and genius with improvising. You're really on your toes. It's really interesting, actually , to see how all these different actors, their processes and how they work.

Jeff Bridges, on the first Iron Man movie, he had binders full of research. Everything was underlined and highlighted. There were graphs!

Then Robert would come in, read the scene and rip it up. He's say Nope. We're not doing it. Let's make it up. And poor Jeff Bridges would be dying, because he had memorized everything! Then, as the woman, I'm like, Let's keep everyone happy.

But I personally loved it. It was really fun. You never knew what was going to happen, which I love. Jeff Bridges, however, did not love it!

Robert creates a fun environment, and my kids [who were on set] just love him so much. It was a nice shoot. When you work with someone over and over again that you really love, and that environment is really familial, the kids feel it. Everybody feels it. It really was so great.
As the interview started to wrap up, I realized that I'd had the biggest smile on my face for nearly the entire time Gwyneth Paltrow answered our questions. I truly can't believe how personable she was and how she was able to make her A-list lifestyle so relatable. I think everyone in the room can agree that it was like we were catching up with a friend, not interviewing the World's Most Beautiful Woman!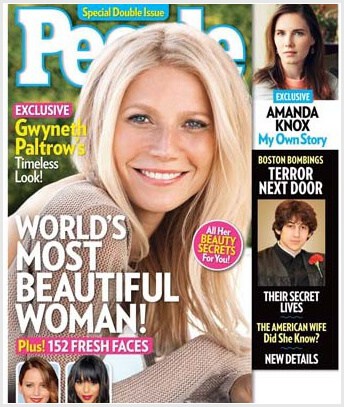 And wow, is she ever deserving of that Most Beautiful Woman title! She was dressed in a gorgeous white outfit and, let me tell you, I've never I've never seen anyone who radiated light and energy like she did. I think she has an inexplicable star quality, that certain something that makes the world take notice.
It's easy to come up with thoughts that celebrities are sort of plastic figures that you canI can't say this with any authority, but my gut tells me that Gwyneth Paltrow is simply a good person. Shortly after the spoke of working with the same publicist for 20 years, she pointed out another woman in the room and said, "There's Julia, my best friend since seventh grade." She's had the same best friend since years before her acting career began! She also spoke lovingly of her children, her costars and her family.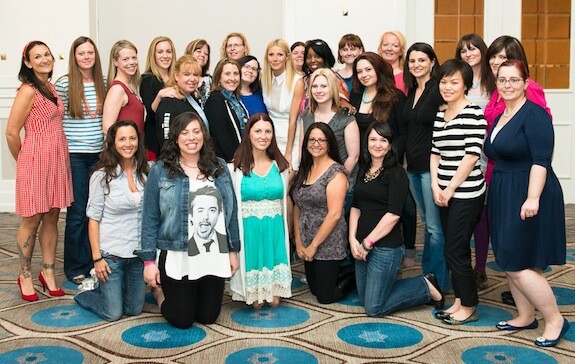 Even after the interview was over, Gwyneth remained friendly and approachable. Several bloggers hovered around her and she spent time having a brief conversation with them before being escorted away. She was so engaging and so warm, it felt like I was saying goodbye to a friend when she left the conference room.
And my grandma? She was just as interested and enthralled with the entire experience as I was!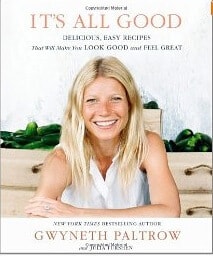 I'm actually only sharing half of my interview with Gwyneth Paltrow. She spoke extensively about her new book, It's All Good, and the story behind its creation.  I have so much more to share about her and her life!
Keep your eyes open for a follow-up article with more personal and exclusive details about Gwyneth Paltrow. You won't be disappointed!
Thanks so much to Crissy Page of Dear Crissy for the amazing photos from this interview!
Disclosure: Thanks to Disney for covering my travel expenses for my participation in the Iron Man 3 #IronMan3Event press trip, which included this interview.