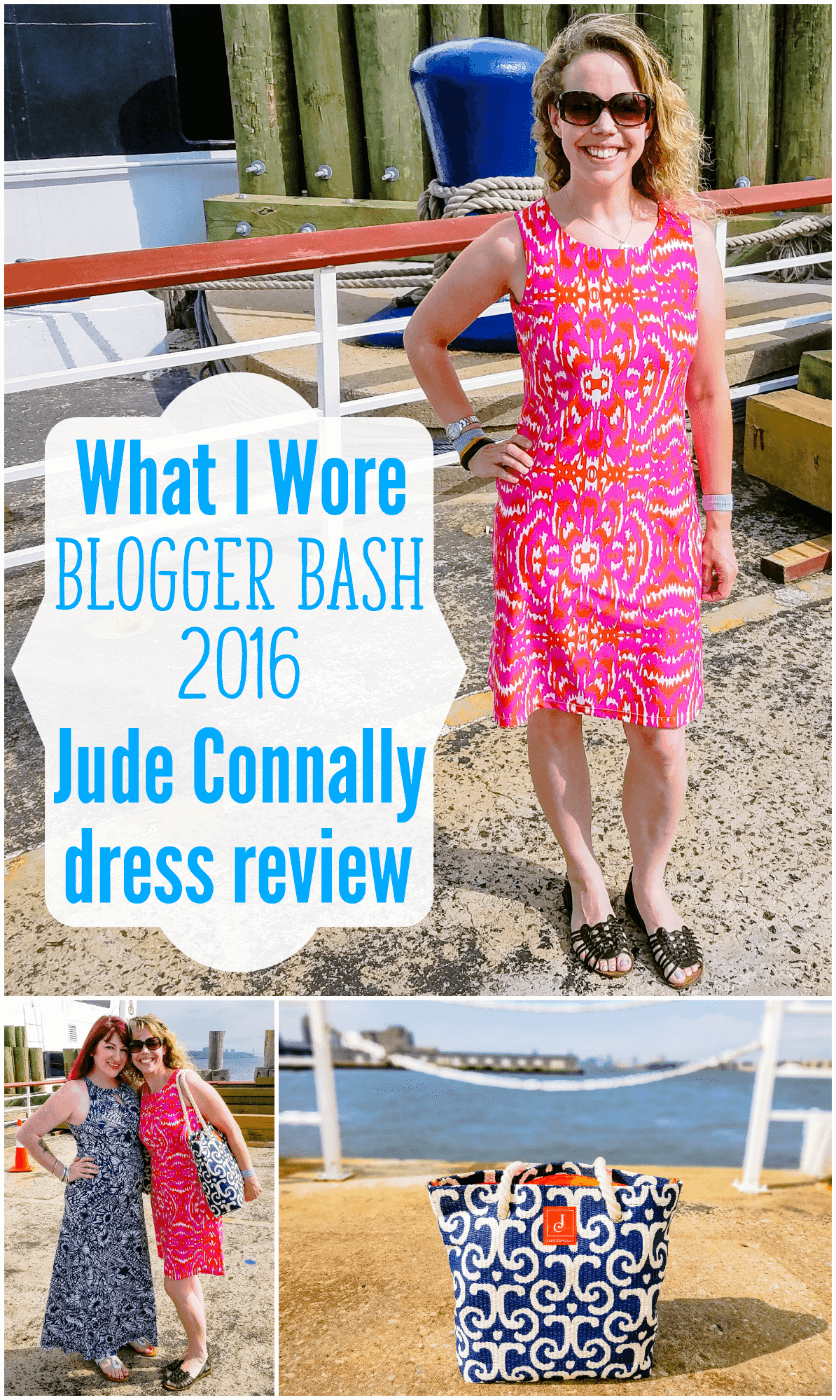 If you're wondering what to wear to Blogger Bash or any other blogging conference, I have the perfect answer for you: Jude Connally.
Jude Connally provided dresses and outfits for all the Blogger Bash ambassadors to wear at Blogger Bash this year. It was a fun surprise, it was super-generous and it was amazing to see all the live Jude Connally reviews!
The team at Jude Connally asked me about my size and style preferences. I've been known to be picky about what I wear, but I'm lucky because I generally don't have problems finding clothes that fit. Especially dresses.
The truth is, I love dresses, and my favorite style is the kind with only a little bit or no defined waist. Shift, a-line, sheath or drop-waist. Most of them work for me.
At the same time, two c-sections haven't been kind to my midsection, so I prefer to keep attention away from it. The fit guide on JudeConnally.com helped me decide that either the Beth dress or the Molly style would work best for me.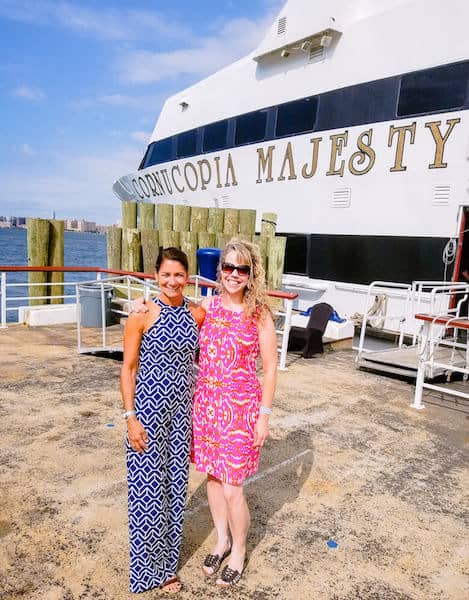 It was a special surprise when Jude Connally herself showed up on fitting day to see her designs on all of us! Jude is wearing the Edie Jumpsuit in Nautical Rope Navy.
Jude Connally sells so many gorgeous dresses and outfits, it's really fun to browse around the site. I'm pretty sure they release new prints with the changes in season; the bright pops of color available now are fabulous for the summer, but I really can't wait to see the new fabrics that will be released in the coming months!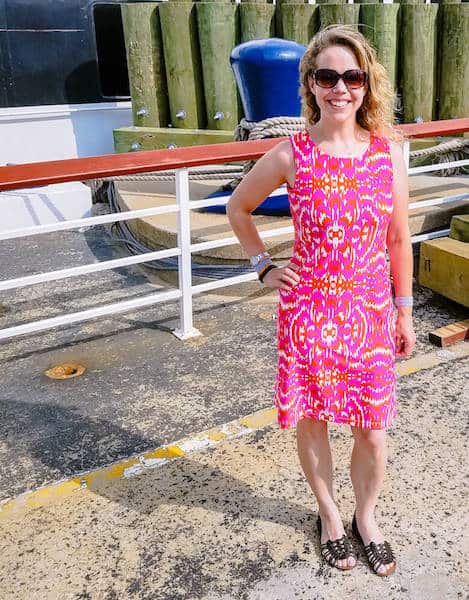 When all was said and done, I landed on the Beth dress in Spring Vibes Hot Pink. It's a bit brighter than I usually wear, but it was honestly fun wearing a standout print on the first day of a conference!
Jude Connally Review
Every single brand ambassador plus a few people who worked for the conference received a Jude Connally dress to wear on the first day of Blogger Bash.
Of them, two were plus-sized in shapes that didn't work with the dresses. Believe me, the Jude Connally team worked so hard to find something that worked!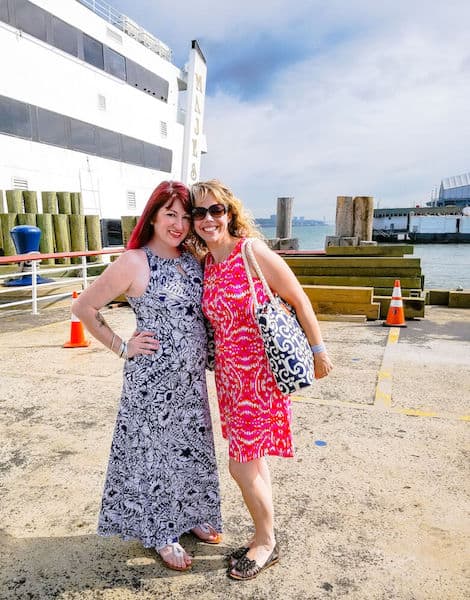 The above picture is me with Carol of AllMommyWants.com. She wore the Lisette Keyhole Maxi Dress in Summer Palm Navy and she looked so good in it!
Fourteen of us found Jude Connally day dresses that fit fabulously. I have to say, it's really remarkable to find a brand with a line of clothes that fit so many different sizes and shapes of people.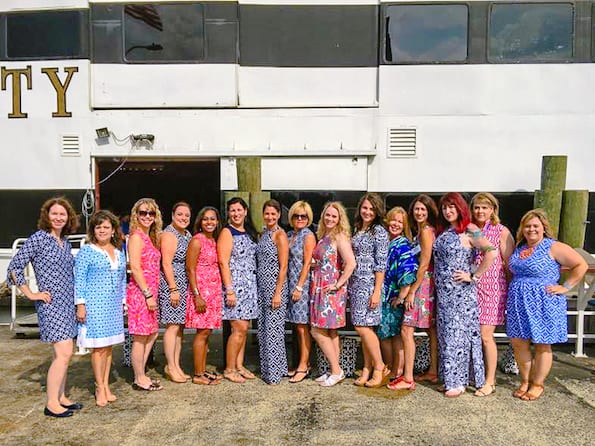 Take a good look at the picture above. There's everything from short to tall. From petite to plus-sized. Even better, all the dresses honestly looked amazing on everyone!
On the bright side, everyone also received one of these fantastic Jude Connally tote bags to carry with us throughout the duration of the conference.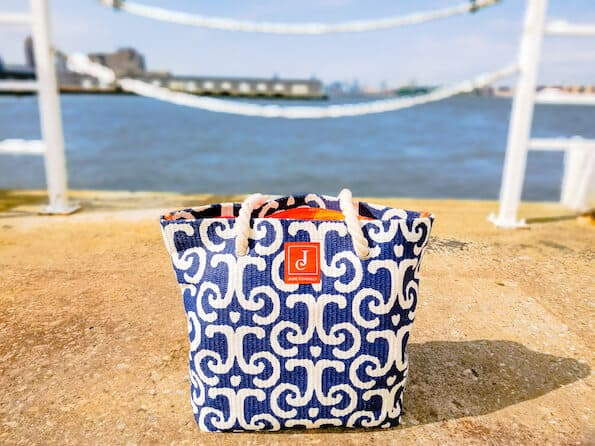 These bags aren't currently for sale on the site, but if you want one they might just pop up on Jude Connally again.
If you're wondering what to wear to Blogger Bash or any other blogging conference, or if you're looking for a Jude Connally review, you have your answer. Check out Jude Connally and everything they have to offer!
[show_shopthepost_widget id="2600056″]
Jude Connally Review 2017 update:
I was just browsing JudeConnally.com to see if they had any updated items for 2017. I was blown away by the new prints and styles that are now available!
I've highlighted a handful of my favorite new Jude Connally dresses and outfits in the widget below. Just click the right or left arrows on the sides of the products to see all of my favorites!
[show_shopthepost_widget id="2600128″]
I'm especially loving:
All the new Jude Connally items in the Soft Aqua color.
The dresses in Mod Stripe Multi print. The candy-bright colors make me happy!
Jude Connally's off-the-shoulder styles! The Joy Dress has some incredibly cute patterns and the Emilia off-the-shoulder shirts all looks amazing with slim pants and narrow capris!
I couldn't fit everything I love into this Jude Connally review, so be sure to check out everything the site offers!
Disclosure: Jude Connally provided items for this review and to wear at the aforementioned event. All opinions are my own.