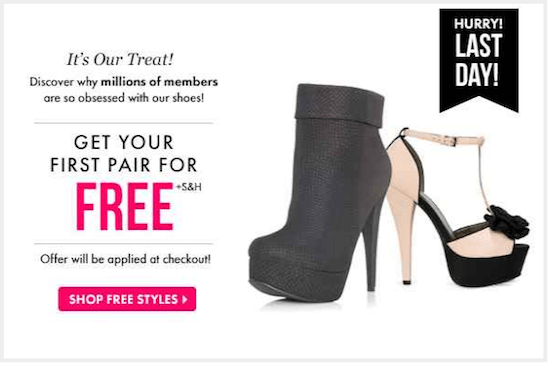 I had two readers tell me that I needed to share this offer because they're thrilled about getting a pair of $40 shoes for FREE! They did pay $4.99 for shipping, but it was still a fantastic surprise!
Here's how you can possibly get FREE shoes of your own!
Go to JustFab and click the big pink Get Started Now box. The BOGO shoes offer is optional. It seems that anyone who's registering is getting the offer for a free pair of shoes!
Take the Style Quiz to create a style profile. It takes about 60 seconds.
Submit your name, email address and shoe size at the end of the Style Quiz.
Watch your email inbox for a confirmation email and (hopefully) and offer for FREE shoes!
I completed the process and I'm happily waiting to see if I get one of those emails offering me a FREE pair of shoes. Even if they don't, I still have the option to buy one pair of shoes and get one FREE!