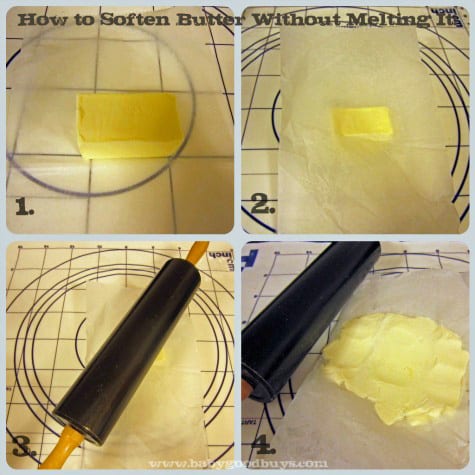 The butter I use for cooking and baking is precious. I buy it when it's on sale and store it in the freezer until I need to use it. This works exceptionally well to keep butter from spoiling, but I could never soften frozen butter in the microwave without melting it!
Last night, I was making peach cobbler while my homemade pizza rolls were in the oven. The peach cobbler recipe called for softened butter, and I still had my rolling pin and pastry mat out from working with the pizza roll dough. Inspiration struck!
How to soften frozen or cold butter without melting it:
Cut two pieces of parchment or wax paper. A full stick of butter will need 2 squares that are about 12″ by 12″. Half sticks need 6″ x 6″ squares.
Place your unwrapped frozen or refrigerated butter between the two cut sheets of paper.
If it's frozen, give it a few good whacks with a rolling pin. Then, both cold or frozen butter can be rolled with a rolling pin. it takes less than a minute to roll/smash it down to about 1/2″ thick.
Done! Peel off the paper and work with the softened butter!
This is a really quick and tidy process, since the mess is completely contained within the paper. Cleanup only requires throwing the parchment paper in the garbage can!
I hope this makes your life a little bit easier!