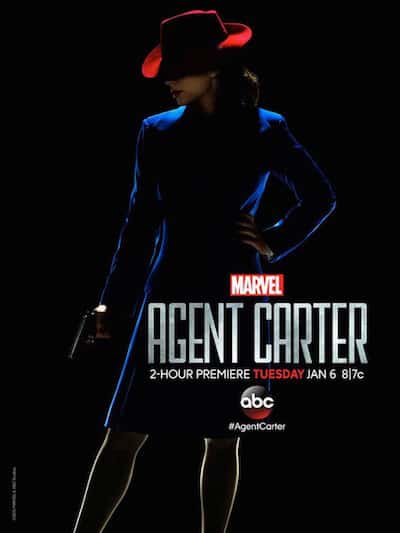 I've been waiting for this day for almost exactly two months: It's the day Marvel's Agent Carter premieres on ABC, and it's also the day I can start sharing the exclusive details on Marvel's Agent Carter that I learned on the last ABC and Disney press trip I was on!
One reason I like the entire Marvel cinematic universe that Disney is doing is because of the empowered females. Yes, it's dominated by males, but the women created by Marvel definitely show that females are powerful. Plus, nothing makes me want to jump out of my seat and pump my fist like watching an awesome woman kick butt as well or better than any man around 🙂

This is all leading to my crazy excitement over Marvel's Agent Carter, a show created by some of the best storytellers around that features the toughest leading lady you'd ever want to find.
About Marvel's Agent Carter:

It's 1946, and peace has dealt Peggy Carter a serious blow as she finds herself marginalized when the men return home from fighting abroad.

Working for the covert SSR (Strategic Scientific Reserve), Peggy must balance doing administrative work and going on secret missions for Howard Stark.
Who is Agent Peggy Carter?
Agent Peggy Carter (played by Haley Atwell) has a background that will likely be familiar to some of you. She first appeared in the 1940's as the love interest of Steve Rogers in Captain America. It was Agent Peggy Carter who Steve Rogers spoke his last words to before his plane crashed at the end of the film.
After Captain America, Agent Peggy Carter and all of her girl power glory were showcased in Agent Carter, her own Marvel One-Shot short film on the Iron Man 3 Blu-ray. Peggy Carter has since appeared in a handful of flashbacks on ABC's hit series, Marvel's Agents of S.H.I.E.L.D. 
All of this has been leading up to Marvel's Agent Carter, the new series that's appearing during the Agents of S.H.I.E.L.D. mid-season break!
I sat down with Jeph Loeb, Marvel's Head of Television, and Louis D'Espostio, Co-President of Marvel Studios, to learn more about the how Marvel's Agent Carter came about and why it's a show we all shouldn't miss.
Make no mistake, Jeph Loeb and Louis D'Esposito are absolute forces in the entertainment industry. To see them both speak with such passion for this product and such clear admiration for Haley Atwell, who plays Agent Peggy Carter, was enough to hook me before I saw a single clip of the show!
If you've seen the Marvel One-Shot Agent Carter, you'll notice that the television show doesn't follow exactly the same story as the short film, which ends with the beginning of S.H.I.E.L.D. Instead, the show goes back all the way to the SSR (Strategic Scientific Reserve).
Loeb and D'Esposito explained that they wanted to show the journey to S.H.I.E.L.D. instead of a making a television show that looked a lot like it's modern-setting counterpart.
They also said starting a show with Agent Carter running S.H.I.E.L.D. would "put her in a position where she's already empowered. For us, the Marvel hero has to overcome something in order to be an even better hero. It's a more interesting challenge."
When asked if we were going to see more of Agent Carter in Agents of S.H.I.E.L.D., we were told, "I think it's safe to say that it's all connected."
This led to the question of Marvel Easter eggs in general (who doesn't love them?!?). "We love planting Easter eggs," said D'Esposito, "but we don't want to turn into an Easter egg farm." Meaning, they carefully evaluate and place each little surprise and connection to make sure it doesn't overpower what the audience should be focused on.
I screened extended clips of the first and second episodes during the interview, and I was beyond impressed with the show. I'm definitely going to be watching Agent Carter tonight, and you should, too!
Check out this teaser to get a better idea of how amazing Marvel's Agent Carter is going to be:
Be sure to follow Marvel's Agent Carter on these social media channels to stay on top of all the details:
All photo credits: Marvel
Disclosure: Disney and ABC flew me out to LA for the press trip and all experiences encompassed in it.