I don't think I have what it takes to be 100% organized. Believe me, I need all the help I can get! I usually have papers everywhere, and a stack of papers waiting to be filed in the stacking paper sorters (how much sense does that make?!)! At the same time, I'm a pushover for cute organizing products, and I believe that the right products do have a place in my life to help me keep things in order as much as possible. As a busy, working mom of two who also runs this website and maintains a home, I'll take any help that's out there!
I was recently sent several products from the Mead OrganizHer line that's now available at most Target stores nationwide. I had a lot of fun integrating the products into my household, and I'm happy to say that I'm on my way to being more organized in at least a few areas!
Mead OrganizHer Family Organizer Review
Are you familiar with Flylady? While I find most of her directives a bit too restricting for my lifestyle, she does have many wonderful ideas I'd love to adopt. One of those is the Control Journal. It's supposed to be a centralized place for daily routines, lists, and other bits of information we should always have at our fingertips. I've tried and failed at making my own home notebook, but Family Organizer comes very close to what I'm looking for. Plus, I don't have to do any work in creating it!
This is a stylish three-ring binder that's easy to use. It comes with a bunch of preprinted pages, including undated calendar pages and meal-planning sections. There's also storage slots and a pouch to keep on top of things. Even better, you can download additional planning pages at Mead's website. I love that!
The Family Organizer can be found at Target for $14.99.
Mead OrganizHer On-the-Go Family Planner Review
I carry a big purse that's full of tiny scraps of paper, receipts and coupons. I'm always at a loss when I look into the black hole that is my bag, but the On-the-Go family planner is helping to change that. I used to just shove important coupons that I really wanted to use into a side pocket, thinking I'd find them before the expiration date. It never worked, and it only made a mess out of my bag. Now, I've started noting the coupon expiration date and reminder in my planner, along with other important notes and dates. It also helps me keep track of things that I need to know on the go. My only hangup is that it's not all that portable. It's small enough to fit in my big satchel-style bag, but it does get bulky, and it definitely won't fit in every purse!
The On-the-Go Family Planner can be purchased for $9.99 at Target.
Organizer Meal-Planning Notepad and Write & Wipe Meal Center Review
I love these products for exactly the same reason. They are drastically improving my ability to plan our meals! Not only are they nice to look at on the side of my refrigerator, they're functional, too! I use the tear-off planning sheets to brainstorm my plans on the weekends. After they're finalized, I transfer them to the magnetic board. It's so great that the board is easy to wipe clean and reuse, because our plans often change with little notice, and I like to keep the postings up-to-date! I use the brainstorming sheet as my shopping list, if I need any groceries. I don't use the checklist attached to the memo board right now, just because I know the other tearpad will run out one day and I'll start using it then.
Find the Meal Planning Magnetic Notepad for $3.99 and the Write 'N Wipe Meal Planner for $7.99 at Target.
OrganizHer Month-to-Month Wall Calendar Review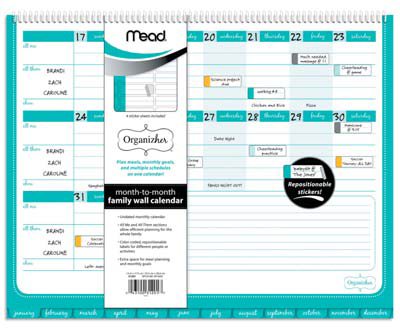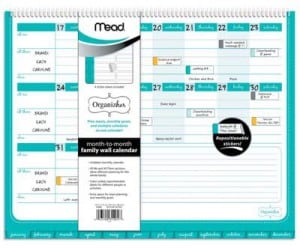 The Month-to-Month Family Wall calendar is probably my favorite item I've received, and I really haven't even started using it yet! Every year I'm on a quest for an affordable calendar that fits my criteria: large spaces to write on, pencil-friendly, and minimal photographs. I have a calendar I enjoy using for now, but I'm going to start using this one in 2011 because it meets all of my needs! I love that you can choose to start it any month, any year, all you have to do is fill in the dates. It also has 4 pages of labels that can be stuck and re-stuck (think Post-its) to classify important dates and items! I know it's weird that I'm reviewing an item I haven't used, but I'm looking right at it, and I have big plans for that calendar!
Buy the Month-to-Month Family Wall Calendar for $12.99 at Target.
Giveaway!
Onto the exciting part: One lucky reader will win the same set of OrganizHer products that I featured here. PLUS Mead is throwing in a $25 Target Gift Card!
Enter by visiting the Mead OrganizHer online display (this is a PDF document), then leave a comment letting me know what your favorite item is.
The above entry is mandatory. If you'd like additional entries, you may do the following:
Subscribe to the Baby GoodBuys feed either in a reader or by email. You can do this by clicking here and adding this site to your reader, or you can enter your email address in the box near the top of the page on the right. You must click the confirmation link in your email if you choose to be an email subscriber. (Leave a comment letting me know you're a subscriber to get your extra entry for this option)
Become a fan of Baby GoodBuys on Facebook (leave a comment with your Facebook display name)
Follow @BabyGoodBuys AND @OrganizeHer on Twitter (Leave a comment with your Twitter handle)
Contest Details: Contest ends on 5/21/2010. United States residents only. Valid email address is required. All entries without a valid email address will be disqualified. Duplicate, fraudulent and/or invalid entries will be disqualified. Winning email notification must be responded to within 48 hours or that winner will forfeit the prize and a new winner will be selected. Winner will be selected with the random integer generator at random.org. Screen print of Random.org selection will be saved and provided upon request. Winner's first name will be posted on this giveaway/contest All questions should be directed to babygoodbuys(at) gmail(dot)com.
FTC Disclosure: This was not a paid post and honest opinions were expressed. Many thanks to Mead for providing the products for my personal use and additional products to give away.