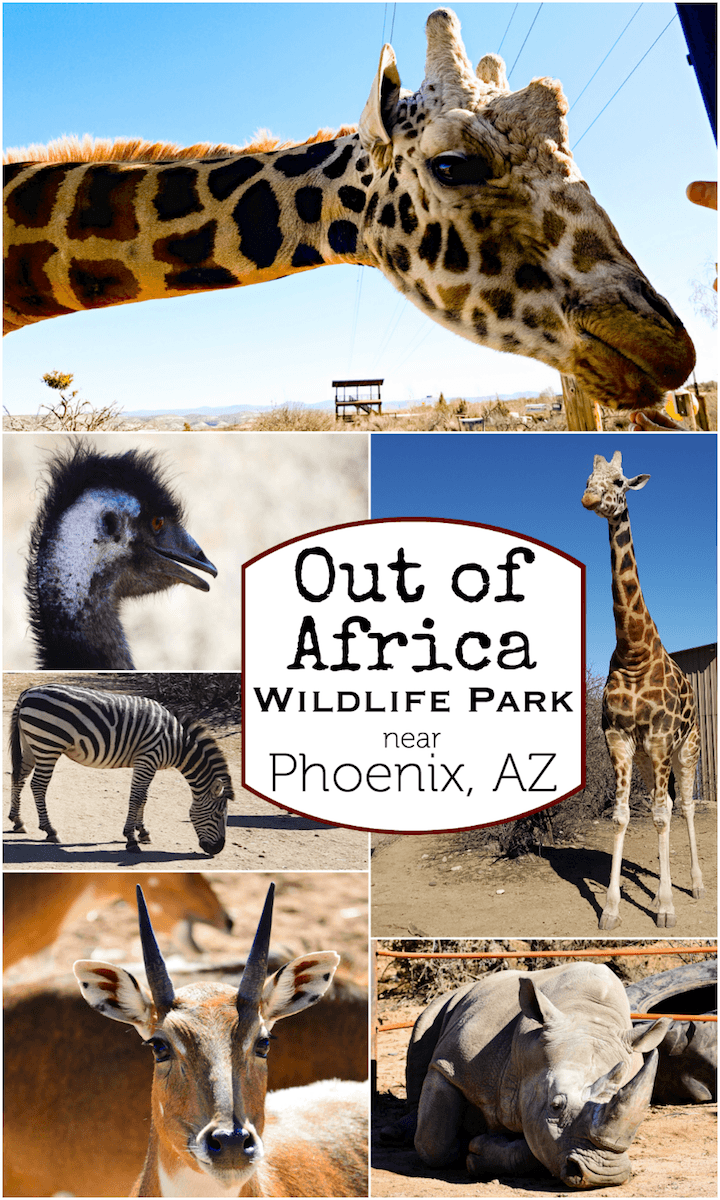 I love going to zoos when I travel, but I'm a zoo visitor who's always longing to go inside the enclosures and really be with the animals.
I know the humans are separated from the wildlife for a reason, and I absolutely respect that. At the same time, I always knew that I'd jump at the chance to get closer.
My husband, our kids and I recently took a trip to Phoenix, Arizona. We have several family members in the area, and we were excited to catch up with everyone and experience some of the fantastic attractions we haven't been to in the past.
Although it's located about 90 minutes north of Phoenix, Out of Africa Wildlife Park in Camp Verde, Arizona, was at the top of my list as soon as I started researching family activities in the area.
About Out of Africa Wildlife Park Arizona:
Out of Africa Wildlife Park is an opportunity to see hundreds of wild-by-nature animals from all over the world, especially Africa.

Not a zoo, not a drive-through park, it's a place where visitors enjoy an authentic replica of a real African Bush Safari.

Besides the entertaining shows and animal presentations throughout the day, all of our animals are cared for with passion and respect, roaming in spacious habitats that give you the chance to see these beautiful creatures and their natural behavior up-close. Our staff lives and works with them in a relaxed environment that encourages human/animal relationships.

Out of Africa is more than a preserve. We are dedicated to raising awareness of our exotic neighbors and promoting understanding through in-person contact.

Set against the backdrop of the beautiful Black Hills of Camp Verde, Out of Africa Wildlife Park truly is an awe-inspiring adventure blending family bonds with the power and cunning of the wild, year-round.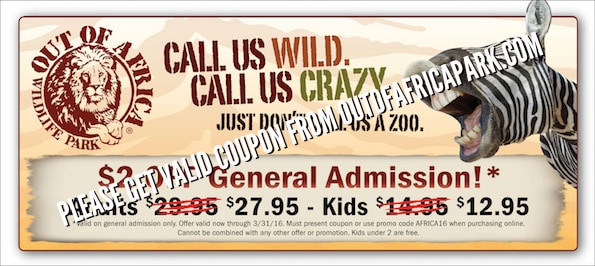 First, I know when I go to a tourist attraction I kick myself if I don't look for coupons first. Be sure to grab the Out of Africa coupon on the Out of Africa special offers page.
Here are a few other ways to get Out of Africa coupons and discounts:
Bring a valid ID and you'll get free admission to Out of Africa for the full month of your birthday! See Out of Africa's Birthday promotion details.
Check Groupon for discounted admission offers. Be sure to change the location to either Phoenix, Arizona or Camp Verde, Arizona. 
Seniors, active military and military retirees also get significant discounts on admission.
Children under age 3 are admitted FREE.
We decided to visit Out of Africa Wildlife Park on a Monday morning in February. I don't know how busy it gets during the warmer Arizona tourist season, but it wasn't too busy when we arrived.
Going on the safari that was included in our admission was a priority for me, and the rest of my group agreed that it was the first thing we should do.
The safari was my favorite part of Out of Africa. Everyone who boarded the safari bus was given a long stick of celery. As the bus rolled out of the waiting area, we were given strict instructions that the celery was only for the giraffe, along with additional instructions for how to feed it.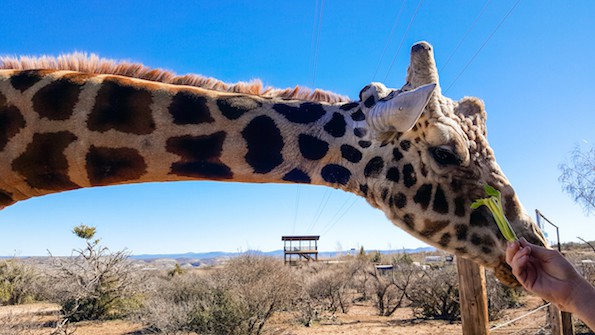 We pulled up alongside the enclosure where Pilgrim the giraffe lived and he came right over to the bus. Everyone started holding out their celery and the giraffe munched it all right up. It was fantastic!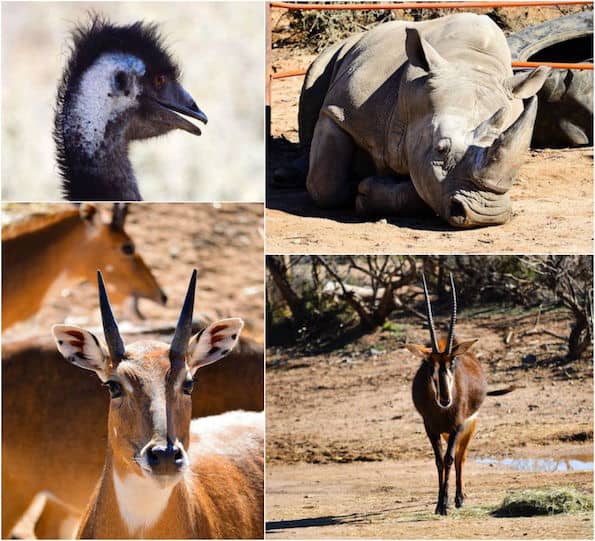 The safari took us on a loop tour of the huge wildlife preserve. The driver was also our guide and she pointed out every single animal we saw. She also provided some fun information about several of the animals she was extra familiar with.
I made a videos of a few separate experiences we had at Out of Africa, and I combined them into a single video. Most of the video is from the Safari tour, and you can see just how great our driver was:
After the safari we walked up to take in the Creature Feature show. On our way we walked alongside the same giraffe enclosure we had driven through on the safari.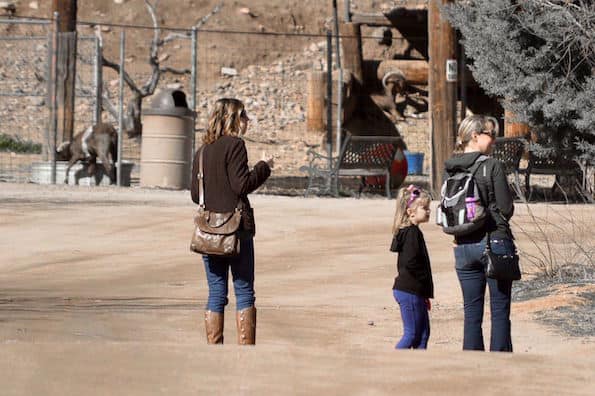 As we were walking we noticed Pilgrim the giraffe was walking parallel to us.  Our cousin, Chelta, said, "I think he's following us." I was so excited about it that I tripped!
We slowly walked over to the fence and Pilgrim must have been looking for more celery from us!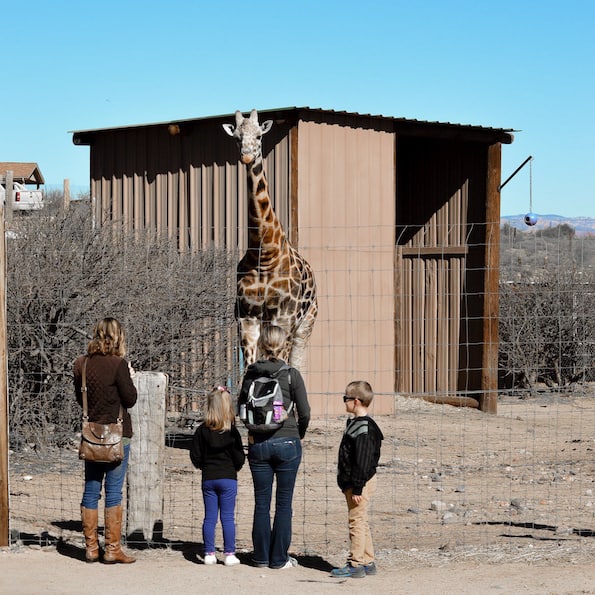 I think Haiden, Piper and I could have spent the rest of the day staring up at the giraffe and talking to it.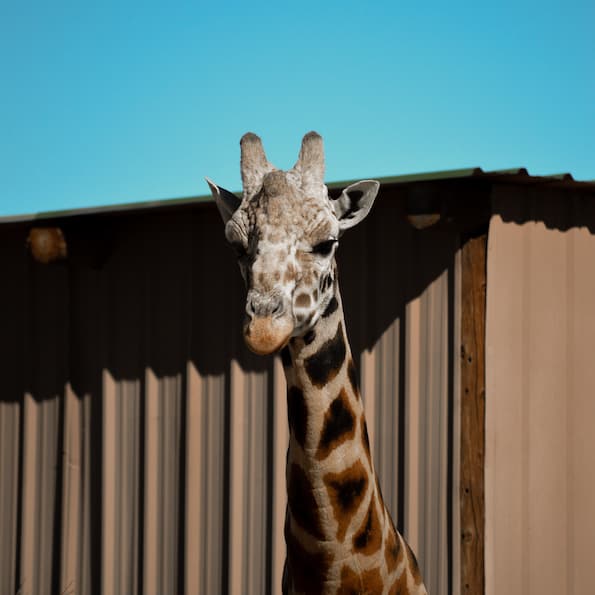 My family dragged me away from my one-on-one time with the giraffe so we could attend the Creature Feature show. It was a great, interactive presentation where everyone had a chance to learn about a few featured animals from the park.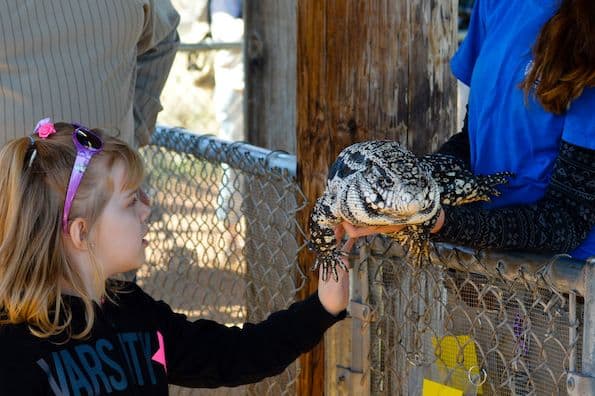 The crowd was also allowed to pet a few of the animals and ask questions about them. As a mom, I appreciated the educational nature of this show!
After that show, we spent more time walking around the park. There was a lot to see and a lot of ground to cover!
One thing I really like about Out of Africa is that there's lots and lots of space for the animals to roam around and just live. It appears to be a very natural habitat for most of the creatures. The animals also have enough space and shelter that they don't need to be on display all the time. They can retreat back or get away from the visitors if they're not feeling social.
But when the animals are close enough to see, they're close: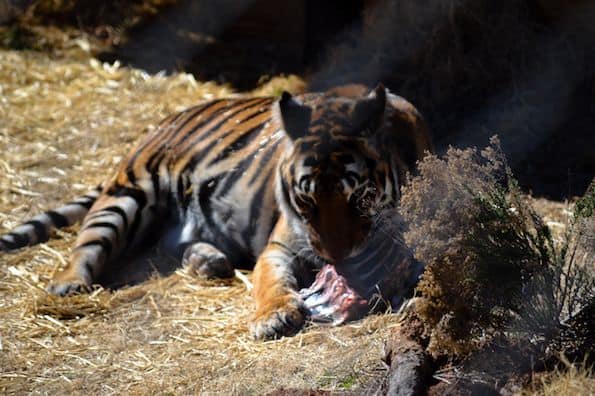 All in all, we had a great time at Out of Africa in Camp Verde, Arizona. It's an attraction all ages can enjoy, and there's plenty to see and do!
Check out Out of Africa online and plan your visit today!
Disclosure: Out of Africa Wildlife Park Arizona provided me with admission to facilitate this review. All opinions and experiences are my own.