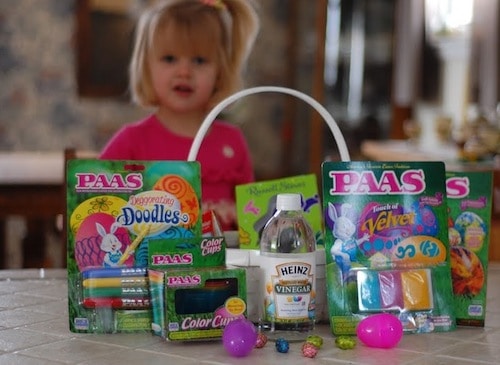 Easter is just two weeks away, which means my kids are getting excited! We've been doing lots of Easter crafts for preschoolers, but Haiden and Piper have been waiting impatiently to dye Easter eggs!
We were sent several PAAS Egg Dyeing Kits, Heinz vinegar, an Easter basket and a few things to fill the basket. The kits looked like they did pretty fantastic things to hard boiled eggs.
Each kit came with dye tablets but the PAAS Color Cups were so clean and neat that we used them for the dyeing portion of even the fancier kits.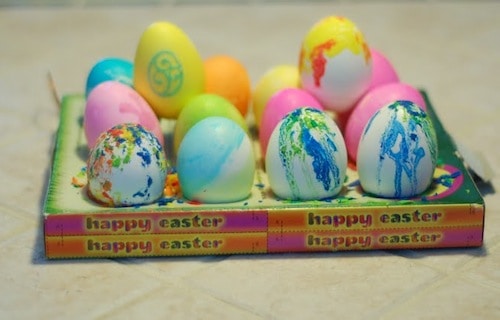 We were all excited to see the eggs after using the PAAS Touch of Velvet and PAAS Volcano Eggsplosion kits. While they ended up looking kind of neat, they didn't look nearly as great as the packaging suggested. Overall, both were a bit too complicated for my little kids (and even the adults!). Nevertheless, you can see the effects in the image above.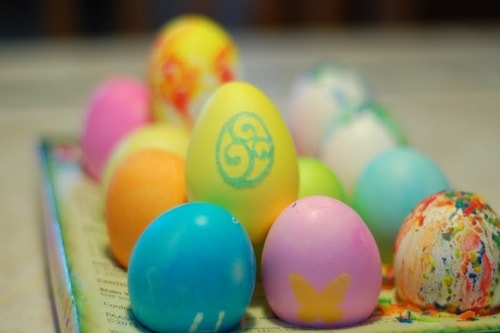 As it turns out, I'm a fan of traditional Easter egg dying, and I have a few tips to share to make the best Easter eggs possible:
To help make colors vivid and bright, add 1 dye tablet and 3 tablespoons of distilled white vinegar to a color cup or a 1-cup container. Once the tablet has dissolved, add 1/2 cup water and gently stir.

To keep hard-cooked eggs from cracking, add 2 tablespoons of distilled white vinegar per quart of water before placing the eggs in the pot.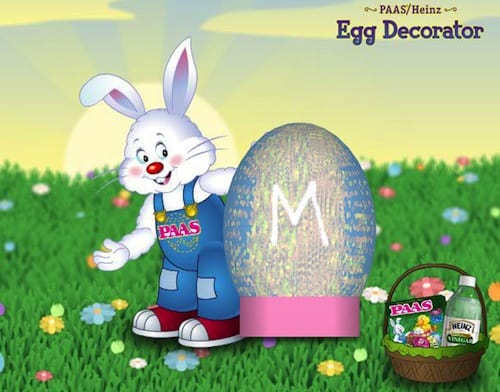 I just decorated a virtual Easter egg and $1 was donated to Make-a-Wish because of it. Now through March 31st, you can decorate and share a virtual Easter egg and Heinz and PAAS will donate $1 for each egg decorated (up to $25,000) to Make-a-Wish!
I decorated my virtual egg online at Heinzpaaseaster.com there's also a PAAS/Heinz Egg Decorator app so you can do your virtual decorating on your iPhone or iPad!
Heinz Distilled white vinegar can be found at most major grocery, drug and mass market stores for around $1.34 for 16 ounces.
PAAS egg decorating kits can be found at most major grocery, drug and mass market stores for about $4.25.
Heinz and PAAS provided free product samples and materials for the activities described in this post. All actions were authentic and all opinions remain my own.