Peter Rabbit at Build-a-Bear Workshop Review
Just two weeks ago I had the best surprise in my email inbox: an invitation to the Peter Rabbit press junket in Los Angeles!
There was one additional sentence in the invite that put a huge smile on my face: I could bring my kids along with me to enjoy the whole experience!
Last Thursday, Haiden, Piper and I hopped on a plane and flew to Los Angeles to jump into the world of Peter Rabbit.
I have so much to tell you about all the things we did, but one highlight was heading to Build-A-Bear Workshop to check out the new Peter Rabbit at Build-a-Bear collection!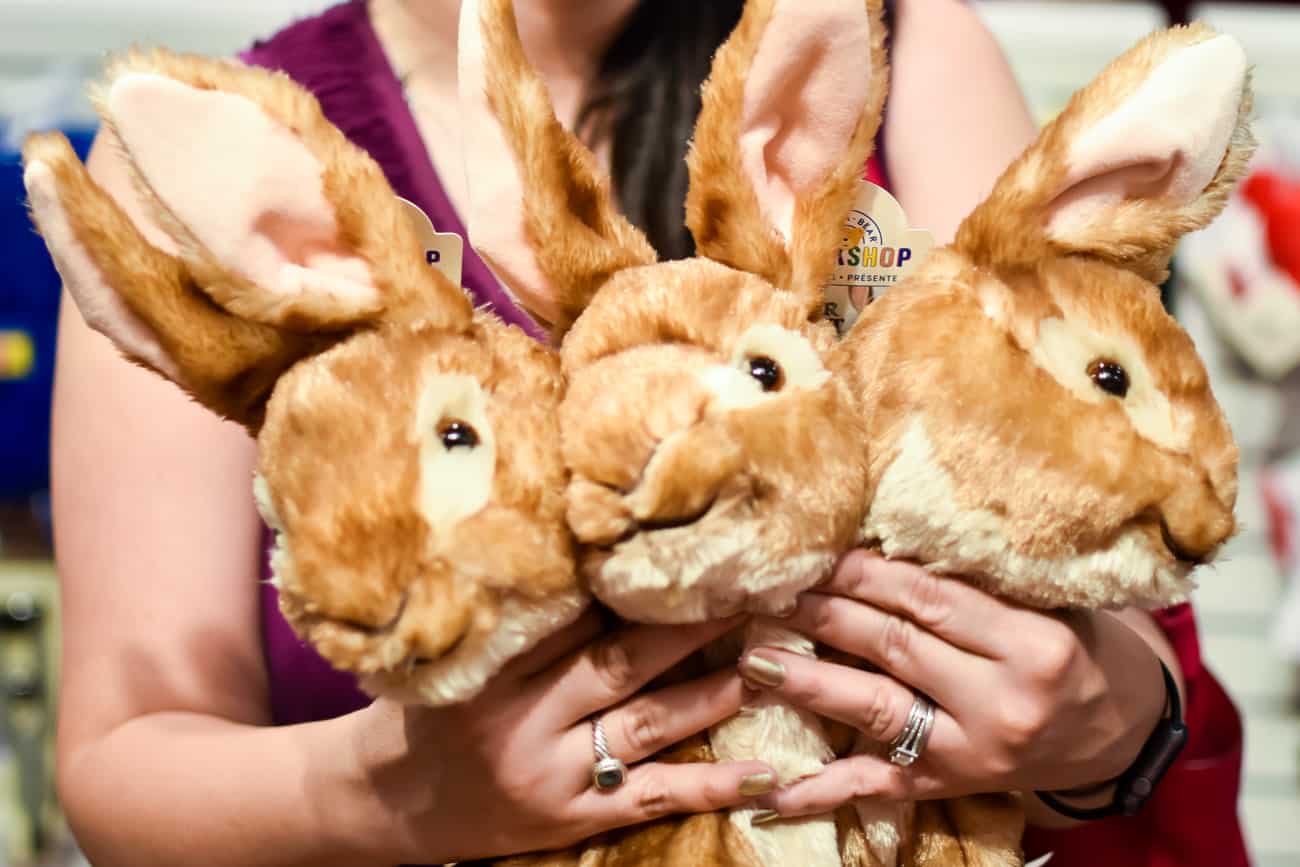 When we arrived we learned that each of us would get to build our own Peter Rabbit Build-a-Bear, so we gathered up three unstuffed Peter Rabbit plushes and headed to the Build-a-Bear station at the front of the store.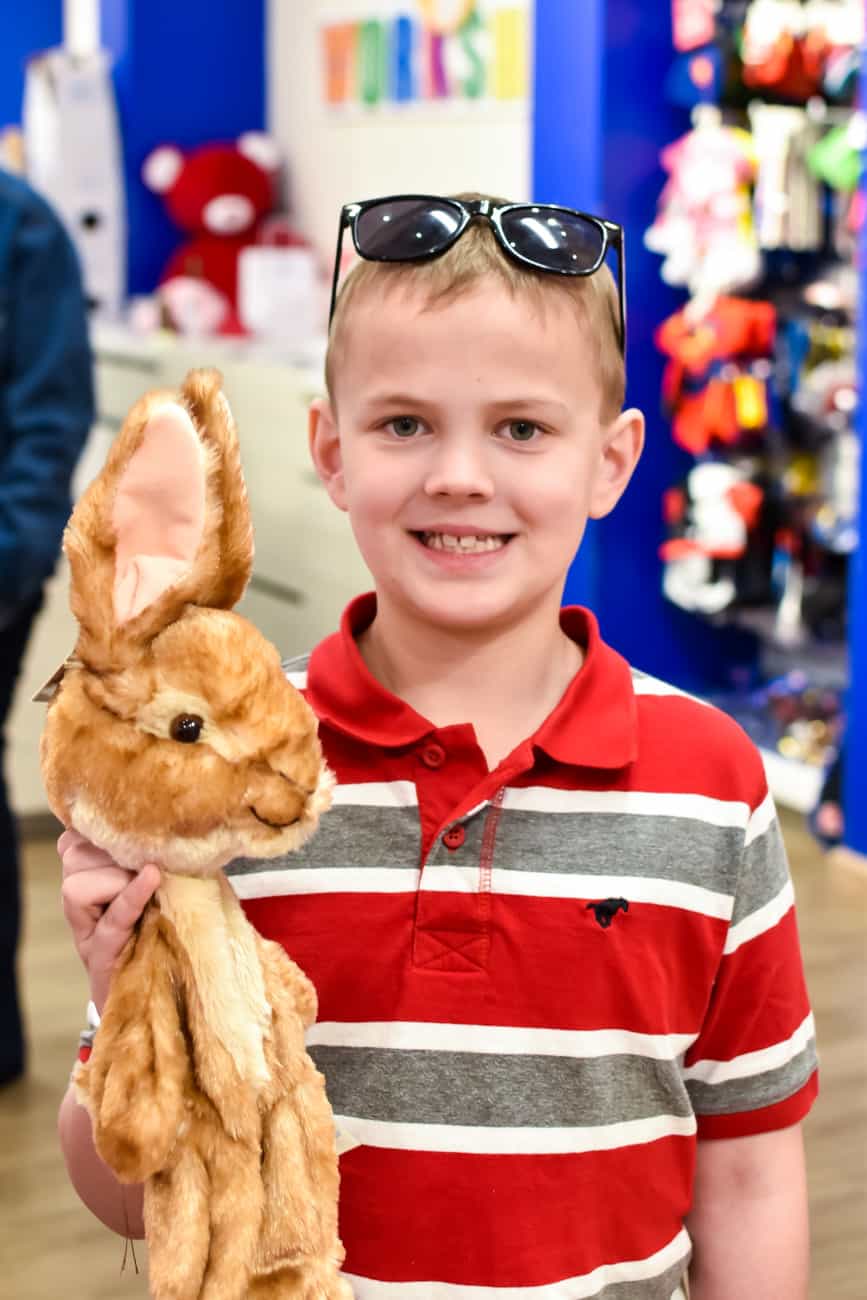 The Peter Rabbit Build-a-Bear collection has an option for a sound button. A special button goes into Peter Rabbits arm before he's stuffed. Press it and Peter Rabbit will say different phrases, like:
"Has anyone seen Mr. McGregor?"
"Hey! You've got this."
"More radishes and carrots, please!"
"We will feast tonight!"
"Hello! I'm Peter Rabbit"
Peter Rabbit is voiced by James Corden in the movie. Is it weird that I'm extra-excited about his voice as the sound in my own Peter Rabbit from Build-a-Bear Workshop?
After getting the sound inserted into his arm, Peter was stuffed with fluff: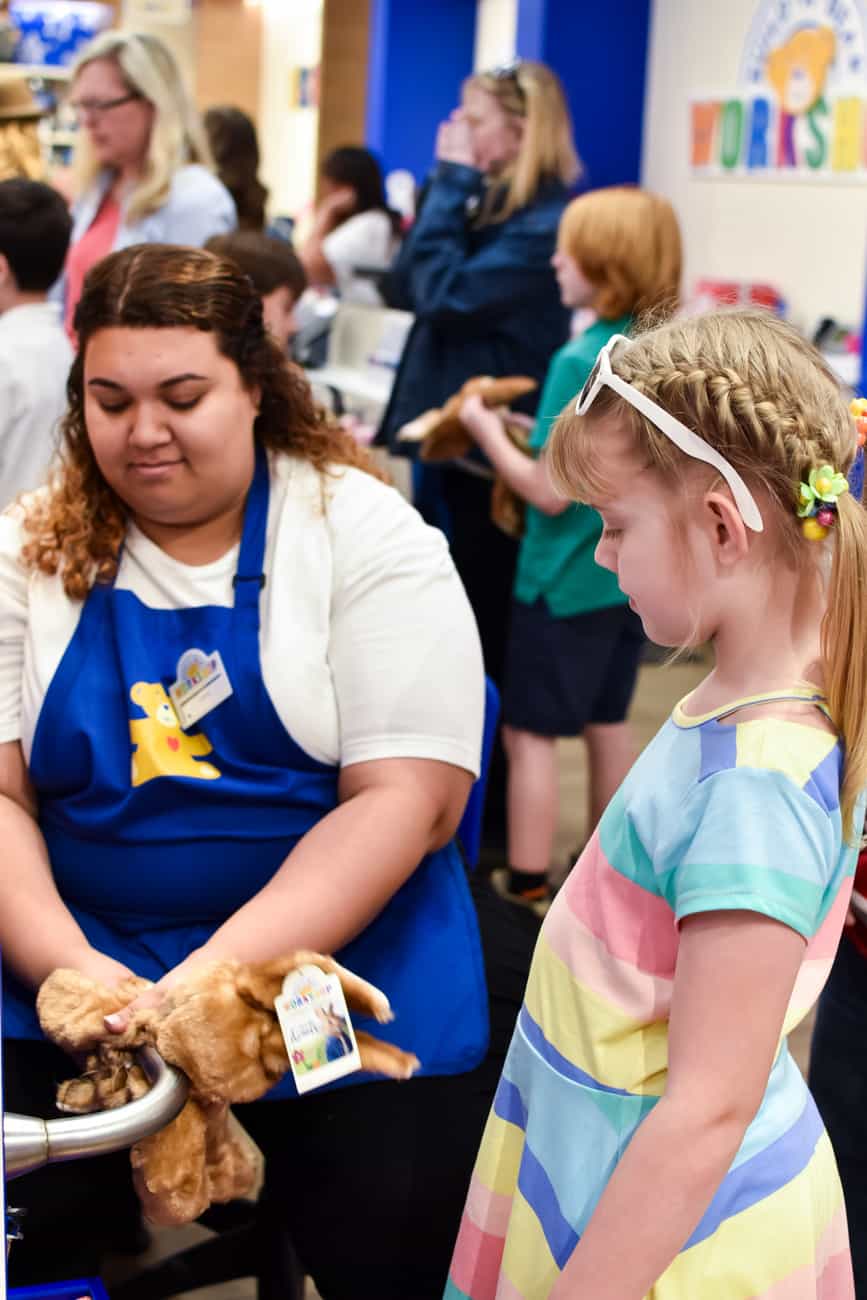 He was given a heart: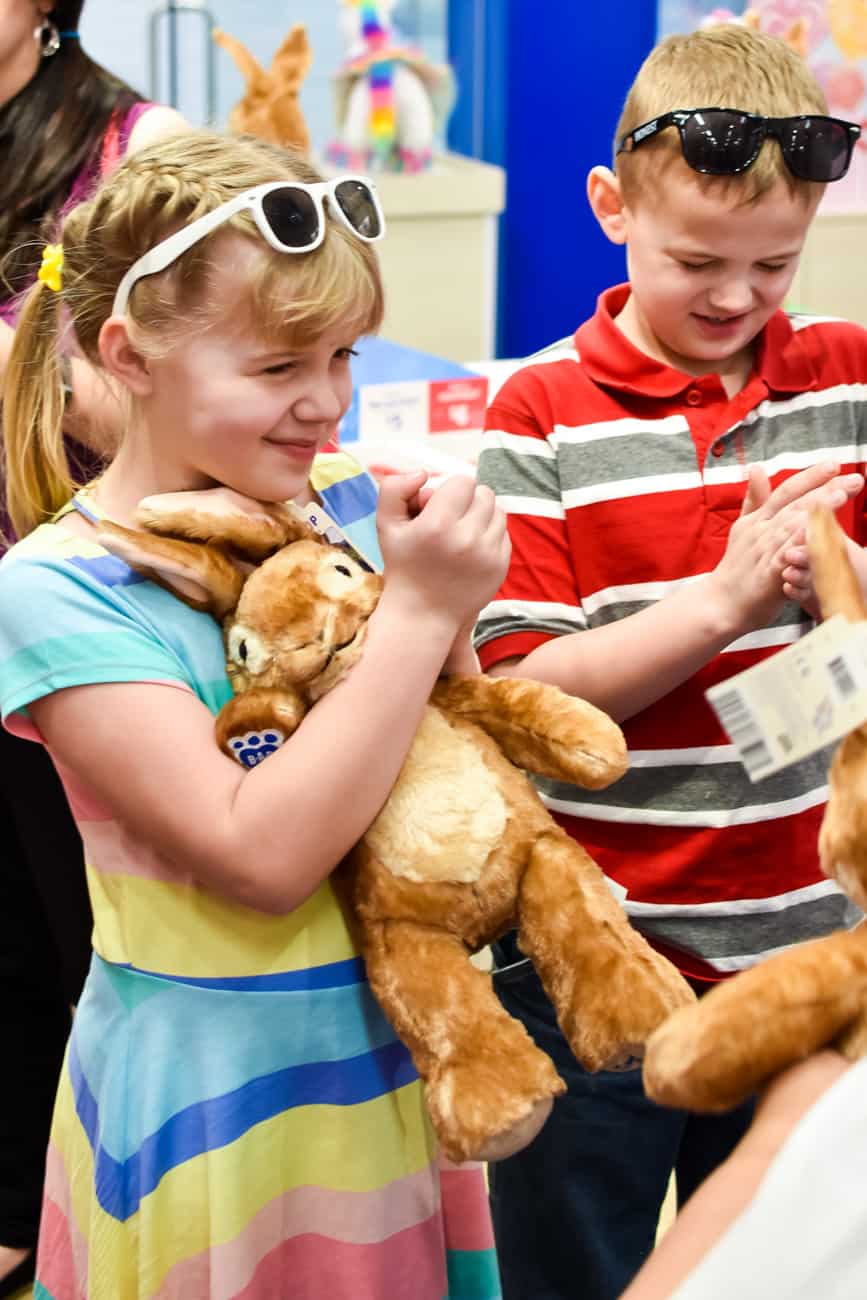 And he was stitched up to keep all the stuffing inside.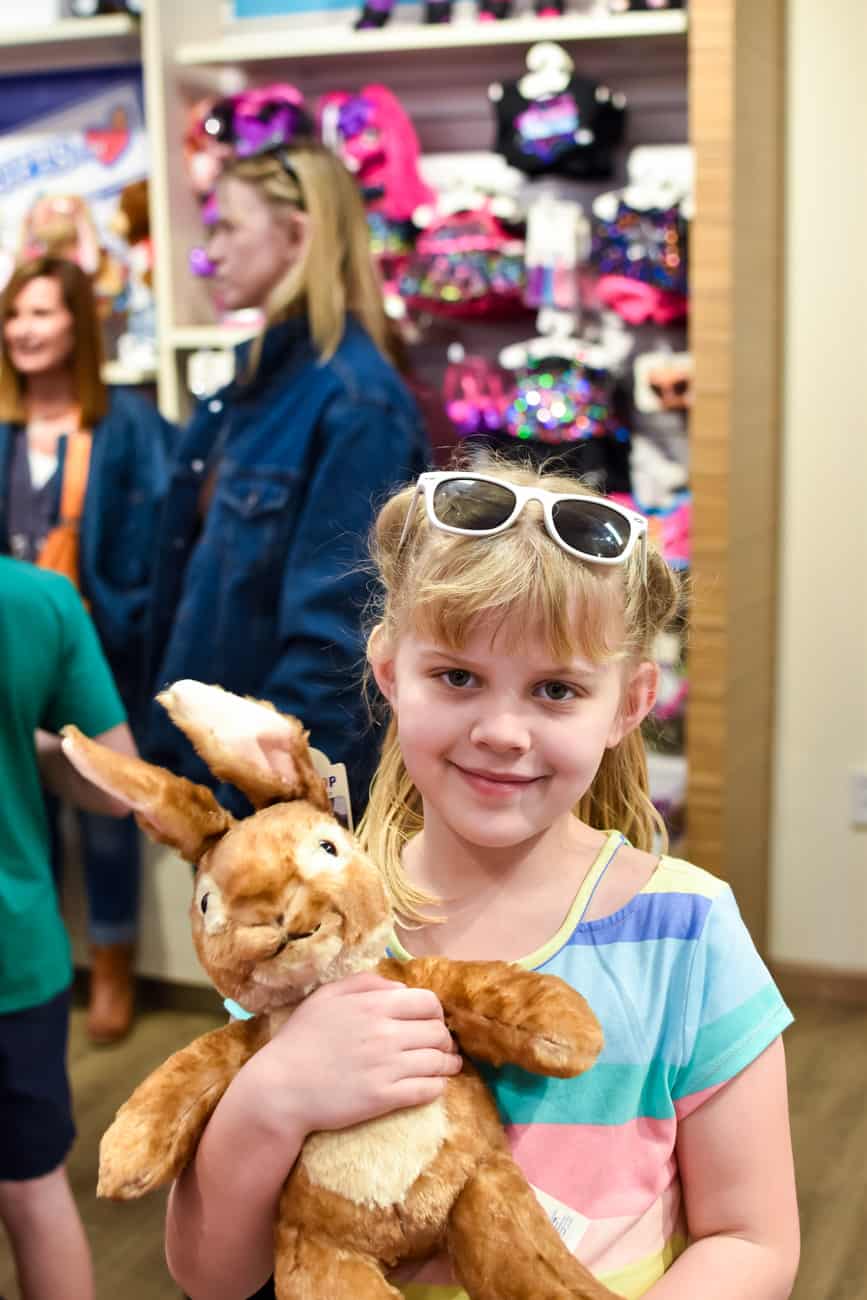 After our Peter Rabbit Build-a-Bears were stuffed we headed over to choose an outfit for our new stuffed animals. We had our choice of his classic blue jacket or a sweet sleeper.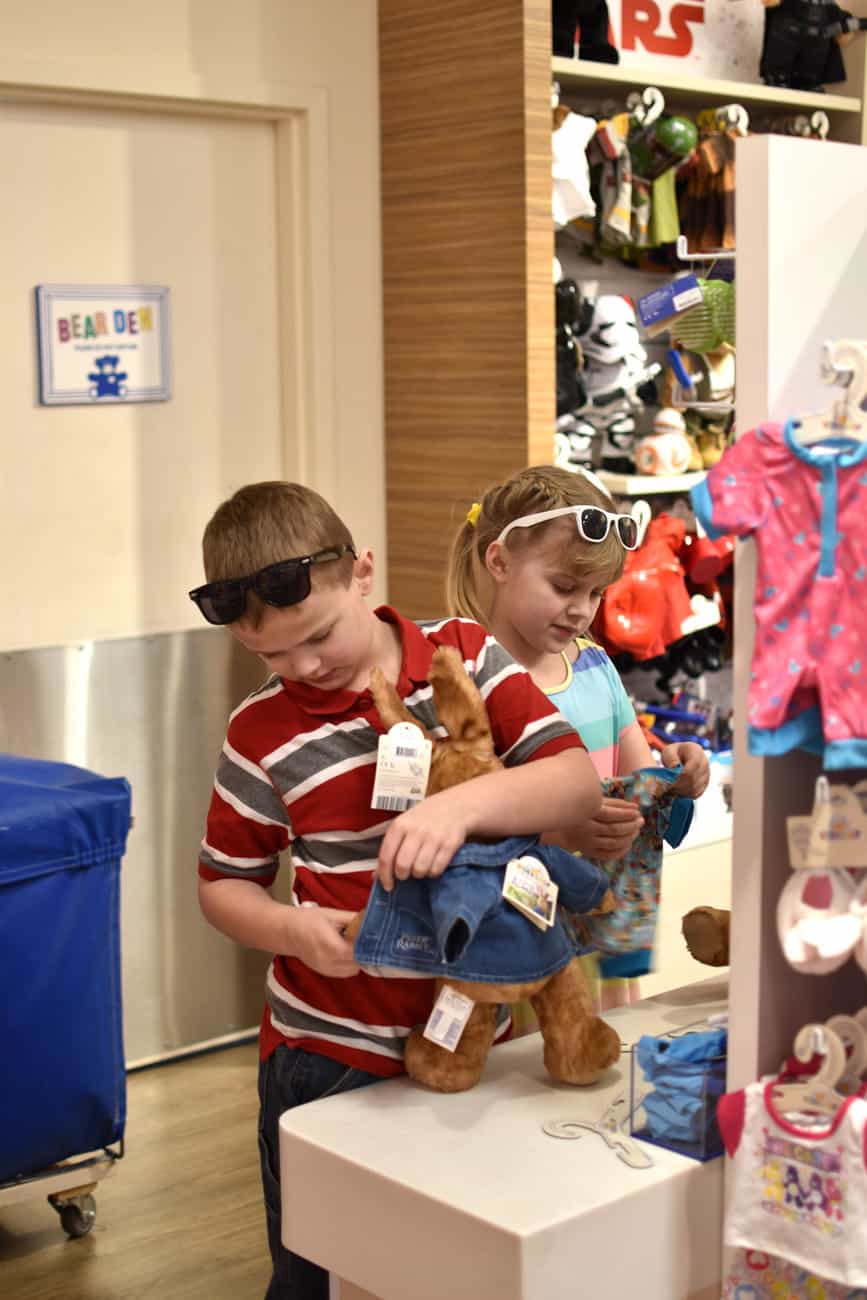 Haiden and I both chose the blue jacket, while Piper dressed her Peter Rabbit in cute pajamas.
Honestly, making a Peter Rabbit at Build a Bear Workshop was so much fun, I'd do it again anytime! We had a great experience at the store, and we love having a special souvenir of our fun times together at the Peter Rabbit press junket!
If you love the Peter Rabbit from Build-a-Bear Workshop, you can shop for a Peter Rabbit and the accessories online. When you receive your plush you can bring it to any store to have it stuffed for free!
I'll be sharing more from the Peter Rabbit press junket in the next few days. Stay tuned!
Peter Rabbit is in theaters everywhere on February 9th. Get your tickets today!
Watch the Peter Rabbit trailer here:
About Peter Rabbit:

Peter Rabbit, the mischievous and adventurous hero who has captivated generations of readers, now takes on the starring role of his own irreverent, contemporary comedy with attitude.

In the film, Peter's feud with Mr. McGregor (Domhnall Gleeson) escalates to greater heights than ever before as they rival for the affections of the warm-hearted animal lover who lives next door (Rose Byrne).

James Corden voices the character of Peter with playful spirit and wild charm, with Margot Robbie, Elizabeth Debicki, and Daisy Ridley performing the voice roles of the triplets, Flopsy, Mopsy, and Cottontail.