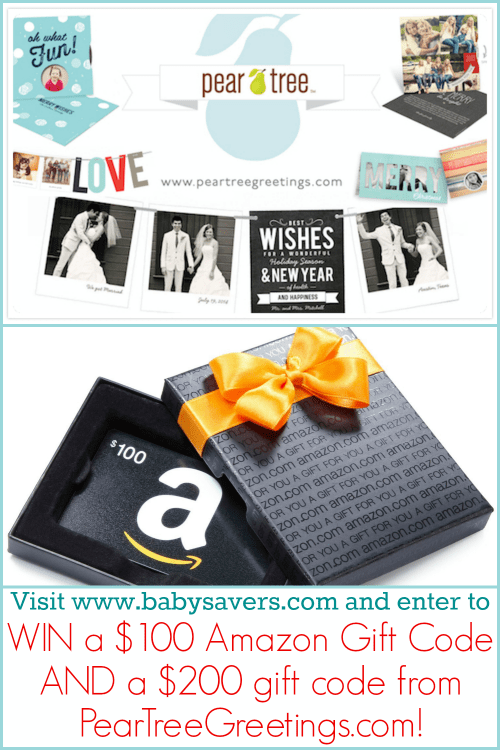 I can't believe I'm actually able to say this: My holiday photo cards are ordered , received and ready to mail out to my entire list of card recipients. This is the first time in several years that I've had our family cards ordered before the week of Christmas! I have Pear Tree Greetings to thank for that.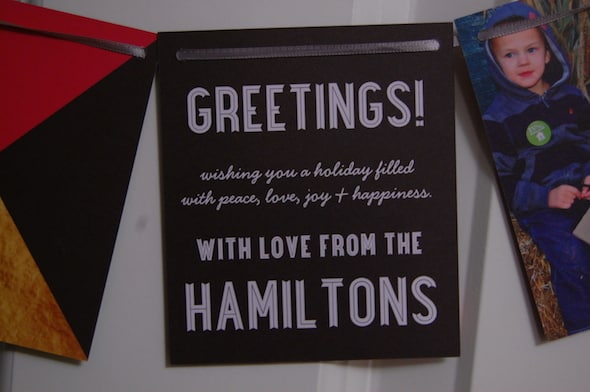 When I had the opportunity to review premium holiday photo cards from Pear Tree Greetings I jumped at the chance. I'll be honest, a big reason I wanted to write this review was because I wanted the big push to get our Christmas cards in my hands and ready to mail out well before Thanksgiving. But when I looked at the selection of absolutely gorgeous holiday cards there was no question that I wanted our cards from Pear Tree Greetings.
I like that Pear Tree Greetings has an extensive selection of traditional holiday cards, but what I really love is that they offer a fabulous variety of unique holiday card designs that I haven't seen anywhere else. Take a look at these: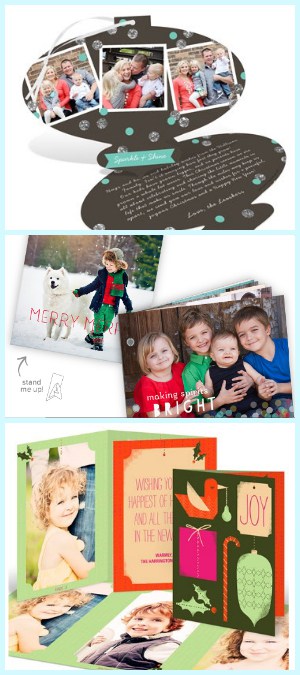 Ornament cards, Mini photo book cards, and a variety of interesting ways to display photo collages are just a few of the  choices I had for selecting my own unique holiday cards.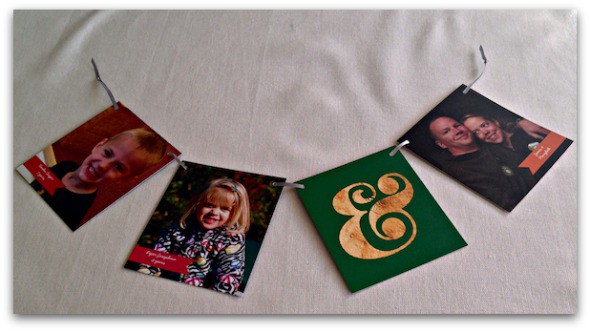 I opted to order the Ampersand Ribbon Strand Cards. I could picture my mom or my grandma both displaying the cards in a doorway or pinned up on a wall instead of a more traditional spot like a refrigerator. The unique style of the card also allowed me to showcase individual pictures of my kids, plus a photo of my husband and I all on one side.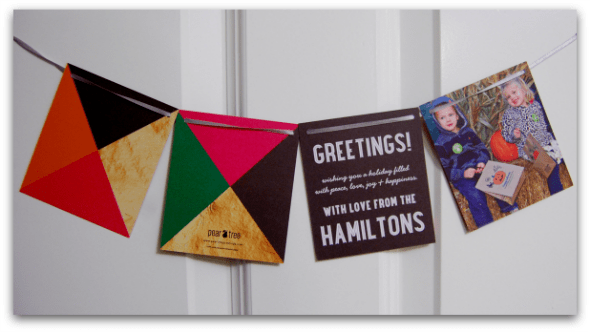 On the other side of the Ampersand Ribbon Strand cards I was able to put a greeting from my family to the recipients, along with one of my favorite recent pictures of my kiddos together.
One of my favorite features of this particular greeting card design was that it had those cute little flag labels  built into the card design to add a modern caption to the photo underneath it. I liked being able to put both of my kids' names and ages right on the picture. Since I keep a copy of every holiday card I send out, it's a fun way to mark the time they were sent without adding extra text to the greeting itself.
I've ordered photo cards and gifts from a variety of online retailers, and I have to say that the ordering experience was very much on par with other online stationery stores. I uploaded my photos to PearTreeGreetings.com, dragged and dropped them into where I wanted them to be in the card, personalized the greeting and added the captions. Easy peasey. Choosing the card style and the images I wanted to use took far longer than actually customizing the card!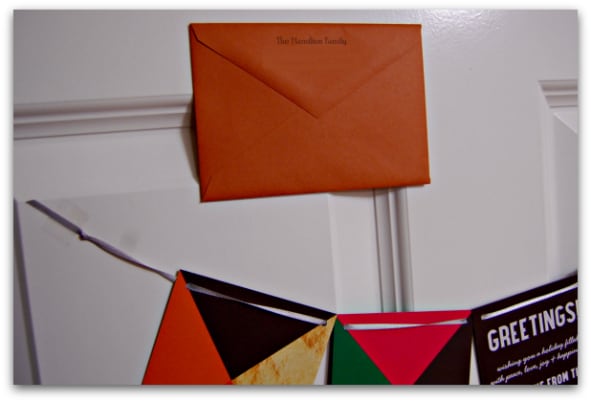 Near the end of the order, I had the option to pay extra to get custom envelopes in a premium color for an extra charge. I liked the idea of coordinating the card to the envelope, so I went ahead and added them to my order. I chose the orange "spice" color to complement the orange in the cards.
I also really, really loved that I could pay a bit more and have someone else assemble the cards and the ribbons for me. Since my order was for a review the assembly didn't cost anything extra for me, but it's definitely something I would consider doing if I was paying out of my own pocket! I know that putting those cards together would be one more thing that would keep me from mailing out my cards in a timely manner.
I was so happy I had placed my order early in the holiday season, because I did run into a snag in my order fulfillment. A few days after I placed my order, I received two shipping confirmations with two tracking numbers and no details about what was in each shipment. The first shipment arrived with only my custom envelopes. It took five more days to receive the second shipment, which only contained ribbons and address labels. No cards!
I fired off an email to the customer service reps at Pear Tree Greetings that detailed my order and what was missing. I received a response within two hours with apologies and assurance that my missing cards would be overnighted to me once they were printed. I fully understand that the customizing process doesn't happen instantly, and their speedy reply and willingness to take actions to correct the issue really impressed me! I really do love the cards, so they were worth the wait!
Sorry! Below giveaway has ended.
Want to win?
I've partnered with Pear Tree Greetings and a few other bloggers to give one reader a jump start on your holiday photo card greetings with a $200 code to Pear Tree Greetings and a $100 Amazon card to one very lucky winner!
Giveaway Details: details: Winner will be contacted via email sent to the email address used in the Rafflecopter entry form. They will be emailed from [email protected] and have 48 hours to respond before a new winner is pulled. Please allow 1-2 weeks for gift card delivery from the end date of 12/01/13. All entries will be checked for qualification prior to winner being notified. Mandatory entry must be completed to win.
Disclosure: Items reviewed in the post above were received at no charge to facilitate the review. Review and giveaway provided by Pear Tree Greetings. All opinions stated are my own.