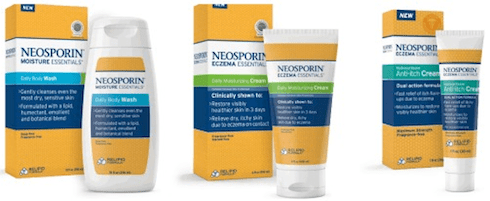 I've had pretty bad eczema intermittently since I was about 15 years old. Over the years, I've had eczema flare-ups on various parts of my body. Legs, arms, hips, waist, neck, eyelids…I'm just thankful that it usually stays isolated to that one area!
I feel like I've tried every over-the-counter dry skin and/or anti-itch treatment without a single positive result. Instead, a topical cream is the only thing I've found that works to clear up my skin in a reasonable amount of time.
This dry skin problem clearly was passed down to my daughter. She was less than a year when her skin seemed to turn red and scaly overnight. A trip to the doctor revealed that she also had eczema, and we switched to a specific brand of baby wash to keep the external irritations to a minimum.
My daughter and I have the same problem: the eczema outbreaks are unpredictable. I can definitely count on seeing it in the winter, but I'm not always prepared when one or both of us starts having skin issues when we're out of town. If I had eczema break out when I was away from home without my cream, I would have to wait until I got home to start treating it. Piper's solution is a bit easier, I just have the added inconvenience of finding a store that carries the right wash and I have to hope it doesn't cost a fortune!
Recently, I received a trial pack of the new Neosporin Eczema Essentials with a complete trial pack of the  3 new Neosporin eczema treatment products.  Here's what we received:
Neosporin Moisture Essentials Daily Body Wash:
Given the Seal of Acceptance by the National Eczema Association (NEA)
Clinical tests have shown that it's  as gentle as the leading sensitive skin wash on children with atopic dermatitis.
Formulated with a lipid, humectant, emollient, and botanical blend to help retain moisture.
Fragrance-free and contains no soap or antibiotics.
Gently cleanses even the most dry, sensitive skin.
My thoughts: I think this is the most gentle body wash I've ever used. I've had problems using harsh soaps and body washes on already-dry skin, and this one doesn't do that. I also like that there's absolutely no scent, because I know that certain chemicals used to create scents in body washes are a cause to my own eczema.
Neosporin Eczema Essentials Daily Moisturizing Cream: 
Restores visibly healthier skin in just 3 days
Clinically shown to relieve itch due to eczema on contact.
Has a unique RELIPID formula, which contains a lipid, humectant, emollient and botanical blend to help the skin retain moisture.
Contains no antibiotics or steroids.
Gentle treatment with a non-greasy feel.
Appropriate for use on the whole family.
My thoughts: As with the body wash, this product is incredibly gentle! It definitely relieves mild itching and keeps my entire body moisturized. It doesn't seem like Piper's severely dry skin is itchy or irritating, but if she started scratching the affected areas, I wouldn't hesitate to use this cream on her!
Neosporin Eczema Essentials Hydrocortizone Anti-Itch Cream:
Provides fast itch relief when an eczema problem arises
Clinically shown to improve dryness, flaking, and the appearance of redness
Maximum strength itch relief
Fragrance-free
My thoughts: I haven't had great luck with OTC hydrocortizone treatments on my eczema. They usually don't seem to have much effect on the problem spots. In some cases, the ointment has made it worse! I tested this cream on a small area and I was surprised to see that the spot was in better shape the next day. Even better, it relieved the itching! The cream didn't clear up the problem areas, but it did lighten some of the redness and it definitely made the eczema-affected areas feel better.
I have to say, I'm most excited about the fact that there's an OTC treatment that actually gives my skin relief from both redness and itching! I love knowing that if I'm out of town and my skin flares up, I'll be able to find a working treatment at a nearby drugstore.
I also want to mention that I didn't use any products on Piper, even though I mentioned her dry skin throughout the article. The reason? Using a specific baby wash on her skin works and keeps the problem skin at bay. I don't want to mess with that, so I'm not changing anything with her routine unless the condition worsens. If it did, the first two products I'd use on her would be the Moisture Esssentials Daily Body Wash and the Eczema Essentials Daily Moisturizing Cream.
Each of the Neosporin Essentials products costs about $9.99, and I wouldn't hesitate to buy more of any of them. If that cost seems a bit high, there's a great Neosporin Eczema Essentials printable coupon to save $5 here. You can also find also other Neosporin printable coupons here.
I wrote this review while participating in a campaign by Mom Central Consulting on behalf of Neosporin Essentials and received a product sample to facilitate my review, and a promotional item to thank me for participating.