It's no secret that I struggle with organization. I try really hard to keep my home in some sort of order so I don't go completely crazy, but there are times when I realize I've slipped in one area or another.
Take my kitchen table. Why does it always seem like a magnet for everything that comes into our house? This is what it looks like on a really good day: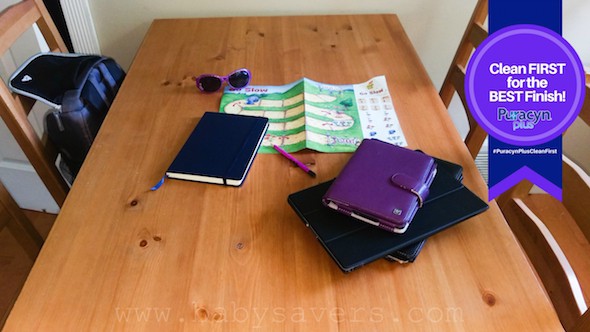 As a mom responsible for two young children, having things in order in our most-used rooms adds a feeling of calm to our home.
I recently read the saying, In almost every situation, if you have a clean start you're more likely to have the best finish. Given that I struggle with finding a place for all of our things, that statement really rang true for me.
After reading that phrase and thinking of all the ways it applied to me, I decided to begin the habit of clearing off the kitchen table every night before bed. After all, there are some important items in that picture (specifically, a tablet, my Kindle, an important notebook and sunglasses) that could cause a bit of panic if they couldn't be found!
Being diligent in putting things away means that they can be found at a moment's notice if they're needed. One category that should always have a specific spot in every home is first aid.
Just like how that clean start phrase relates to organization and housekeeping, it definitely applies to first aid! You can give wounds a clean start for the best finish with Puracyn Plus Duo-Care Wound & Skin Cleanser, the next generation in wound care.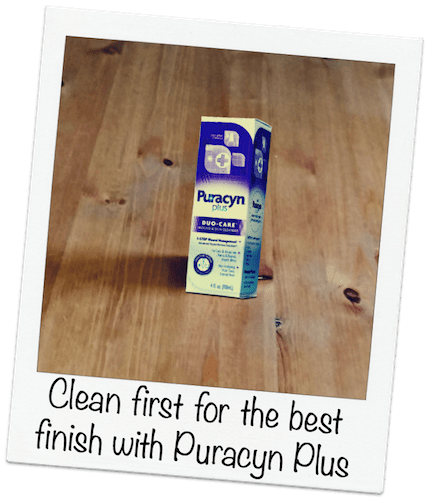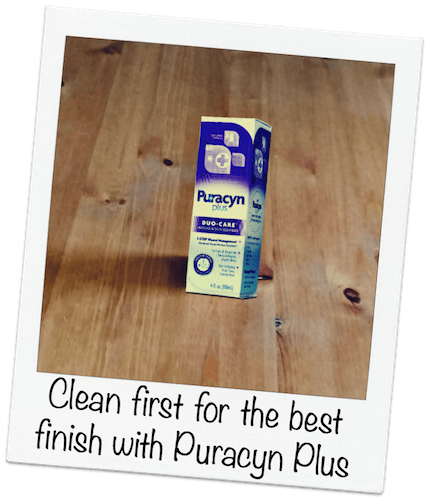 Why use Puracyn Plus First to Clean Wounds?
It's a doctor-tested treatment for wounds. It's also non-stinging, non-irritating, and free of antibiotics, steroids and alcohol. It's completely safe for use anywhere on the body, even the eyes, ears and mouth!
Puracyn Plus is formulated with a pH balanced, hypochlorous solution, designed to improve the most essential part of the wound treatment process — preparation of the wound bed — providing a clean start for the best finish.
Cleaning wounds first with Puracyn Plus Duo-Care Wound & Skin Cleanser sets the stage for optimal healing.
The easy, hands-free spray application of Puracyn Plus thoroughly cleans minor wounds, eliminating the need for running water in the critical first step of wound cleaning.
Puracyn Plus Foot Wash & Skin Cleanser is also available as a safe, effective first step in first aid for foot sores and irritations, blisters, dry and cracked feet and rashes.
Get your printable coupon and save $3 on your next purchase of Puracyn® Plus Duo-Care Wound & Skin Cleanser and Puracyn® Plus Foot Wash & Skin Cleanser! Find it in the first aid section at your local Rite Aid and Walgreens for $14.99.
Puracyn® Plus Duo-Care Wound and Skin Cleanser…so she can get back into the game! Watch the new Puracyn Plus 2015 National TV Commercial.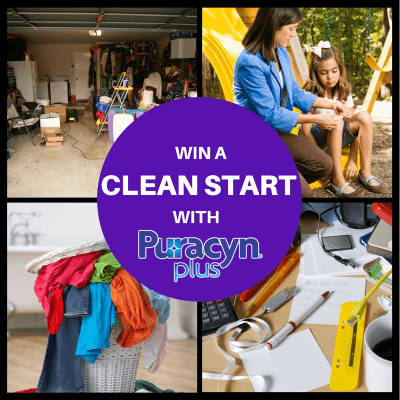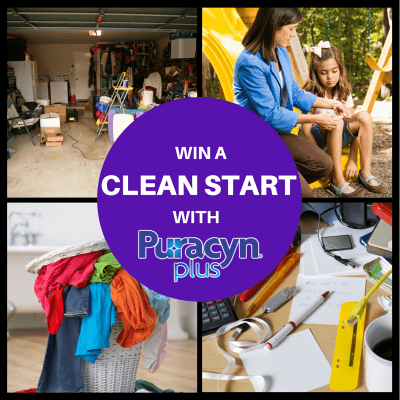 Enter the Puracyn Plus Clean Start Giveaway on the Puracyn® Plus Facebook page for the chance to be one of four randomly selected winners to receive a $250 retailer gift card (choice of Home Depot, California Closets, Pier 1 Imports, or Staples) and Puracyn® Plus product, so you can get a clean start on a project for the best finish!


Visit www.puracynplus.com or see Puracyn Plus on Facebook to learn more about the brand. 
For more clean start tips for the best finish, visit Puracyn Plus on the web at www.puracynplus.com and LIKE the brand on Facebook.
This is a product-provided, sponsored conversation that contains affiliate links. All opinions, text and experiences are my own.