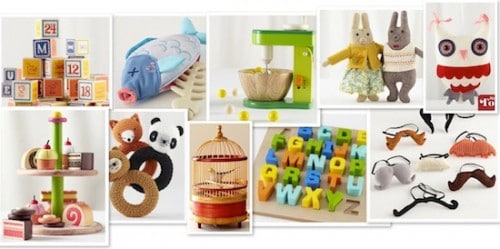 If you ever dream of shopping at The Land of Nod (Crate & Barrel's baby sister site) you know that there's hardly ever promo codes or free shipping for anything on their site.
Luckily, there's an exception happening right now. Get FREE SHIPPING on everything except furniture and "oversized items" from The Land of Nod when you shop anytime through Monday, November 26th!
There are tons of items in the sale section that qualify for FREE shipping, too! Items are already-discounted and they're priced as low as $1.95. Get them shipped for free and you could get a few gifts purchased and on their way to your home!
If you've never shopped at The Land of Nod, you'll be amazed by their selection of creative and imaginary toys. They have an extensive selection of play food, household items and dress-up supplies (I'm in love with the stand mixer and those pretend moustaches in the image above!)
Enjoy the free shipping offer while it's available. We don't know how long it will be before we see another code!
Also, I highly encourage you to create a parent's gift registry with The Land of Nod if you're as enamored with the selection as I am. You don't need to add anything to it, and they're known to send out single-use promo codes so you could save more in the future!